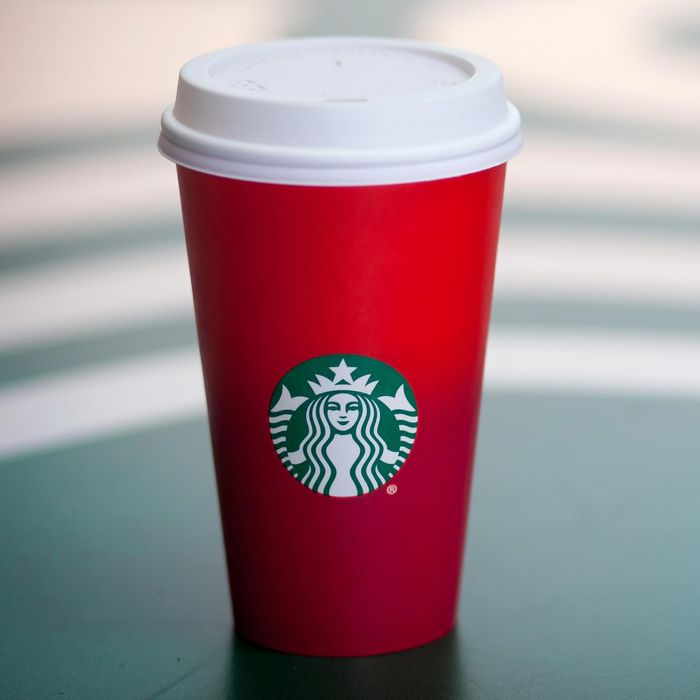 Seems like you left only yesterday, Red Cup.
Photo: Starbucks
Starbucks subscribes to the belief that the holidays begin when people "catch their first whiff of eggnog or have their first taste of peppermint." It also believes the right time was yesterday, since earlier is no doubt better during any season when one in eight Americans buys a Starbucks gift card. And so yesterday, a day when most bars still had cobwebs on their drink boards, unsuspecting customers learned that Starbucks was not only rolling out its annual array of Christmas lattes on a 65-degree day but also already putting them in the special red cups.
Five holiday drinks are back this year — the Caramel Brulée Latte, the Chestnut Praline Latte, the Eggnog Latte, the Gingerbread Latte, and Peppermint Mocha — and the cups this time around are red with an "ombré" effect that Starbucks says "creates a distinctive dimension, fluidity and weightedness" befitting the Starbucks café, which becomes "a sanctuary during the holidays."
Starbucks convinced Twitter to make a #RedCups emoji for holidays-only use:
Some people claim to already be excited:
Rumor has it that stores will also start playing Bing Crosby's "Santa Claus Is Comin' to Town" on endless loop starting tomorrow, and anyone who can handle it more than three times in a row gets a two-month supply of Ugly Sweater cookies.