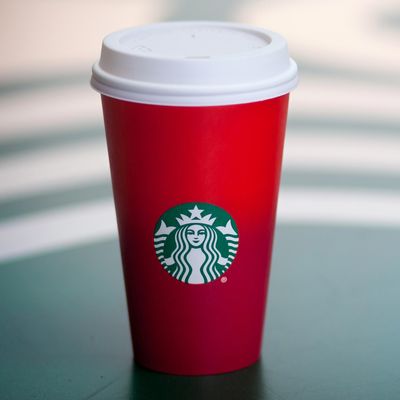 Venti cup of outrage.
Photo: Starbucks
If that suuuper early release weren't enough of a sin already, some evangelicals are now accusing Starbucks of making this year's holiday cups nefariously anti-Christmas as well. The theory picking up steam online is that because the all-red "ombré" cups don't have so much as a seasonal snowflake, they're proof that the people at Starbucks "hate Jesus." Conspiracy emails apparently started circulating right after the cups debuted (Halloween weekend, in other words), but anger just kicked into high gear now that a Christian speaker and evangelist named Joshua Feuerstein posted a Facebook rant about it. He encourages viewers to follow his lead and go "trick" baristas by having them write "Merry Christmas" as the name on the otherwise-bare holiday cup:
Starbucks REMOVED CHRISTMAS from their cups because they hate Jesus … SO I PRANKED THEM … and they HATE IT!!!! #shareUse #MERRYCHRISTMASSTARBUCKSFollow –> Joshua FeuersteinPosted by Joshua Feuerstein on Thursday, November 5, 2015
At almost half a million shares and 150,000 likes so far, the video's stirred up plenty of scaremongering and lines about how, for example, "the only thing that can redeem them from this whitewashing of Christmas is to print Bible verses on their cups next year."
In past years the cups' designs have been pretty Christmas-heavy, with lots of snowmen and ornaments. This year's possibly overly high-minded press release describes the new ones as being a "blank canvas" customers can personalize with any doodles they please — reindeer, a menorah, baby Jesus, it's in the eye of the cup holder.
The one and probably only upside to Starbucks's absurdly premature holiday spirit is that it can also put this conspiracy theorizing to rest: The online store is bursting with Christmas paraphernalia, including bags of Christmas Blend coffee and freaking Advent calendars.
[WaPo]