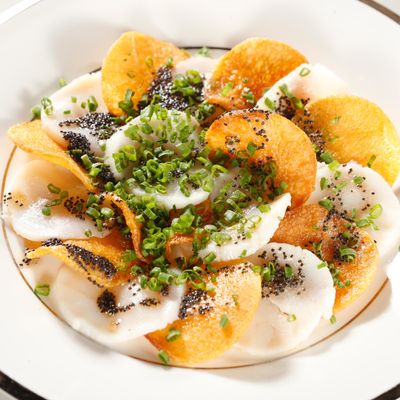 Scallops and crispy potato.
Photo: Melissa Hom
Eclectic is the word that springs to mind when perusing Sadelle's new dinner menu. There's the high (caviar service, foie gras toast) and the low (pigs in a blanket). There's a little bit of ZZ's Clam Bar over here (tuna tartare, lobster carpaccio, oysters), a little Parm over there (dry-aged patty melt), and a curveball (spicy fried chicken). Mostly, though, the menu veers in the direction of Eastern European and Russian stalwarts like Roumanian steak, chicken paprika, and veal pelmeni.
To sop it up, Melissa Weller has devised some intriguing new dinner-specific breads including a pumpernickel-raisin epi, milk bread made with a sourdough starter (that one comes with the fried chicken), and three flavors of pull-apart fantail mini-loaves: chive, black pepper, and black truffle. To wash it down: infused vodkas by drinks czar Thomas Waugh served Russian-style, straight from the freezer.