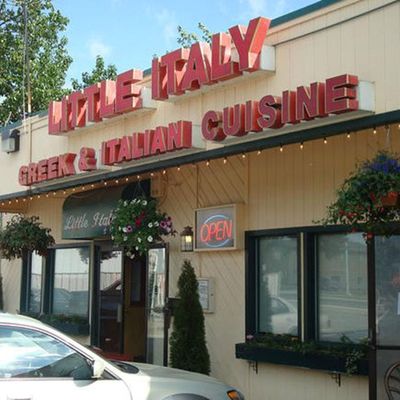 Hit the road, Jack.
Photo: Little Italy Restaurante
A restaurateur has taken some extreme action against a customer she says berated one of her employees for reasons you have to hope now horribly embarrass this individual.
P.J. Gialopsos, who has owned Little Italy Restaurante in Anchorage, Alaska, for 30 years with her husband, explains via Facebook (in a post that has thus far racked up nearly 30,000 "likes") that the unidentified customer's order suffered a delivery mix-up of some sort, so he laid into the driver, an autistic college student the man assumed was, like most people who make mistakes these days, just "an idiot strung out on drugs." He called the employee "a name I won't even elude [sic] to here," Gialopsos writes, then phoned the restaurant directly, where Gialopsos's daughter picked up and "calmly explained" this driver isn't on drugs but is, rather, a kid with a slight speech impediment. That wasn't good enough for the mystery customer, apparently, who cursed out Gialopsos's daughter and hung up.
So Gialopsos did the only logical thing:
Therefore, we have fired this customer. That address, that name and phone number will be tagged with a DO NOT DELIVER DO NOT ACCEPT ORDER message.

…… And won't that customer be surprised later in life to learn that his "idiot strung out" delivery driver long ago turned out to be the physicist, microbiologist or chemical engineer who could quite possibly make a discovery that will save his sorry *** someday.
The post — a reminder that karma can indeed catch up with entitled customers — has seen a flood of supportive comments, such as "Big high five from Texas" to "BRAVO!!!!! from the Philippines."
[via NYDN]