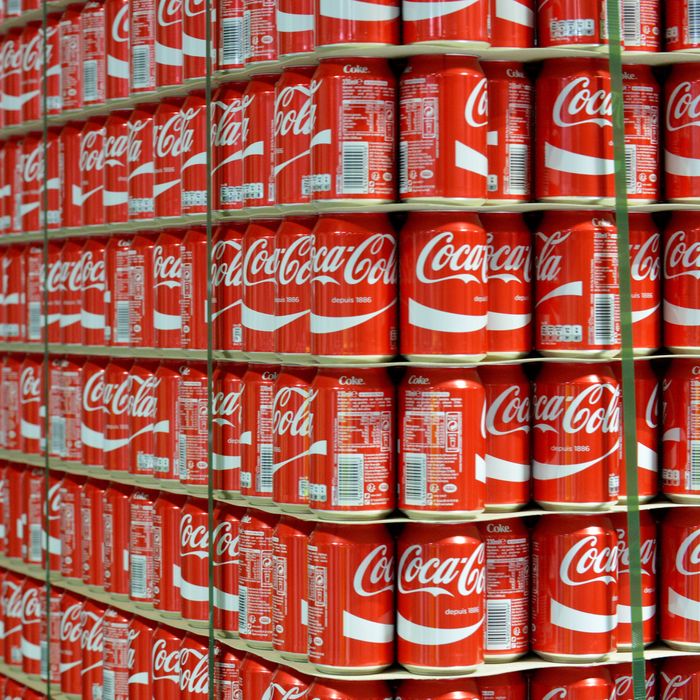 Caught red-handed.
Photo: ERIC PIERMONT/AFP/Getty Images
The doctors who received Coca-Cola's anti-obesity "research" funds sure weren't professional: The AP got ahold of emails between Coke and leaders of a large anti-obesity nonprofit, called the Global Energy Balance Network, and says the takeaway is that the beverage-maker's executives were "instrumental" in shaping almost everything about the group — who led it, its mission statement (which Coke's people tweaked), even the articles and videos that appeared day-to-day on its website.
The group — which describes itself as a nonprofit dedicated to "healthier living through the science of energy balance," and denies any "input" from Coke — is led by a team of doctors around the world, many of whom are on staff at public medical schools. Coke's role in funding the organization was previously reported by the Times in August. The actual back-and-forth is still a little shocking.
Some of the highlights:
• In an email last year, the president told a Coke exec: "I want to help your company avoid the image of being a problem in peoples' lives and back to being a company that brings important and fun things to them."
• A proposal was circulated inside Coke saying the group should "quickly establish itself as the place the media goes to for comment on any obesity issue" by countering the "shrill rhetoric" of "public health extremists" who maybe don't like soda that much.
• The proposal also laid out the group's tactics: "Akin to a political campaign, we will develop, deploy and evolve a powerful and multi-faceted strategy to counter radical organizations and their proponents."
• In the summer of 2014, one of the group's leaders, University of Colorado School of Medicine professor James Hill, emailed a Coke executive with a new research idea: "Here is my concept. I think it could provide a strong rationale for why a company selling sugar water SHOULD focus on promoting physical activity. This would be a very large and expensive study but could be a game changer. We need this study to be done."
• At another time, Hill emailed Coke and noted, "We have given you ideas here. We have also given you ideas for research projects that might be very specific to coke interests."
After hearing about the emails, Coke CEO Muhtar Kent told the AP, "It has become clear to us that there was not a sufficient level of transparency with regard to the company's involvement with the Global Energy Balance Network."
[AP]