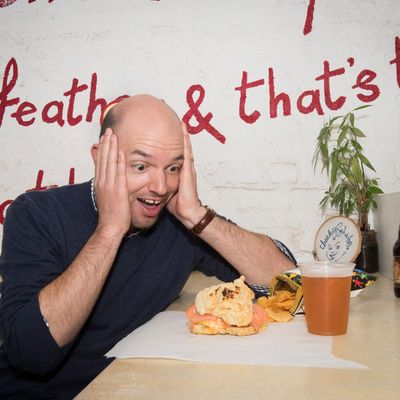 "Their breakfast sandwich is un-fuck-with-able."
Photo: Liz Clayman
You've probably seen comedian Paul Scheer somewhere lately: He's currently on the FX series The League, ABC's Fresh Off the Boat, and Hulu's The Hotwives — and somehow he's found time to host a podcast, too. But Scheer is someone who, no matter what, makes time for good food, and he eats a lot. (He says of one Little Italy restaurant, "Family-style portions should have been called single-dad-style portions.") This week, Scheer visited Estela to see what all the fuss is about, John Dory Oyster Bar for the three-tier seafood tower, and the Golden Unicorn for his sister-in-law's wedding, where he enjoyed a nine-course feast. Also, he managed to make a stop in Pittsburgh for pancakes and Primanti Bros. Read it all in this week's Grub Street Diet.
Thursday, November 5
I'm headed to NYC for my sister-in-law's wedding with a brief stop in Pittsburgh, home of my new favorite reality-TV obsession, The Chair. Please watch so we can talk about it. Seriously, it's on iTunes. Watch it. No one else does.
As I race to the airport, I manage to convince my Uber driver to stop at the Coffee Bean & Tea Leaf. I'm a recent convert to drinking coffee. It oddly coincided with the birth of my son, and sleeping in now means 6:45 a.m. I live in L.A.'s east side, and I know drinking coffee at a chain is pretty much sacrilege, but have you had CB&TL's iced hazelnut coffee? It's amazing. It's damn near perfection. Yes, it's not cold-brewed from Intelligentsia or from a tap like Go Get 'Em Tiger';s pop-up (both of which are delicious). This is coffee the way coffee is meant to be drunk: cold, full of patented powdered flavoring, and in a very large cup with very tiny ice.
If I'm feeling truly adventurous, I get the pastry that looks the healthiest. Which is normally the cranberry breakfast bar. Since it has breakfast in the title and it's full of cranberries, it must be healthy. Now, I only include this stop because New York, you have your own CB&TL right above Times Square, but it's always empty. What's going on? Start treating yourself better. You deserve it.
Before I get to NYC, I have a quick trip in Pittsburgh for an FX event, and I'm going to sample as much food as I can while I'm there.
When I land, I head immediately to Pamela's. Even though it's past lunch and breakfast, I need to try their pancakes — apparently they are amazing. But after trying them I can say that I think that's an understatement. I say you've never had pancakes before you have tried Pamela's pancakes! They're a Frankenstein creation, part crêpe, part pancake. I had two of the strawberry ones (with whipped cream, of course), and it was mind-blowing. No wonder why Obama ate here. The man, like me, knows his effin' pancakes. This spot was worth the trip alone.
For dinner I headed to Mercato (Emporio) a "meatball joint" — it's the first floor in a three-level house of deliciousness. The plan is simple: You pick the type of meatball, the sauce, and the presentation. I got two meatballs: spicy pork with arrabbiata and a vegetarian with spinach-almond pesto served à la carte. Just a little naked meatball in a tiny meatball dish, and they were both perfection. I was especially impressed with how good the vegetarian one (mushroom, white bean, and cauliflower) was, considering it lacked half of the thing that makes a meatball a meatball. I chased it with a Peroni and a side salad. The best part of eating there was hearing the table conversation next to me where a nicely dressed lady was adamantly explaining to her potential suitor that she could take Ronda Rousey in a street fight. I believed it.
Then after a midnight movie in fake IMAX, Spectre (I ate Twizzlers), I headed to the only place that everyone in Pittsburgh tells you to go, Primanti's. I had heard the rumor of this place long ago, a place that combined hot sandwiches with French fries and coleslaw into one epic creation that even Dagwood Bumstead would be proud of. Damn! Dagwood? Where did that reference come from? I never even liked that comic strip.
Anyway. Yes, the sandwiches here are made to kill anyone who doesn't have the fortitude of a true Pittsburghian. That's the only way I can explain how everyone in town manages to finish their sandwiches and go back time and time again without dying. I was only able to finish half of my pastrami-and-cheese, and I sheepishly carried the rest back to my hotel, where it mocked me all night for not finishing it. When I woke up, it was gone. It must have just grown tired of me and walked back to the restaurant.
Friday, November 6
Landed in NYC and now with my newfound coffee fascination I was excited to finally try some Dunkin' Donuts coffee to see what the fuss was about. But what the hell?! Their iced coffee is awful. Like someone just put ice in a cup and poured coffee on it and then dumped in some water for good measure. That shit was weaker than Carlton at a OFWGKTA concert. Wow! Just gross. Is this just some elaborate prank that coffee drinkers pull on non-coffee people?
I grabbed lunch at the Spotted Pig. I always try to make this a stop whenever I'm in NYC. And whenever I'm with a newbie, I love convincing them to try the deviled egg because it's for most people the No. 1 thing to avoid at all costs. But just like Pamela's pancakes, you never known what a deviled egg could taste like until you have had one from here. I had the Spanish mackerel with sweet-potato mash and a broccoli rabe side. I also grabbed a pot of pickles because, as you can tell, I just like screwing with whatever breath mint I wind up using.
It was wedding-rehearsal time at the Church of Transfiguration in Chinatown, and to reward ourselves for a rehearsal well done, we had a rehearsal/welcome dinner at Sophia's of Little Italy. Like most places on Mulberry Street, it pretty much looks like every other restaurant on the block. The only distinguishing factor between these places is the outfit of the guy who stands in front of it yelling at you, "Eat here. Homemade."
We had a big group of about 40 people going for a family-style meal. I was excited about this, as I spent a lot of my college years getting big groups to go to La Mela, where you ate Pavarotti portions under a lamp shaped like a penis. Here the atmosphere was a lot nicer, and the food was pretty good, but the family-style portions should have been called single-dad-style portions. I mean, c'mon, I know we're all disgusting Americans that eat too much, but if you don't have at least two different types of pastas or more than one entrée, it's not really family-style. I had the tilapia (which was a hit of the table) and the rigatoni, both of which were delicious. And yes, the owner yelled at me when I asked why we waited two hours before being served any food, which is a story I'll save for my next article, "GRUB STREET BEEFS!"
We ended the night at Attaboy, which is one of my favorite spots to get a drink. It's essentially the omakase of cocktail bars. You just tell them your mood and they'll create your drink. Mine involved grapefruit, gin, and a cinnamon garnish. I know many people try to re-create the "speakeasy" vibe, but this place does it effortlessly — once you have a drink here you'll question why you'd ever go anywhere else. Plus, unlike its predecessor Milk & Honey, getting in is a bit more democratic now.
Speaking of which, before our group of ten (two separate seatings) was able to be seated, we spent sometime at the nearby Ghost, an art-gallery/bar, which also had some fantastic drinks (I drank the Eldridge Sazerac, which was the best Sazerac I've had since New Orleans). The place is a real treat with amazing bartenders, some hard pretzels, and a real Warhol on the wall. Definitely worth the visit.
Saturday, November 7
A quick stop in Starbucks for an iced green tea/lemonade, and then headed up to the Children's Museum to watch my son go to town in a Dora the Explorer exhibit.
Met with my friend Marcelle at Irving Farm Coffee Roasters for some lunch. This place actually reminded me of Friend of a Farmer, but less stuffy. I had the lox sandwich, which was admittedly an odd choice, but lox in NYC is better than anywhere else, so I took it where I could get it, and it was real good. I had a coffee pour-over that was flavored with honey-crisp apple, I think (my receipt lacked a proper description). My son had an oatmeal bar, and I helped him eat half of that.
Even though this place was great, I did have a concern: Why didn't the bathroom have a changing table? The place was packed with families. C'mon, don't make us have to get down on your gross floors to change a diaper. And this isn't the only place that I've been to with tons of kids inside that doesn't have a changing table in the bathrooms. Where can I start a march, and if I do start a march, will anyone join me?
My sister-in-law got married. I cried, and then I got excited for the food at the reception.
The wedding reception took place at the Golden Unicorn, which I've been told is one of the only true Cantonese restaurants in Chinatown, and this place didn't disappoint. After a Chinese tea ceremony, we watched the bride and groom get bling-ed out by family members, and we were treated to a nine-course meal that included dishes like:
• Happiness platter: I only recognized two of the happinesses, but they were all delicious.
• Shrimp drizzled with sweet mayo sauce: The most delicious shrimp dish I've ever tried. My sister-in-law has been searching for this exact dish's preparation in many restaurants, but none come close to the Golden Unicorn's version.
• The lobster with ginger and garlic: Tender and pre-cracked, it was the best way to enjoy lobster sans plastic bib.
• The sea bass: Outstanding. Melt-in-your-mouth perfection.
Delicious chocolate cupcakes (with the right amount of frosting) replaced a traditional wedding cake, and the only other thing worth mentioning from the evening was how Hanson's "MMMBop" got everyone on the floor and brought down the house in non-ironic dancing.
We headed for a nightcap at the Bowery Hotel's lobby bar. I really like coming here before it gets too late (and full of horrible people) with good friends because you can actually hear each other, and the drinks are perfect. My go-to drink here is the Gold Rush. As much as I've tried to perfect the recipe at home, it's never as good as it is here.
Sunday, November 8
A lot of drinking was done, and now there is only one place to go to undo the mess: Cheeky's. It's a sandwich speakeasy, and while their lunch sandwiches are amazing, their breakfast sandwich is un-fuck-with-able — egg, cheese and I chose the salmon (instead of bacon) as a topping. This is how breakfast needs to be prepared, chased down with an Abita and bag of Zapps Voodoo chips. It will cure all your problems.
Met up with a bunch of friends at the John Dory Oyster Bar in the Ace Hotel. I needed to select my friends carefully for this ­-meal because not many people are up for a three-tier seafood tower, and that's what I wanted to try. Being on the West Coast now, there is a lack of quality shellfish, and I feel like I really attack it with a vengeance whenever I'm back in NYC. This place didn't disappoint. Their mignonette is superb. I wish I was the type of person that tastes something and tells you exactly what flavors it is, but I'm not, and I never will be. So just believe me when I say it was delicious. The pumpkin toast was such a huge table favorite that we actually ordered it three times. It was also the first time I had Kedgeree (I'll admit, I didn't know what that was, and I did Google it before I ordered), but it was so good. It was like a more delicious, less eggy quiche. We also all shared stuffed squid, which makes me feel bad for the squids out there that can't get stuffed with chorizo.
I'm a huge Sleep No More fan, and since it's hard to convince my friends to continually go back time and time again, I always opt for drinks at Gallow Green, which just opened their winter version of the place called the Lodge. Luckily, it was a surprisingly warm weekend, and it was perfect. The rooftop is just this awesomely magical place, and trust me, I'm not a person who has the term magical in my daily lexicon. It's a great way to really feel like you have one foot in the past and out of New York all while being in the present and in the dead center of it. Here, I never care about what I'm drinking as much as I do about enjoying the views and the slightly theatrical goings-on around us.
There's only one way to make a good night in NYC absolutely great, and that's by stopping at Joe's Pizza late night (after 3 a.m.) for a "pizza nightcap."* You might know this spot as the place Peter Parker worked in the Sam Raimi Spider-Man movies. His spider senses told him this was the best slice of pizza in Manhattan, and he was right! I keep it simple: plain, two slices, and a Snapple. Pizza is a great uniter, like the Statue of Liberty. It accepts all. That's why at 3 a.m., you'll find this place packed with an odd assortment of super-drunk people, models, rich dicks, and, oddly enough, families with little kids. Why are those little kids up so late?
Monday, November 9
Monday was my day to try all the cool new restaurants that I've heard about and that would make my Grub Street diary seem cooler. I hope it works!
Breakfast was unmemorable. A blueberry Chobani … That's right, I don't eat the yogurt that John Stamos tells me to. And a Starbucks Sweet Green juice.
I'd been hearing a lot about Seamore's and really wanted to try it. Oh yeah, by now you're realizing I eat a lot of fish. I should mention, or perhaps you've realized by this point, I'm an unfaithful pescatarian … I mostly do vegetarian and fish unless there is a good reason not to. And that good reason is having something that is so delicious that I must try it, like slow-cooked brisket or the above mentioned pastrami. Seamore's reminded me of a place that Jimmy Buffett wanted Margaritaville restaurants to feel like, but then just cashed in and went back to not giving a fuck. The crispy fish tacos were perfection, and the ceviche was great. The guacamole was almost on Chipotle levels (I say that half-joking), and the poke was solid. It was all chased with a "Maria I'm Drunk." It was a great Monday vacation lunch.
Met up with my friend Sam to try Estela. I was nervous because I had heard too many good things about this place. Just like that time I went to see Crouching Tiger, Hidden Dragon. It never lived up to the hype, and I was nervous this would fall into the same CTHD territory. But nope, this place was good. Damn good, and the second place I ate in a week that Obama ate at. So it's presidentially good. So good, I didn't mind being Tetris'd into our table. We tried to blow out the menu and try a bit of everything. We started with the mussels escabeche, which blew my mind, then went to amazing burrata with salsa verde on charred bread, which I'd like to eat every day. We also tried the ricotta dumplings, a must, and the kohlrabi and apple with hazelnuts and mint, which a perfect palate cleanser. No room for dessert. I mean, look at what we just ate.
Tuesday, November 10
Started the day at Il Buco Alimentari. I used to go here all the time for dinner because it was close to my apartment, but I didn't realize they served breakfast, too, and it was amazing. I had a very simple avocado toast with an egg, anchovies, oil, vinegar, and Aleppo pepper. Wow! Flavor explosion. My tongue was grateful for treating it so well so early. I also drank a double espresso because I like to see what it's like to trick my heart into thinking it's having a heart attack before 10 a.m. It's a fun game. Try it.
For lunch I headed over to Shake Shack on the west side but not for a burger! Wait! What? That's right, I go to Shake Shack for the Shack-ago Dog. Yes, I'm breaking my no-meat thing for a hot dog! I know you are thinking, Who goes anywhere for a hot dog? But the Shack-ago Dog is a thing of beauty. This is how all hot dogs should be: grilled and full of relish, onion, cucumber, pickle, tomato, sport pepper, celery salt, and mustard. That's a meal. Next time, just try it — it will make you think of hot dogs in an entirely new way. I also shared cheese fries. Don't judge me. I'm visiting.
I took June, my wife, to Vatan, this amazing vegetarian Indian restaurant that we hadn't gone to in years. This was the place where we had our first date, and it's just perfect. The entire restaurant looks like you've stepped inside an Indian courtyard with a banyan tree, painted tables, and even thatched-roof cottages.There is no ordering; you are brought out an all-you-can-eat meal that includes some of the best chana masala, sev puri, ful-cobi, and batata nu shaak (and yes, I didn't know the names of most of these dishes when I was eating them — as there is no menu — so I looked it up after the fact). This is one of these unique places in NYC that really feels special and that no one knows about, and you don't have to wear shoes either. So it's a win-win-win.
Had to fly back to L.A. to make press obligations for the League episode I wrote. On my way to the JetBlue Terminal at JFK, I had a mini bottle of Tito's (my favorite) as I mixed my own Bloody Mary and toasted my new diet that I'll start tomorrow.
*This post has been updated to show that Peter Parker did, indeed, work at Joe's Pizza, not John's. And that this is also the establishment where Scheer got slices at 3 a.m.