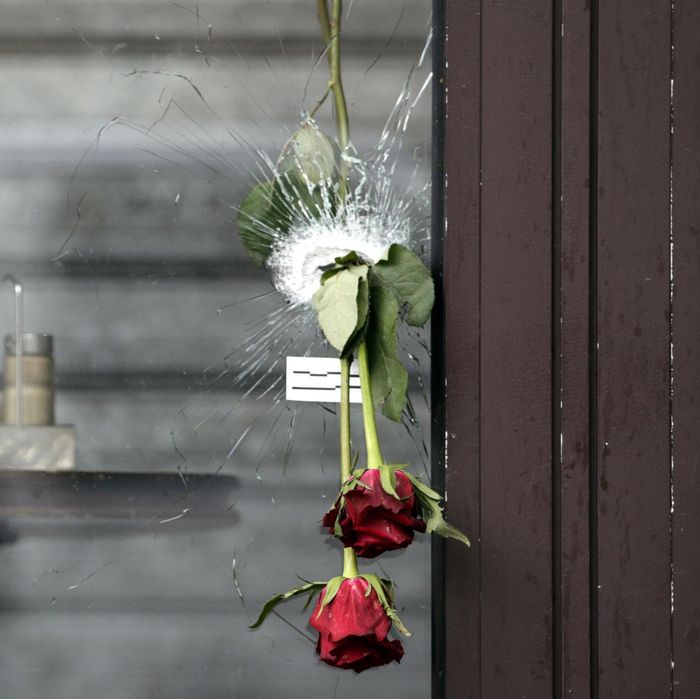 The scene at Café Bonne Bière.
Photo: Kenzo Tribouillard/AFP/Getty Images
This week, Le Guide Fooding — arguably the authority on French restaurant news and reviews — initiated a campaign urging people in Paris to invest in restaurants, bistros, bars, cafés, and corner brasseries, last night and thereafter. The so-named Tous au Bistrot ("Everyone to the Bistro") initiative was part homage to the fallen victims, part support system for restaurant workers, and part civilian resilience to prove that Paris has not been ruined by fear. It was intended to underscore the city's fortitude, bravery, and love of food. Threaded by the campaign hashtags #tousaubistrot and #jesuisenterrasse, it was a cri de coeur for the French community to do what it does best: go out and be bon vivants. Yet the notion of "living well" takes on renewed gravity in the wake of the carnage that left the city riddled with bullet holes and in emotional shambles. When day-to-day activities suddenly teem with latent danger, what can anyone do?
"I'm going to do nothing special," Japanese-born chef Taku Sekine, of Dersou, said yesterday before reopening for the first time since the attacks. "It's not about, 'We go to the restaurant tonight only.' Otherwise, we're going to lose a lot of restaurants in Paris. We're gonna celebrate the normal. We are open. People can come. We serve as usual." But even though his plan is to try to return to some sense of normalcy, he knows that's not the case yet. "We are not in a 'normal' state of mind," he says. "But we have to be. There is no choice."

American-born Josh Fontaine, part of the Quixotic Projects crew that owns three cocktail bars and a Korean restaurant, says: "It's good for somebody as big as Le Fooding to remind people that there's life after Friday, and that people should eat and drink and congregate." In addition to the customers and the public at large, another partner at Quixotic, Carina Tsou, says it's been especially tough for workers. "It's hard keeping people who work in the restaurant and bar industry strong, because nobody is trained for what happened," she says. "My staff is young and international, and for them to have to handle people in panicked situations is not easy." She adds, "People who worked the [Friday] shift didn't feel very good about going back to work."
Brazilian-Italian Gaby Benicio of Hai Kai, a restaurant located close to Le Petit Cambodge and Le Carillon — the eatery and bar attacked in the 10th arrondissement — notes: "We all lived this deeply. There are psychological consequences, and financial ones." Following Charlie Hebdo's devastation earlier in the year, she notes that clients didn't have the morale to dine out, and her restaurant, like many others, took a significant dip in figures. "We have to move forward," she says adamantly. "Otherwise we might as well just close our doors and switch jobs. We're a métier about passion. It's essentials — it's nourishment, it's good wine."
Others say they aren't yet ready to view restaurants as a statement of defiance. Théo Pourriat, a partner at Septime and Clamato, says he "applauded the initiative," but does not feel that it currently represents the spirit of his two restaurants, both of which are immediate neighbors to La Belle Équipe, a bar that was attacked. "It's too close in proximity and in timing," Pourriat explains. "We feel more apprehensive; we want to keep a low profile."
Samuel Urbain, owner of Bistro Urbain, closed his restaurant on Saturday for lunch, but reopened on Saturday night. He organized a staff meal on site, and greeted anyone who came to join them, notably tourists whose hotel restaurants were closed. "There was no menu," Urbain recounts. "Diners ate what we did, and with us." This decision to open so soon after was unique: "Even the McDonald's [nearby] had shuttered," Urbain notes. "I didn't feel like working — but I didn't feel like not working." For Urbain, the harrowing events of November 13 also brought for him a surge of national pride: "Being a citizen is much more essential than being a manager," he emphasizes. "I am very patriotic … I'm proud to be French. It's visceral. We have that arrogance that is seen so badly by foreigners — and they're right to see it that way — but that pride lionizes us during difficult moments. That pride has certain useful qualities."
What last night's Tous au Bistrot rallying cry accomplished is, ultimately, difficult to appraise. People came out, though not in droves. The vibe was, as a friend put it, "solemn, but with solidarity." Sekine deemed it a revitalizing experience: "People needed it. Even the staff." On his end, Urbain assessed, "It wasn't a bad Tuesday, but it wasn't a good Tuesday." After such profoundly devastating events, and their uneasy consequences, it takes time to regain one's appetite.