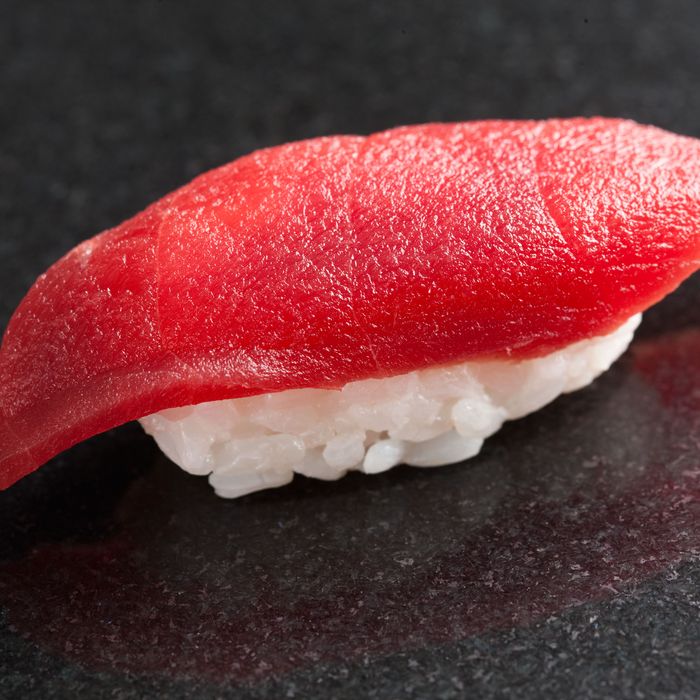 Akami, or lean tuna, at Sushi Nakazawa.
Photo: Melissa Hom
In many ways, sushi bars have become the ultimate high-roller dining experience in New York. The past decade has seen the city's raw-fish ranks swell with a wave of excellent omakase spots and a rising tide of truly talented chefs. Whether you want a classic midtown experience or a boundary-pushing meal downtown, or you're just in search of the most reliable cheap supermarket sushi in town, these are the best places to eat raw fish right now.
15 East (Union Square)
Cost: Seven-course tasting menus are $140 per person. Omakase and à la carte are available as well.
Why It's Great: Don't worry too much about Masato Shimizu's recent departure — the sushi is still top-notch, elegantly prepared by focused, precise chefs. Service is smooth but unobtrusive, which helps you focus on bites of aji tartare wrapped in shisho leaf and rolls of crispy salmon skin finished in a toaster oven. While there's lots of expensive sake and wine, there's also a short list of thoughtful cocktails fit for the subtleties of raw fish.
Blue Ribbon Sushi (Soho)
Cost: Omakase goes for a minimum of $85 per person. Platters, from $18 to $160 (the Blue Ribbon Special, for two to four), and à la carte are available as well.
Why It's Great: The Bromberg brothers, chef-partner Toshi Ueki, and executive chef Kazutaka Iimori aren't above serving superior versions of Americanized, inauthentic crowd-pleasers like California and dragon rolls. That flexibility is nice if you're with someone who doesn't demand the most pristine spotted-sardine sashimi. The dim, romantic room is a perfect spot for a toro-and-sake-themed date.
Hatsuhana (Midtown East)
Cost: Platters are $24.50 to $42, while omakase is $30 to $51. Individual rolls are also available.
Why It's Great: One of the city's oldest sushi bars, Hatsuhana remains one of the better high-end options for the midtown business lunch crowd. The spot is still frequented by Japanese salarymen, and the aging sushi master ably plies his trade, serving precisely cut slices of fish. No, it hasn't quite kept up with the times and can't match the inventiveness of newer joints, but it's a midtown classic, and the scene here is of a different order than what you'd find at buzzier places.
Hirohisa (East Village)
Cost: You'll pay $100 to $150 for omakase. Market-price sushi is also available.
Why It's Great: The cuisine at this very discreet establishment is Kappo-style, so should you opt for the set menu, you'll get plenty of non-sushi items like grilled sesame tofu with uni and fall vegetables simmered in miso. That said: The sushi is excellent, too.
Ichimura at Brushstroke (Tribeca)
Cost: The omakase starts at $195.
Why It's Great: This restaurant within a restaurant is an eight-seat counter in David Bouley's spare, high-end Japanese restaurant. Eiji Ichimura serves ultra-traditional sushi presented simply and with little ornamentation, like uni dabbed on rice. The seafood is left to speak for itself, and speak it does; this is one of the most straight-out-of-Tokyo experiences in town.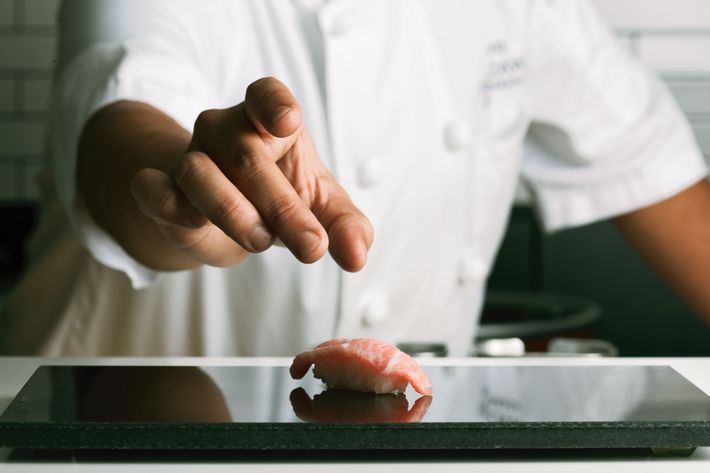 Jewel Bako (East Village)
Cost: Sushi and sashimi platters are $38, makimono rolls are $18, and omakase is $75 to $150.
Why It's Great: At many sushi houses in this city, it's really the counter seat or bust. That's not the case at this longtime East Village charmer, where you won't feel left out when you're at a table. Meals are well paced, and every detail is given attention. Don't miss the excellent, large makimono, like salmon with ikura and eel with shrimp.
Kura (East Village)
Cost: Omakase starts at $65, while à la carte is $10 to $20.
Why It's Great: One of the best new omakase restaurants to hit New York, Kura is presided over by a smiling chef who will make you feel right at home. At a starting price of $85 for 12 pieces, the chef's choice is a solid deal, especially when they're serving rolls like marinated tuna with yam and squid stuffed with seaweed and rice, a kind of inverse roll.
Neta (West Village)
Cost: There are three omakase options for $105, $145, and $225. There are à la carte options available as well.
Why It's Great: The opening co-chefs have departed for Shuko, but this largely unadorned, very pricey West Village favorite is still turning out the good stuff. Now in the kitchen is Korean-born, American-trained Sungchul Shim, who is serving salmon and avocado rolls alongside unaccompanied sea bream and Spanish mackerel.
New York Sushi Ko (Lower East Side)
Cost: Three omakase menus are available for $125, $175, and $205. After 9:30, there is a supplemental menu including a seven-piece sushi and roll dinner for $50.
Why It's Great: A veteran of Masa and 15 East, John Daley takes a boisterously unconventional approach to sushi that is surprisingly composed. Like many newer spots, it's omakase, with a limited supplemental menu after 9:30 p.m. While Daley's composed plates tend to be a bit more idiosyncratic, his sushi is more toned down. Expect things like mackeral cured in rice vinegar and lots of fish crisped with a blowtorch.
Soto (West Village)
How Much: The omakase goes for between $135 and $185. There also eight and twelve piece set menus for $46 and $62 and pricey à la carte options ranging from $16 to $26.
Why It's Great: Chef-owner Sotohiro Kosugi is a third-generation sushi chef from northern Japan, and in New York he has become known as an astute practitioner of a restrained style in keeping with, but not limited to, Tokyo's. The bar is a polished blond wood, and the walls a stark white — all the better to focus on the delicious details of your amberjack.
Sunrise Mart (East Village, Midtown East, and Soho)
Cost: You won't pay more than $15 for your lunch.
Why It's Great: There's nothing fancy about this Manhattan grocery chain, with locations downtown and in midtown, and it's likely not where you'd go hunting for New York's most mind-blowing sushi. The real, simple appeal is that the premade rolls here are consistently tasty. This isn't where you go to wax poetic about the creativity of the chef or the perfect temperature and texture of the rice. This is where you go to grab reliable, inexpensive, tasty rolls and sushi combinations. Deny it all you want, but sometimes you just need a supermarket-sushi fix.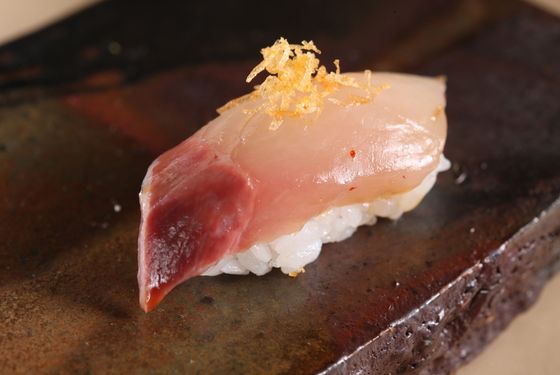 Shuko (West Village)
Cost: The tasting is $135; the kaiseki runs $175.
Why It's Great: Masa alumni Nick Kim and Jimmy Lau, who first made names for themselves at Neta, were given the green light to spare no expense in their pursuit of the highest-quality ingredients. They're refreshing Edomae-style by using a wider range of ingredients and using them more creatively. Their commitment shows in small touches, like ice delivered from Queens' famous Okamoto ice studio, and the elaborate, playful preparations like a gourmet spicy tuna roll.
Sushi Azabu (Tribeca)
Cost: You'll pay from $120 to $200 for your omakase.
Why It's Great: Tucked under the Daruma-Ya soba house and izakaya, this small and cozy "speakeasy" has long been known as a purveyor of less heralded fish, like Pacific saury. Four omakase options are available, and the fish will be of excellent quality no matter how you order.
Sushi of Gari (Upper East Side, Hells Kitchen, Tribeca)
Cost: Platters are $27 to $55. Omakase, the price of which depends on courses and sushi ordered, and à la carte are available as well.
Why It's Great: Masatoshi "Gari" Sugio was an early innovator on the New York scene, and though his whimsical touches may seem less cutting-edge these days, his original restaurant — now with three locations — remains a popular destination. That's because, though many have caught up with him, few have ever learned to perform his tricks as well. Today, Gari still deftly incorporates unusual ingredients, which can include tofu mayonnaise and pungent dried squid, in rolls.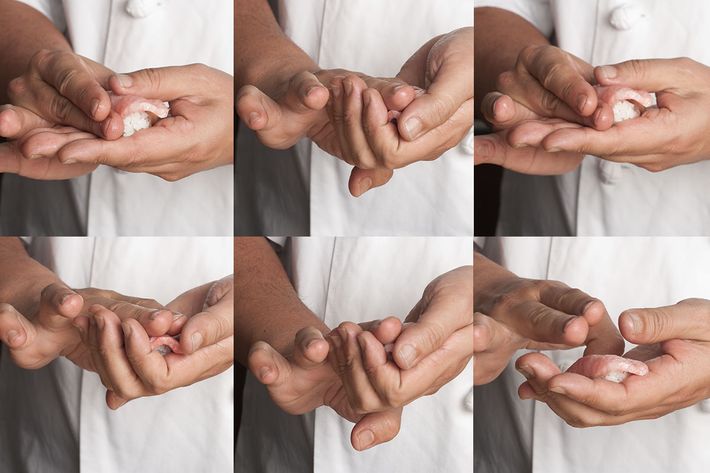 Sushi Nakazawa (West Village)
Cost: Omakase is $120 in the dining room and $150 at the bar.
Why It's Great: This posh West Village spot is helmed by Daisuke Nakazawa, a protégé of the famously exacting Tokyo master Jiro Ono, whose arrival in New York is still causing a stir more than two years later. The cost of the ticket is only really worth it, though, if you can get a spot at the ten-seat bar, where your meal will be presided over by the gleeful, enthusiastic Nakazawa (so long as you go on a weeknight). It'd be a shame, too, not to get the excellent sake pairing, which at six glasses for $45 is comparatively a steal.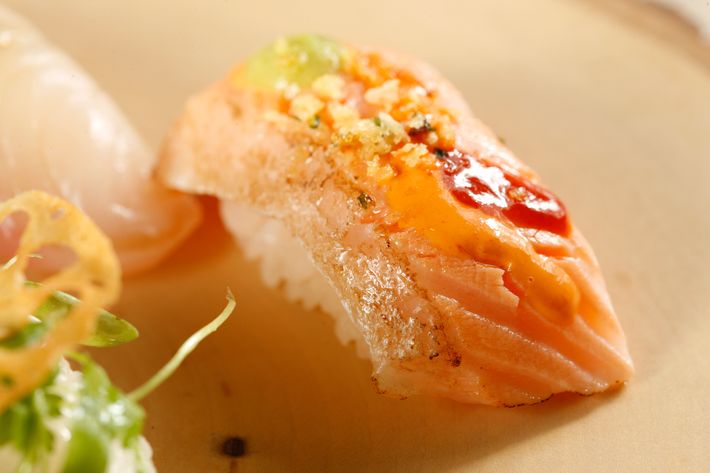 Sushi Seki (Chelsea, Hell's Kitchen, Upper East Side)
Cost: Set dinners are $36 to $55 and omakase depends on the customer. There is à la carte as well.
Why It's Great: A favorite of star chefs like Eric Ripert and Daniel Boulud, Seki is the gold standard in late-night sushi. The original dimly lit Upper East Side location is almost always packed, and they've since expanded to Chelsea and Hell's Kitchen, where they're operating a very large, bilevel restaurant with a first-floor bar called Bar Seki. No matter, you can still expect fireworks from dishes like yellowtail with jalapeño sauce and the spicy scallop hand roll. A bonus: It's open until 2:30 a.m.
Sushi Yasuda (Midtown East)
Cost: Omakase, the only available option at the bar, does not have a set price but usually costs over $100. Set menus go from $28 to $44.50, and there are à la carte options available, as well.
Why It's Great: The venerable establishment's namesake chef, Naomichi Yasuda, returned to Tokyo five years ago, but he left the place in the more-than-capable hands of his former apprentice Mitsuru Tamura, who continues to draw praise and earn new fans. The simple preparations remain among the most delicious in town, and the elegant space is an antidote to flashier alternatives.
Tanoshi Sushi Sake Bar (Upper East Side)
Cost: Omakase starts at $75.
Why It's Great: Getting one of the ten seats at this casual joint, a relatively recent addition to the scene that wouldn't look out of place on some fringe street near a fish market in Japan, is never easy. It generated a ton of early buzz thanks to the low cost of its omakase, and though the starting price has since risen, it's still one of the better deals around. While the variety of fish won't blow you away, the quality and preparation will, and — despite the name — the restaurant remains BYOB, so you can carry in your own sake without worrying about the bill.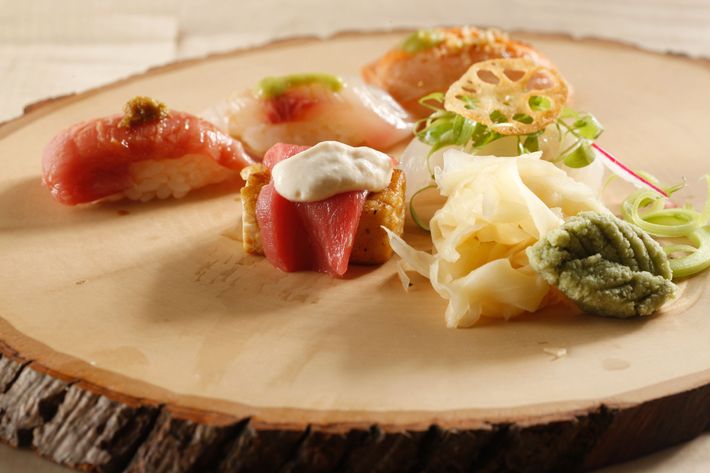 Tomoe Sushi (West Village)
Cost: Platters range from $16 to $36, and there are à la carte options available as well.
Why It's Great: The Thompson Street restaurant has been a steady source for reliable, affordable sushi for years now. Sashimi, hand rolls, and regular rolls are almost always good, just don't expect to be dazzled by the food like you would be at more high-end spots — or to get sharp service. This is where you go when you want a fast-paced, low-key à la carte meal.
Ushiwakamaru (Chelsea)
Cost: Omakase is $70 to $100. Platters and à la carte can be ordered as well.
Why It's Great: A longtime destination for thriftier sushi hounds, the West Houston Street heavyweight has moved its no-frills, all-thrills mentality up to Chelsea. The undistinguished décor made it look like any old discount-roll emporium, yet dedicated fans know they take their vinegar-y rice seriously and that, bite for bite, these rolls are one of the best deals in town.
… And then there's Masa: Anyone reading this list is almost certainly familiar with the exceedingly expensive Columbus Circle restaurant, where the prix fixe meal starts at $450 per person. For many, this has long been the height of sushi in New York City, more than just a simple meal. That may be true, but many people also say that the experience has slipped in recent years and that it's no longer worth the cost. If you can afford a meal here, you'll have to decide for yourself if it warrants the price. There is also the relatively more affordable, less serious Bar Masa right next door, should you merely want to try out Masa's particular brand of luxury.

Glossary
Omakase: Meaning "to entrust" or "leave it up to someone," this denotes a set-menu style of dining wherein the chef decides what you'll be eating. (Since the meals are impromptu, this often means the chefs decide what they'll be charging, too.)
Nigiri: Translating to "grasped" or "gripped," this is a style of sushi that consists of a slice of fish served on pressed, vinegared rice.
Makizushi: Commonly referred to as sushi rolls, they're cylindrically shaped and typically wrapped in nori (seaweed).
Edomae: Referring to nigirizushi, this is the style of sushi best known around the world and was invented in Tokyo, once known as Edo.
More Restaurant Suggestions From Grub Street
Where to Eat the Best Ramen in NYC
Where to Eat the Best Brunch in NYC
Where to Find the Best Tacos in NYC
Where to Eat the Best Late-Night Food in NYC
These Are the Best Date Restaurants in New York
The Best NYC Restaurants for Groups
Where To Drink the Best Coffee in NYC
These Are New York's Best Bars for Cocktails
Where to Eat the Best Steaks in NYC