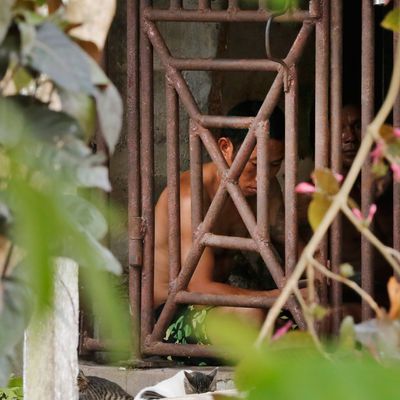 Workers are held in cages, so they can't escape.
Photo: Dita Alangkara/AP/Corbis
Nestlé got pummeled last year by reports claiming its seafood — most of which ends up as cat food — suffers from a horrible slave-labor problem. In an unusually transparent move, the food giant is now admitting those awful allegations were basically spot-on. It seems the company asked nonprofit group Verité to interview employees along its supply line. After talking to about 100 deckhands, boat owners, shrimp farmers, and site supervisors in Thailand, Verité published the findings in a report detailing the ways workers are lured onto boats, where they toil under violent conditions to catch fish that ends up in Nestlé's rather small array of seafood products.
Commercial fishing is one of the world's most dangerous occupations anyhow. ("Sometimes, the net is too heavy, and workers get pulled into the water and just disappear," the report quotes one worker saying.) But the abuse these fishermen endure at the hands of captains working for Thai seafood suppliers takes it to another level. In response, Nestlé has released a responsible-sourcing strategy that outlines how the company plans to protect workers moving forward. It calls for imposing requirements on suppliers, training boat captains about human rights and safe work conditions, and hiring outside auditors to vouch that these changes are under way.
A Nestlé executive says the company is committed to these fixes, but notes, "This will be neither a quick nor an easy endeavor."