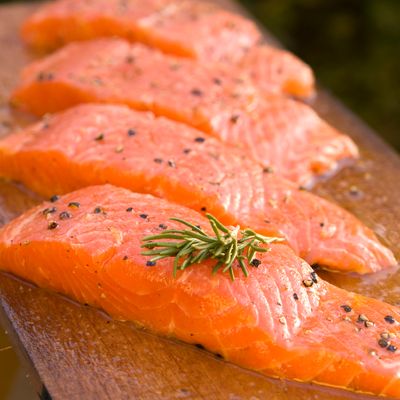 Tastes fine, but reportedly glows in the dark.
Photo: AquaBounty
Frankenfish's marketability continues to look complicated at best: Costco — America's largest seller of salmon — is the latest company to express alarm at biotech company AquaBounty's new creation, a salmon that's the first genetically modified animal approved by the FDA for human consumption.
Whole Foods, Trader Joe's, and Target, plus a slew of smaller companies, have already passed, all presumably worried that being linked to food that a majority of Americans still consider "unsafe" is bad for business. Costco hadn't pledged — despite angry protests — not to sell GM salmon by the time the FDA announced approval, but now it appears that after some thought, the company also "does not intend" for any of its 600,000 pounds of salmon sold every week to be of the GM variety.
The FDA swears there are "no biologically relevant differences in the nutritional profile" of AquAdvantage and farm-raised Atlantic salmon. The creature, which is part salmon and part ocean pout, grows twice as fast as its all-natural brethren, as pictures of the two side by side show:
While super salmon sounds exactly like the type of thing Red Lobster would be into, the nation's largest seafood chain declared last week that it's also going to pass … at least until scientists make a fish capable of regenerating itself on the plate, for the chain's exciting new Endless Salmon special.