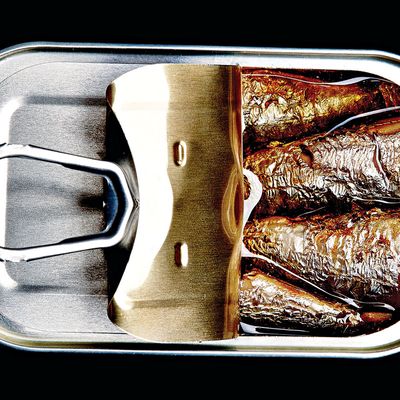 An all-inclusive, chef-inspired, food-trend-monitoring shopping list, from achaar to za'atar.
Photo: Bobby Doherty/New York Magazine. Food styling by Jamie Kimm.
We all know 18th-century French lawyer-gastronome Jean Anthelme Brillat-Savarin's famous quote: "Tell me what you eat and I will tell you what you are." If he were living in New York City right now, he'd undoubtedly have a rougher go of it. He'd have to delve deeper and expand his line of inquiry. In order to really get a handle on us, he'd need to not only peek into cupboards and scrutinize our shopping lists, but scroll through food-porny Instagram feeds and binge-read recipe blogs.
We're privileged, after all, to cook and eat in a time and place that's a crossroads of culinary tradition and restless innovation, closely guarded authenticity and exuberant fusion. But it can quickly become overwhelming. How do you translate a Babel of flavors and ingredients into your home cooking? You can start by perusing this A-to-Z guide of 50 of today's most influential and culture-defining foodstuffs — things you'll find as frequently on pioneering menus as on specialty-store shelves. And then, with a few helpful tips from some generous chefs, put them to use.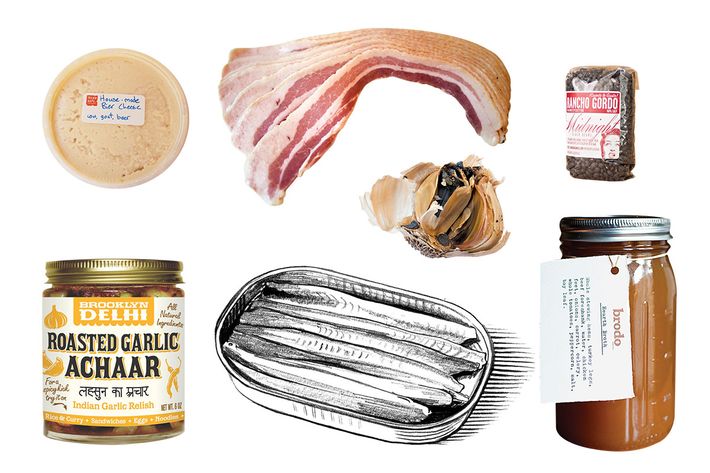 A
Grade-A Achaar
$10 at Harry & Ida's, 189 Ave. A, nr. 12th St.; 646-864-0967
This is the New Brooklyn, handmade, small-batch, locavore, no-preservatives, good-ingredients-only version of the spicy, oily condiment ubiquitous throughout India. And if that makes you roll your eyes and puff out a sigh, you haven't tried it yet. Brooklyn Delhi's Roasted Garlic Achaar is that good — hot, sweet, sour, bafflingly complex, and addictive enough to make you consider carrying a jar of it wherever you go, the way old-timer New Orleanians pack bottles of Tabasco in their coat pockets. Stir it into rice dishes and smear it on sandwiches. Or dab it on eggs or grilled meats and fish, or into a bowl of ramen. The garlic flavor makes a great topping for a Grana Padano-and-­tomato pizza, and the tomato variety will upgrade any shakshuka recipe tenfold.
Anchovies That Eat Like the Prosciutto of the Sea
$15 at Harry & Ida's
You know those hairy, spiny, mushy anchovies in dusty tins you find on your local supermarket shelf? These aren't those. These Don Bocarte anchovies are beautifully filleted and hand-packed in extra-virgin olive oil. Texture-wise, they have more in common with a slice of prosciutto di Parma or a hunk of raw Kobe beef than they do with anything else. The flavor is big but balanced. The fish are caught only in April, May, and June in the Bay of Biscay, which, if you know anchovies, you know means a lot. In sum, even people who say they hate anchovies like these anchovies. They make a killer bagna cauda, but the best way to eat them is with gobs of good butter on toasted rustic bread.
B
Bacon With Extra Oomph
$9 for an eight-ounce pack at chefswarehouse.com
Ari Miller started curing his own heritage-­breed bacon as a lark, which led to a farmers'-market stand, brisk restaurant sales throughout his home city of Philadelphia, and finally a national campaign. His 1732 Garlic Insanity Bacon is the heady stuff that started it all — part meat, part fat, part vampire slayer. "1732" refers to the year in which his house was built, and garlic to the first flavor he made after reading a charcuterie how-to book. A bacon purist (despite the garlic), Miller refrains from smoking his, so as not to overwhelm the porky flavor of his Berkshire hogs.
Beans With a Backstory
$8 at Formaggio Essex, 120 Essex St., at Delancey St.; 212-982-8200
Rancho Gordo's Steve Sando gets the credit for reminding today's aspiring gastronomes that beans don't only come from a can, and that the superior texture and flavor derived from exotic heirlooms like Eye of the Goat and Rio Zape make the soak-and-simmer hassle worth it. These rare legumes have uses as varied as their appearance, especially in the Mexican arena: Cosme chef de cuisine Daniela Soto-Innes swears by the Midnight Black, which she purées into a smooth, tortilla-drowning sauce for the classic dish enfrijoladas.
Surprisingly Sweet Black Garlic
$13 at Kalustyan's, 123 Lexington Ave., nr. 28th St.; 212-685-3451
This voguish ingredient — created by cooking whole heads low and slow until they ferment and blacken and their sugars caramelize — yields a flavor that's mellow, tangy, and almost candy-sweet. It's pure chef bait: Nopi's Yotam Ottolenghi attributes to it "the texture of a gummy candy and the flavor of balsamic licorice," while Zahav's Michael Solomonov uses the cloves to add depth to his matzo-ball soup. The effect, as described in his Zahav cookbook, "is how I always imagine Passover in Southeast Asia would taste."
Bone Broth on Demand
$15 a quart at Brodo, 200 First Ave., nr. 12th St.; no phone
Marco Canora might be single-handedly responsible for the bone-broth boom, and the stuff he peddles through an East Village kitchen window is not only a nourishing quick fix but a boon for the home cook. After all, who has time to run around gathering grass-fed-beef bones and organic turkey and chicken bones, breaking them down, then simmering them for 12 to 24 hours? No store-bought stock comes close to Brodo's Hearth broth (made from turkey, beef, and chicken). Use it for pan sauces or risotto (dried porcini is a favorite). Cook a head of escarole in it and stir in some beaten eggs. Or take Canora's suggestion and "simply add it to pastina or tortellini, toss in some parm, and be done."
Boutique Beer Cheese
$13 a pound at Milk & Hops, 779 Broadway, nr. 9th St.; 212-995-5588
They make it with good English Cheddar, French-style chèvre, some secret spices, and whatever meticulously brewed lager they happen to be liking at the moment at this craft-beer and artisanal-cheese shop. Plus: They spell "beer" with an i. But none of this seeming pretense detracts from the junky, all-American, guilty-pleasure appeal of Milk & Hops' housemade bier cheese. Serve it with crudités, spread it on a burger bun, or pair it with mustard and piping-hot pretzels the way they do at the store. Or keep things simple and break out the Ritz.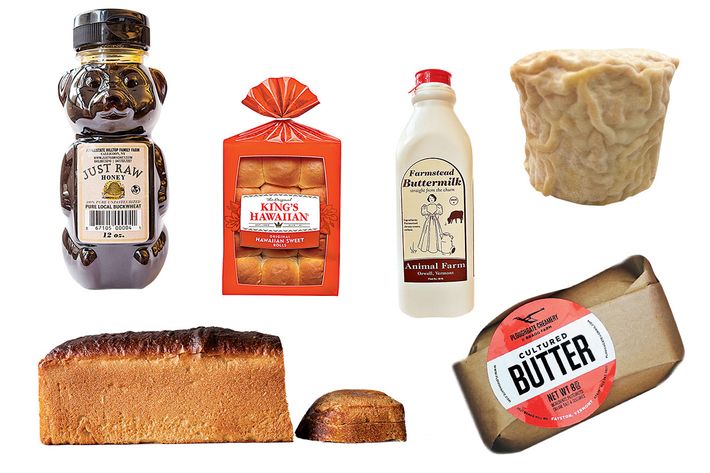 Bread That's Hip and Square
$9.50 to $12 at Marlow & Daughters, 95 Broadway, nr. Berry St., Williamsburg; 718-388-5700
Pullman loaves were named for the railroad cars in which they were once served, mostly because their rectangular shape made them eminently stackable. It also makes them the ultimate sandwich bread. Today's craft bakers substitute whole grains and natural leavening for conventional white refined flour and commercial yeast. She Wolf Bakery's Pullman loaves, baked by the bread subsidiary of Brooklyn's Diner restaurant group, leave Wonder in the dust with lunch-elevating varieties like caraway rye, sprouted rye, and sourdough.
Barnyardy Buckwheat Honey
$5 at Greenmarket grownyc.org/greenmarket
"Sweet honey meets horse's ass, and I mean that in the best way possible," is how Hearth's Marco Canora describes this dark-as-molasses elixir from Apple State Hilltop Family Farm in Oneonta, New York. Raw and unpasteurized, it's rich and funky with a malty, bitter top note quickly outpaced by a lingering sweetness. Canora recommends you use it for glazing pan-roasted duck or winter vegetables cooked with butter and herbs. It also makes a mean gingerbread cake.
Buns With the Sweetest Squish
$13 for 12 burger buns at Amazon.com
First things first: What Hellmann's is to mayo and Heinz is to ketchup, Martin's is to buns — the undeniable, irrefutable, accept-no-substitutes gold standard, at least according to the burger cognoscenti. But there is a contender. The key difference between the equally soft and squishy King's Hawaiian brand and Martin's is that King's is noticeably sweeter. That may not be to its advantage in a side-by-side plain-bun taste test. But when your goal is to fill buns with salty meat patties and then add tangy, spicy, pickly condiments, it stands to reason that the extra sweetness would yield a greater flavor foil. Note: King's also sells delicious slider-ready dinner rolls.
Butter to Slather and Savor
$15.50 a pound at Saxelby Cheesemongers, 120 Essex St., at Delancey St.; 212-228-8204
Is butter the new cheese? That's the position award-winning cheesemaker turned butter-­churner Marisa Mauro is taking up in Fayston, Vermont. To get her hands on the increasingly rare equipment that matched her small-batch business plan, she had to seek out suppliers as far away as Wisconsin and Ukraine. It was worth the effort. Like the best European-style specimens, her Ploughgate Creamery's cultured butter is lush and slightly cheesy — the result of culturing (or fermenting) the cream for 48 hours before churning. The butter comes wrapped in plain-brown butcher paper but is anything but ordinary.
Real Buttermilk
$5.85 a quart at Saxelby Cheesemongers
Southern-style cooking continues to be all the rage among New York chefs, so it's no surprise that even buttermilk is having a renaissance. Unlike the supermarket variety (typically skim milk with added lactic acid), Animal Farm buttermilk comes straight from the churn of Diane St. Clair, who raises ten Jersey cows in Orwell, Vermont. It's tangy and creamy, with tiny flecks of yellow fat, and if it doesn't improve the flavor and texture of your fried chicken and biscuits, nothing will. You may be wondering about the butter whence this buttermilk derives. Sadly, it's nearly impossible to get. Although Saxelby procures some on occasion, most of it goes to butter-hog Thomas Keller. Considering it costs $50 a pound, that's probably a good thing.
C
Cheese-Plate Cheese
$12 at Saxelby Cheesemongers
As American cheesemaking continues to thrive, so too does the craft of affinage, or cheese-aging. It's happening right now, in fact, in a repurposed lagering tunnel in Crown Heights, Brooklyn, where Benton Brown and Susan Boyle mature young cheeses acquired from regional dairies. Their Crown Finish Caves Paymaster subjects Coach Farm goat-cheese medallions to repeated swabbings of chocolate whiskey from Kings County Distillery, located just up the road in the Brooklyn Navy Yard. (Whiskey or bourbon would be the natural pairing.)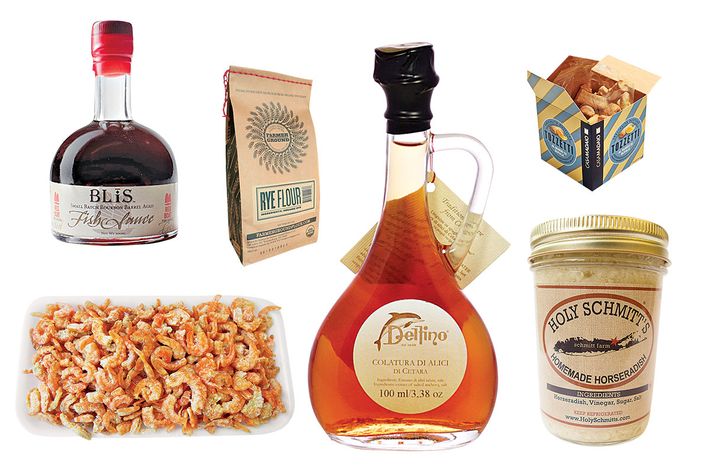 Colatura That Gives Fish Juice a Good Name
$16.80 at Eataly, 200 Fifth Ave., at 23rd St.; 212-229-2560
Colatura di alici, essentially strained or filtered anchovies, is the by-­product of that flavorful fish's salt-curing process. Pliny the Elder, not one to mince words, called the substance's historic precursor, garum, "the liquid of rotting fish." And yet garum was to ancient Romans what sriracha (or, at least, Red Boat fish sauce) is to millennials — a liquid umami bomb and essential flavor enhancer. Use Delfino Colatura di Alici di Cetara to dress roasted broccoli or a Caesar salad, or follow the example of the villagers of the Amalfi Coast town where this colatura is made and toss with long pasta, olive oil, garlic, and chile flakes.
Crackers Enriched With Buffalo Butter
$9.50 at Bklyn Larder, 228 Flatbush Ave., nr. Bergen St., Park Slope; 718-783-1250
Buffalo mozzarella is not the only way to enjoy the milk of this venerable Southern Italian dairy animal. There is also its butter, used to great effect in Casa Madaio's Tozzetti al Burro di Bufala, which are fragrant and nutty, almost shortbready in texture, and as tasty with a spread of cheese and olives as they are munched straight from the box. There's a bit of wine in the dough, too. Stash away a box for your next cocktail party — they're the ultimate no-cook finger food.
D
Dried Shrimp to Bring the Funk
$21 a pound at Tan My My, 249-253 Grand St., at Chrystie St.; 212-966-7837
Another weapon in the modern chef's umami-seeking arsenal, these tiny, briny crustaceans add a burst of flavor and chewy texture to all manner of Asian and Latin American recipes. (Some folks like to think of them as the bacon of the sea.) They're indispensable for the Spanish XO sauce Alex Raij makes at El Quinto Pino; she also suggests steeping them in stock or rice. Find them packaged or sold loose, by weight, in Asian markets.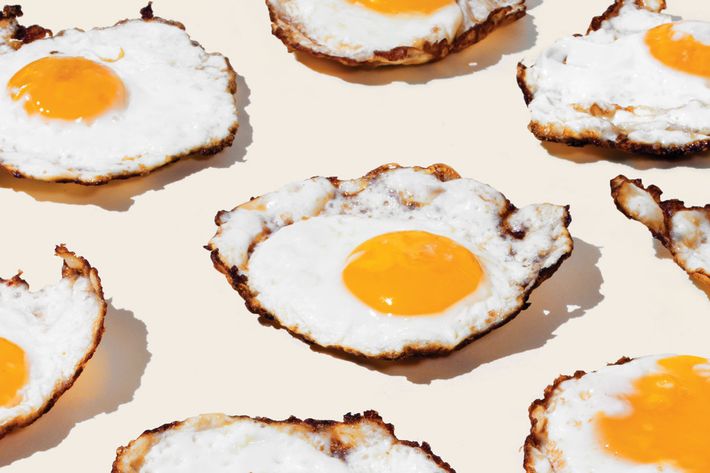 E
Eggs With the Goldest Yolks
$8 for a half-dozen at Greenmarket
Yes, Greenmarket's Windfall Farms specializes in pristine salad greens, but their eggs — still a quasi-secret sideline despite the fact that they've been selling them for years — have a following of their own. The reason: The eggs come from contented araucana chickens whose diet includes some of those greens and lettuces. These eggs are remarkably rich and flavorful, with delicate whites and tall yolks the color of tangerines. Other eggs don't compare — which is why Windfall staffers often keep the eggs tucked away out of sight, and limit sales to half a dozen per customer.
F
Fish Sauce With Some Barrel Age
$18 at blisgourmet.com
Baby food may be the only thing left that doesn't come aged in bourbon barrels. Everything else is fair game, from maple syrup to soy sauce. Although it can devolve into gastronomic parody, the practice finds exquisite validation in BLiS's small-batch-bourbon-barrel-aged fish sauce, which has made fans of top-tier chefs like Daniel Humm. The key is the quality of the raw ingredient, Red Boat fish sauce, which acquires a complex smokiness and tinge of sweetness that add a depth of flavor to everything from pasta to cocktails.
Flour From the Finger Lakes
$5 for two pounds at Greenmarket's Grainstand
Can flour be fresh? That is the question Farmer Ground Flour summarily answers with its organically grown, stone-ground, virtually milled-to-order product. Part of a regional network striving to revive a moribund industry, the farmer-owned enterprise also satisfies a growing demand for local alt-flours (rye, spelt) beloved by craftsmen like Runner & Stone's Peter Endriss. The proof is in his buckwheat baguette.
Fried Shallots, Ready to Strew
$6 at Bangkok Center Grocery, 104 Mosco St., nr. Mulberry St. 212-349-1979
Those sweet, crunchy flakes garnishing your latest Asian hipster dinner are one of those chef's secrets that even the chefs don't bother making themselves. Why slice, flour, and deep-fry shallots when you can buy them ready to go? No. 7's Tyler Kord first encountered them as a kid at a Vietnamese restaurant in Ithaca: "It took ten years for me to figure out that I was eating phô ga and that the little floaty things were fried shallots, and now I put them in most of the things that I eat." You should, too — Asian-­inflected salads and soups in particular.
H
Horseradish to Put Hair on Your Chest
$8 at Greenmarket
In an effort to keep his fourth-generation Riverhead, Long Island, family farm from going under, Matt Schmitt recently began turning his horseradish crop into a horseradish condiment for sale at his roadside farmstand. It took off. Now you can find the exceedingly fresh, sinus-clearing Holy Schmitt's horseradish all over the city. "It's the best preserved horseradish I've ever had," says Dirty French chef Rich Torrisi. Try it in a Bloody Mary, for sure, or at the Passover table, if you're okay with upstaging bubbe's brisket. Or serve it alongside some Peconic Bay oysters on the half shell, for the ultimate expression of East End terroir.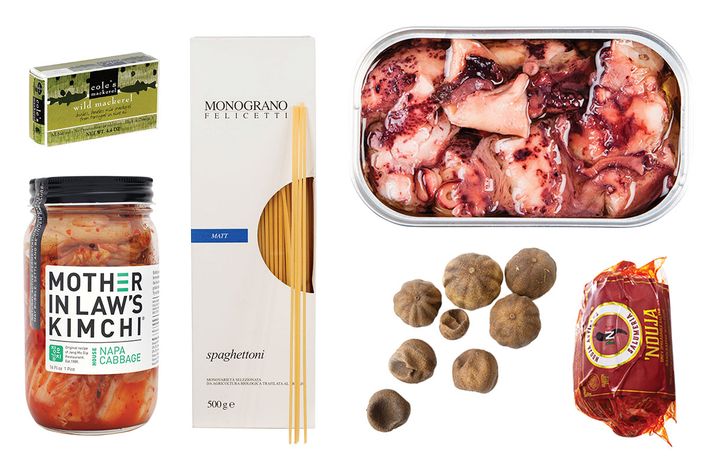 K
Kimchee From an Old Family Recipe
$10 at LifeThyme Natural Market, 410 Sixth Ave., nr. 8th St.; 212-420-1600
It's amazing the way we've taken to something traditionally packed in jars and buried beneath the ground until it's nice and funky. The average Korean eats 40 pounds of kimchee a year, and the average Asian-food-obsessed New Yorker can't be far behind. Lacking any ground to bury our own kimchee in, we like Mother In Law's napa-cabbage version based on the recipe founder Lauryn Chun borrowed from her mom, who's been serving the stuff for 25 years at her Garden Grove, California, restaurant Jang Mo Gip (translation: "Mother-in-law's House"). It's nicely cut, exhibits good heat and complexity, and has enough ripe, bubbly fermentation going on to earn the following warning stickered to the jar: Open With Caution Over the Sink.
L
Limes to Soak, Not Squeeze
$20 a pound at Kalustyan's
A highlight of Iranian cuisine, the dried or black lime seems impenetrable until soaked in liquid. Once the rock-hard peel is perforated, its tangy citrus flavor pervades whatever it's seasoning — usually soups, stews, or rice dishes. Cookbook author Louisa Shafia infuses the fruit into an aromatic lime tea and uses it to brighten up a Persian "matzo-ball" soup called gondi. Think of it as a bittersweet acidifier — a more lasting and exotic form of ordinary juice or zest. And when you're done cooking with it, you can eat it.
M
Mackerel, Caught Where They Take It Seriously
$5 at Citarella; citarella.com
In places like Spain and Italy, tinned fish are considered an art form rather than cat food or survivalist rations. Rhode Island-based Cole's is America's best answer to the esteemed European tradition and, in fact, sources its hook-and-line-caught wild chub mackerel off the Portuguese coast. It's rich and succulent, high in good fats and packed in olive oil, and an easy upgrade from every­day tuna. Serve it as a retro hors d'oeuvre on Triscuits with Dijon mustard, a nod to Gabrielle Hamilton's signature sardine bar snack at Prune.
N
Domestic 'Nduja
$13 at Bklyn Larder
Think Underwood deviled ham, but many times hotter and much more delicious, and you've got something like 'nduja, the increasingly popular cured and spreadable Calabrian pork sausage. It's traditionally made with Calabrian chiles and meat from the head of the hog, but American 'nduja-makers aren't bound by custom. Iowa's cured-meat mavens La Quercia make their 'nduja from prosciutto and speck. And Chicago's 'Nduja Artisans crafts our favorite version out of pork shoulder and fatback that come from Berkshire pigs. Dollop 'nduja onto a pizza (it won't slide off the way crumbled sausage and pepperoni do), or use it to liven up a pasta. Or simply smear it all over grilled, garlic-rubbed bread drizzled with good olive oil for some world-class bruschette.
Nutritional Yeast, Not Just for Vegans
$6.30 at LifeThyme Natural Market
Once relegated to the shelves of the health-food store, this flavor enhancer (and purported B12 powerhouse) has found new life in today's vegan-styled culinary world. Bragg Nutritional Yeast Seasoning, cultivated on beet molasses then dehydrated and flaked, is said to give anything it touches — especially popcorn — a nutty, convincingly cheesy taste. Eleven Madison Park's Daniel Humm relishes its umami quality and deploys it in spice mixes for lobster and clam boils.
O
Octopus From a Portuguese Canning Master
$27 at Maiden Lane, 162 Ave. B, at 10th St.; 646-755-8911
Everything the Portuguese conservas experts at Jose Gourmet squeeze into tiny tin cans and sluice with good olive oil is terrific, especially this surprisingly unrubbery octopus — three meaty tentacles, suckers and all. Revive them with a fresh drizzle of your own extra-virgin, then slice and eat them straight up as tapas. Or chop into pieces and toss with chickpeas, red onion, green olives, and parsley plus sherry vinegar and olive oil for an invigorating Cuban-style salad.
P
Pasta Worthy of Your Best Sauce
$5.80 at Eataly
The Italian artisanal pasta market doesn't want for illustrious noodles with spiffy packaging. Monograno Felicetti Matt is still relatively unknown, at least in the States, despite its association with modernist Piedmontese chef Davide Scabin. It's manufactured up north in Trentino Alto-Adige from a special strain of durum wheat grown in Sicily and Puglia called Matt, after the son of the guy who discovered it. But even if you don't believe in special strains of wheat or fancy-chef endorsements, the spaghettoni is persuasive enough: thicker than spaghetti with a delicate, yeasty fragrance and great, resistant bite.
Peanut Butter's Ne Plus Ultra
$6.50 at Gristede's; gristedes.com
Koeze Company Cream-Nut natural peanut ­butter — made in Grand Rapids, Michigan — is the best peanut butter we've ever tried. Virginia peanuts cooked in small batches in vintage roasters plus sea salt, and that's it. No sugar, no preservatives, no anything else. You unscrew the lid and the peanutty aroma hits you like a freight train. Use it in any recipe that calls for peanut butter. But one bite straight from the jar and you may never make it that far.
Pickled Peppers for Piquancy
$13 at Beecher's Handmade Cheese, 900 Broadway, at 20th St.; 212-466-3340
Washington State-grown Goat Horn peppers are sweet and medium-hot, and when you pickle them and pack them in oil, as Mama Lil's does, you've got a condiment with seemingly infinite applications. A couple favorites: garnishing hard-boiled-egg toasts, and as the crowning touch on a bacon-and-cheese-stuffed spud, the way they do it at Mekelburg's in Brooklyn.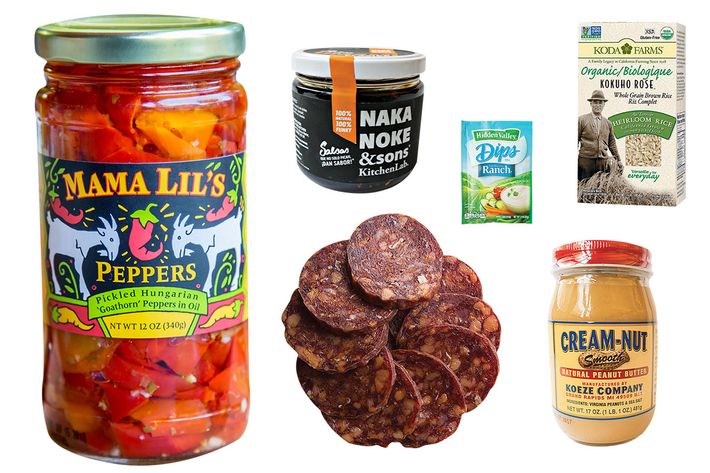 R
Ranch as a Flavor Profile
$2.30 at Gristede's
For a certain type of chef who embraces the trashy as well as the sublime, it's hard to imagine life without ranch — in dressing, dip, or simple spice-mix form. Ranch addict Christina Tosi says, "It's good on everything," in her latest tome Milk Bar Life, and suggests filling Ball jars with the seasoning for holiday gifts. And in his debut cookbook, Asian-American, Dale Talde calls it "magical" and endorses using an MSG-laced packet of Hidden Valley Ranch Seasoning Mix to transform yogurt into Doritos-scented raita.
Brown Rice Without the Baggage
$5.50 at Dean & DeLuca, 560 Broadway, at Prince St.; 212-226-6800
This new rice-bowl age requires starch with a serious pedigree. Enter California's Koda Farms' Kokuho Rose brown rice, an heirloom organic variety grown in the Central Valley by third-generation Japanese-American farmers. It's a low-yield, slow-to-mature cross of Japanese and Middle Eastern grains, and it has made brown rice (almost) sexy. Superiority Burger's Brooks Headley was tipped off to the stuff by Sqirl chef and rice-bowl queen Jessica Koslow, and calls it "seriously the best brown rice we have ever tasted." He rolls it into his cabbage-crunchy Superiority wrap and also likes it in salads.
Rice's Gold Standard
$16 a pound at Formaggio Essex
Anson Mills's Carolina Gold long-grain rice from South Carolina is an heirloom variety of such sweet flavor and fluffy texture that it's known among rice obsessives as Charleston ice cream. Chefs like Sean Brock and Wilma Jean's Rob Newton swear by it. It's good at absorbing flavors, so it's a natural for the risotto pan or the rice-pudding pot. And simply steaming it in a rice cooker with flavored vinegar, brown butter, and fennel pollen, the way Danny Amend did at the late, great Marco's in Brooklyn, makes for a supremely satisfying side.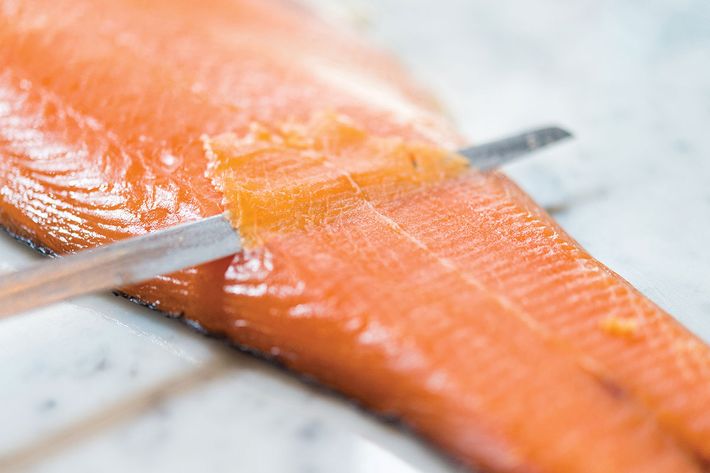 S
Salmon Minus the Smoke
$11 per quarter pound at Sadelle's, 463 W. Broadway, nr. Houston St. 212-254-3000
When the Major Food Group decided to disrupt appetizing, the partners started with the bagel. When it came to the fish, they collaborated with Acme, the city's preeminent supplier, on such minutiae as salmon size and precise smoke levels. But as an alternative to the sacrosanct smoked salmon, or what we know as Nova, the counter also purveys its own take on gravlax, with a light, Scandinavian-­style cure, velvety texture, and subtle flavor that shines on thin-sliced brown bread with butter.
Salsa With a Whiff of the Sea
$17 at Miscelánea NY, 63 E. 4th St., nr. Bowery; 212-253-0277
Of all the offbeat salsas at this East Village showcase for modern Mexican culture and cuisine, Nakanoke & Sons Salsa Umami Negra Con Camarón is the most esoteric: an oily, sludgy deposit of dried chiles and spices, sesame seeds, and tiny dried shrimp that give the jar its funk and flavor. It's an Asian-Mexican fusion variant of salsa macha, or chiles fried with garlic in lots of oil, made in a Mexico City culinary lab, and is just the thing to break out when you find yourself hosting a jaded salsa snob.
Salumi From Hungarian Hogs
$25.20 a pound at mangalitsa.com
Mangalitsa, also known as the lard pig, is a wooly-haired Hungarian breed valued for its flavorful, fat-streaked meat. Gentleman farmer G. C. Andersen is so fond of the animal he decided to raise a passel on his New Jersey estate and now markets Mangalitsa by Mosefund meats to local chefs. (Estela's Ignacio Mattos recommends the dry-cured seasoned loin called lonza.) The next time you're planning to begin a feast with a platter of Italian imports, consider instead homegrown coppa, soppressata, and cacciatorini.
Sauce From the Momofuku Labs
$7.50 at momofuku.com
David Chang's official entry into the retail-condiment world is being positioned as something so versatile you'll want to splash it on everything from pork-belly buns to pepperoni pizza. Kinda sweet, kinda spicy, Ssäm Sauce builds on the tangy Korean chile paste called gochujang with extra lashings of rice wine, soy sauce, miso, and mushroom-extract powder. It's an ode to fermentation and umami that deserves a home on every refrigerator door.
Sausage With a Chinese Accent
$6.50 per pound at Sun Ming Jan, 111 Hester St., nr. Eldridge St.; 212-965-8833
"Lap cheong" translates to Chinese sausage in general, of which there's a wide variety. But the kind we're talking about is the dried, smoked, thinnish-size lap cheong made from pork and sometimes pork and liver that you find hanging from the rafters of Chinatown shops. Chefs go for it in a big way. At Mission Chinese Food, Danny Bowien adds it to his salt-cod fried rice for an extra boost of funk and fat, and Leah Cohen mingles it with mussels at Pig & Khao. Our favorite thing to do with Chinese sausage, though, is to simply slice and sauté it, and serve it with a side of Thai-chile-lime dipping sauce, the way chef King Phojanakong does at Kuma Inn.
Schmaltz, the Comeback
$5 a pint at Schatzie, 2665 Broadway, nr. 101st St.; 212-410-1555
With animal fat undergoing nutritional quasi-­redemption, lard has unabashedly returned to pie crust and butter to bread. Schmaltz, too, has enjoyed a revival, and can be found at the city's better butcher shops alongside the pastured eggs and grass-fed meat. You don't have to be a Jewish grandmother to appreciate the rendered chicken fat's contributions to chopped liver and matzo balls. And there's no better medium for frying latkes.
Seaweed From Maine
$8 at Harry & Ida's
Whether you consider it the new kale or a sign of the culinary apocalypse, seaweed — all the multitudinous forms of it — is having a bit of a moment. There's the revered Japanese connection (umami-­packed kombu is the soul of dashi, itself the soul of Japanese cuisine, and where would sushi be without nori?), the New Nordic forager aspect (locavore chefs prize its accessibility and, as Relae's Christian Puglisi puts it, "marine terroir"), and the plant's save-the-world potential to restore the oceans and clean the coastlines. Uses vary, but generally involve reconstituting to soften or frying to a crisp, even bacony crunch.
Shio Koji, the Magic Marinade
$6.59 at Sunrise Mart, 494 Broome St., nr. W. Broadway; 212-219-0033
Shio koji is salt mixed with water and rice that's been inoculated with a friendly mold (Aspergillus oryzae), then left to ferment. The end result looks like leftover congee, but it's an ancient and revered Japanese ingredient. Recently, chefs and home cooks have fallen hard for it, touting its profound flavor-boosting properties, and putting it to work all over the kitchen. Tadashi Ono of Brooklyn's Ganso restaurants recommends it as a marinade for chicken and fish, a pickling brine for cucumbers, and mixed with mayo as a dipping sauce.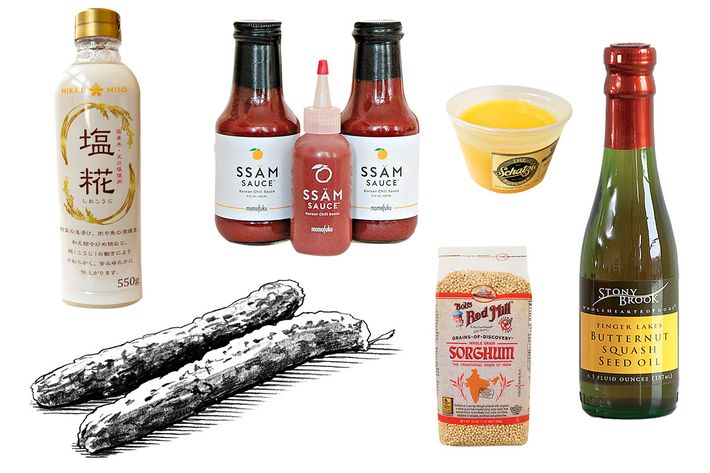 Sorghum to Chew On
$3.50 at bobsredmill.com
In the modern pursuit of ever more ancient, unrefined, and underappreciated grains, sorghum is coming to the fore. Like many foods identified with the American South, it migrated there from Africa, and before its current resurgence was primarily relegated to animal fodder and biofuel. Now it's emerged in Soho, where Sessanta chef Jordan Frosolone swaps it for rice in a chewy risotto, garnished with a few popped grains for texture. You'll also find it processed into sorghum syrup, Chinese black vinegar, and gluten-free flour.
Squash-Seed Oil, the Locavore Alternative
From $12 at wholeheartedfoods.com
We're not telling you to pour your e.v.o.o. down the drain, but Stony Brook WholeHeartedFoods squash-seed oil presents a tasty local option for drizzling and dressing. ­Expeller-pressed from the roasted seeds of Finger Lakes-grown winter squash, the oils vary in color and flavor depending on variety, from delicata to butternut. And since the product was envisioned as a way to utilize what had been destined for the scrap heap, it meshes perfectly with the ecominded philosophy of chefs like Dan Barber, who swapped it for butter at his wastED pop-up.
T
Tahini With a Philly Connection
$8 at Kalustyan's
The rich, nutty sesame-seed paste called tahini is so essential to Philadelphia chef Michael Solomonov that he devotes an entire chapter to it in his new cookbook. It is indeed the heart and soul of Middle Eastern cooking, indispensable in everything from hummus to halvah. Solomonov lauds the Soom brand, created by three Philly sisters and pressed from the highest-quality Ethiopian seeds. His enthusiasm for the product infected Superiority Burger's Brooks Headley, who deems it "delicious stuff; not bitter, not rancid-tasting like most tahini you come across. It makes insane gelato." And those inclined to spoon it straight from the jar should know it also comes in an addictive chocolate flavor that evokes both gianduja and Reese's Peanut Butter Cups, with a palate-coating creaminess and a persuasive veneer of healthfulness.
Italy's Other Tomatoes
$12.75 at gustiamo.com
These are some seriously pedigreed tomatoes. Slow Food certification? Check. EU D.O.P. status? Absolutely. Are they grown in nutrient-rich volcanic soil on the slopes of Mt. Vesuvius, as they have been since 1944, then hand-picked one by one in August? You bet they are. In short, San Marzanos have nothing on Casa Barone piennolos. None of that would matter, of course, if they didn't taste the way they do — spectacularly full-flavored, with an ideal balance between sweet and acid. Sauté them briefly in olive oil with garlic and basil, then toss with spaghetti. And forget about the grated Parmesan — it would only detract from the flavor of the tomato.
Tuna That's Too Good for Sandwiches
$14 at Formaggio Essex
For anyone raised on Bumble Bee, oil-packed Spanish tuna is nearly unrecognizable. To mash it with mayo and celery would constitute a culinary sin. There are countless competing brands and quality grades, from everyday eating to special-occasion. (Yes, that's right. Special-occasion tuna from a can.) Ortiz Ventresca de Bonito del Norte, made from the fatty belly of Atlantic white tuna line-caught in the Cantabrian Sea, is really a luxury food — the ultimate tinned fish, silky and succulent, and ready to flake at the touch of a fork. It fills the bill for an elegant niçoise salad or a lush pan bagnat. But it's at its best with just a drop or two of good vinegar and some thinly sliced red onions to cut the richness.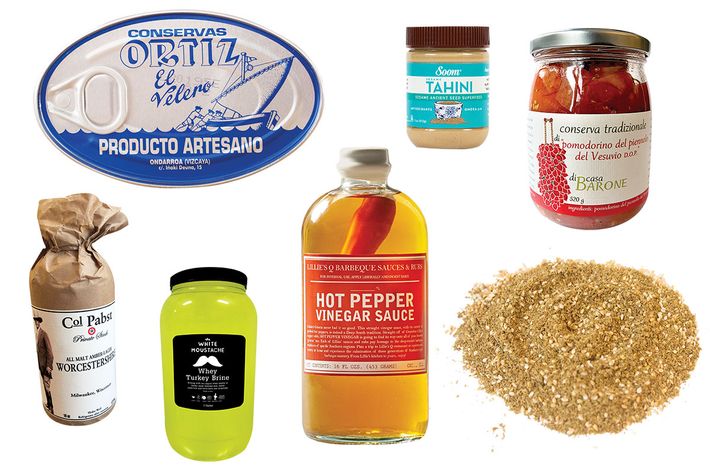 V
Vinegar With a Kick
$10 at Mekelburg's, 293 Grand Ave., nr. Clifton Pl., Clinton Hill 718-399-2337
Pepper vinegar is the fish sauce of the South, what good ol' boys use to brighten up their vittles, especially the muddy flavors of collard greens and black-eyed peas. It's equally effective splashed onto just about any other green, bean, or legume, as well as stirred into soups and stews or dashed onto fried chicken, or anything fried or grilled for that matter. Southerners make their own, but there's no shame in stocking your pantry with a bottle of ­Lillie's Q Hot Pepper Vinegar Sauce, made by Chicago chef and competition-barbecue-circuit boss Charlie McKenna.
W
Whey for Cooking (and Drinking)
$7.50 a gallon at Whole Foods Market; wholefoodsmarket.com
The Greek-yogurt craze has engendered a sideline: the marketing of yogurt whey, a by-product of all that intensive straining. Low in calories but purportedly high in probiotics — today's version of "low-fat high-fiber" — the liquid is sold both flavored as a drink and plain as a raw ingredient to the sort of kitchens that favor fermentation, natural leavening, and other throwback holistic techniques. Like buttermilk, whey's a terrific flavor-enhancing, tenderizing brine for meats and poultry, so much so that Brooklyn yogurt-maker White Moustache offers the tangy elixir in gallon jugs for Thanksgiving turkeys. It's a good substitute for milk when making mashed potatoes, too.
Worcestershire Sauce That Deserves a Blue Ribbon
$18 at Court Street Grocers, 485 Court St., nr. Nelson St., Carroll Gardens; 718-722-7229
Open your refrigerator and dig around for the bottle of Lea & Perrins that's been squatting on the door's lower condiment rack since Giuliani was in office. Got it? Good. Now toss it out. You're going to want to replace it with Colonel Pabst Worcestershire sauce. It's a family recipe made in small batches by descendants of the beer-brewing company but with Lakefront Brewery's River­west Stein amber lager, not Pabst Blue Ribbon. Its flavor is big and round with a sweet-salty-umami bite derived in part from tamarind, Demerara sugar, and anchovy. Use it as a marinade for steak or pork or as a finishing touch for a pan sauce. Gussy up a vinaigrette or an onion dip with it. Or dash it over Welsh rarebit.
Z
Za'atar, the Omnispice
$6 for six ounces at Kalustyan's
The Middle Easternization of the modern cook's pantry can be attributed to Yotam Ottolenghi, the Israeli chef who ignited a flame for this cuisine first in London and then around the world. And za'atar is the movement's bouquet: a suddenly ubiquitous spice blend of ground sumac, toasted sesame seeds, salt, and the defining indigenous herb, also called za'atar, or sometimes wild thyme or hyssop. It's most often found scattered atop oil-moistened pita, sprinkled over dense labneh, or seasoning grilled meat, but once you've tried it, you'll reach for it as often as salt and pepper.
*This article appears in the November 9, 2015 issue of New York Magazine.