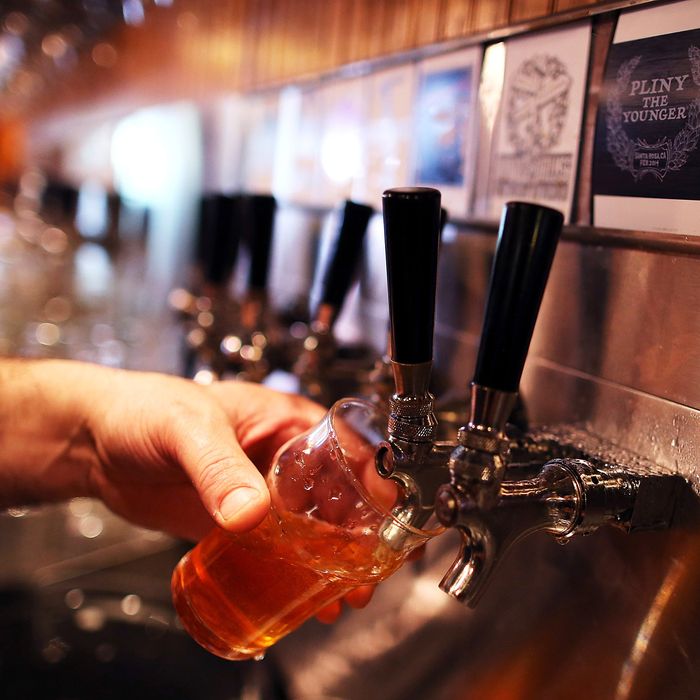 Pliny doesn't need your chain menu anyway.
Photo: Justin Sullivan/Getty Images
When calorie counts arrive next year on chain-restaurant menus, per federal mandate, the beer selection could take a turn for the worse. The FDA stuck breweries with the cost of making beers comply with the new regulation — and the small ones are learning that ain't cheap.
While shoveling out $600 and waiting weeks for an official calorie count is no problem for Budweiser, the microbreweries worry undercapitalized pockets and constantly changing lineups could be their undoing if the goal is obtaining a spot on a chain's menu. "There's no way they could afford to test every one of those brews," the New York State Brewers Association says. "It's a big problem going forward," Dave Lopez, of the Bronx's Gun Hill Brewing, frets to the Post. "The only way it's feasible is to limit what is available to consumers." That's a sad thought when it's a micro with an absurdly high number of brews, like the 42 presently offered by Other Half, a boutique Brooklyn brewery whose beer appears on Per Se's menu.
Of course, it's not as if Chili's and T.G.I. Friday's are beating down any of these brewers' doors, but with chains getting more artisanal these days, they soon might. A local craft-beer-maker in particular approached by, say, an NYC-area chainlet doesn't want the deal-breaker to be not having calorie counts. Jay Sykes, co-owner of Flagship Brewery on Staten Island, tells the Post that getting on Red Robin's menu was clutch for his operation: "Local people who don't know about us are finding us there."
Maybe this is why all those microbreweries have been selling out to Budweiser?
[NYP]