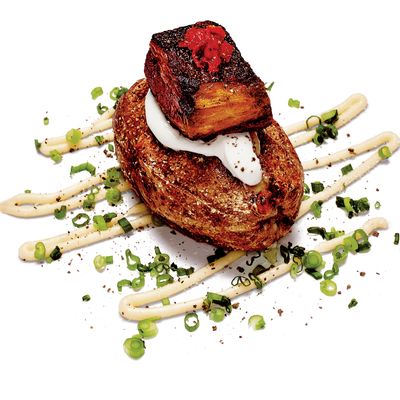 Photo: Bobby Doherty/New York Magazine
A suburban Sizzler, sure. But the back-room beer bar of a New Brooklyn gourmet grocer that stocks everything from Mazzola Bakery lard bread to organic artisan miso is not the place you expect to find a baked potato. Still, there it is, and if the menu description doesn't grab your attention, the sight of this super-spud emerging from the kitchen looking like the entire USDA food pyramid on a plate will. Alicia Mekelburg, who runs the grocery and the bar with her husband, Daniel, says that when they put together the menu, baked potatoes "just seemed like a natural bar food." One bite and you've got to admit she has a point.
Mouse over or tap the image to read more.
On the menu at Mekelburg's; $8; 293 Grand Ave., nr. Clifton Pl., Clinton Hill; 718-399-2337.
Photo: Bobby Doherty/New York Magazine.
*This article appears in the November 2, 2015 issue of New York Magazine.