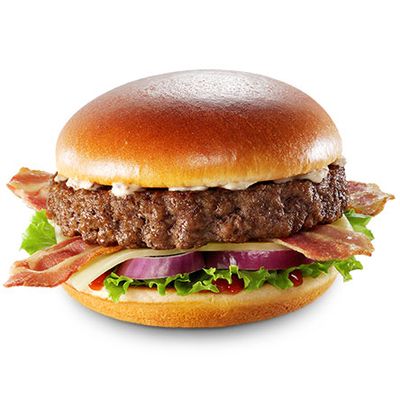 Hey, not awful looking.
Photo: McDonald's
No longer content with its fancy "Angus Third Pound" burgers, McDonald's says it's testing a "Signature Collection" in England that boasts the thickest patties McDonald's has ever dared to put on a flattop. This "premium range" line, which will incorporate 100 percent locally sourced beef and ingredients like beechwood-smoked bacon and whole-grain mustard, is the handiwork of "chefs from Michelin-starred restaurants" — by which the chain seems to mean the McDonald's internal chef council, the same group in Ireland responsible for the faux-"artisan" McMór.
These Signature sandwiches look in line with what you'd get at a Shake Shack or Five Guys — which is the point exactly, The Guardian says. In fact, the chain hints that they could end up Stateside, or in other locations around the world, if popular enough (that's a big if). But proving McDonald's is still clueless when it comes to its better-burger strategy, the chain is strangely forcing people who order one of these new burgers to opt for table service and eat in. Apparently, the "extra thickness" of the meat means longer wait times, and no counter pickup.
[Guardian]