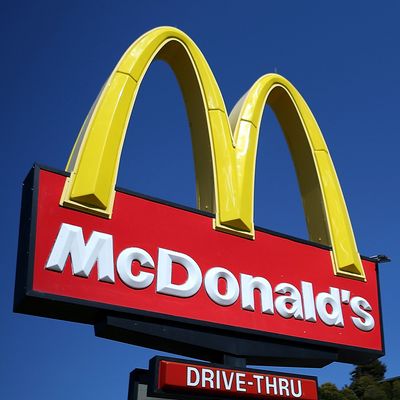 Back pay is coming to a lot of workers.
Photo: Justin Sullivan/Getty Images
The Golden Arches' lawyers have spent more than a year arguing McCorporate isn't responsible when employees at its 12,500 franchises report wage theft or hazardous work conditions, so there's perhaps karmic justice to an announcement the Justice Department put out yesterday. The agency says it's fining McDonald's because it found a "longstanding practice" of discriminating against immigrant workers at the 10 percent of U.S. stores corporate does actually run.
Agency officials got a hotline tip that employees who were lawful permanent residents were being asked to show the company their green cards when the original documents expired, even though employers can't legally ask that. The investigation lasted more than a year, and now as a result, McDonald's has agreed to pay a $355,000 fine, to undergo federal monitoring for the next year and a half, retrain employees, and to give $8.88 an hour to workers who lost hours, plus a lump $1,600 sum to ones who got fired because of the practice.