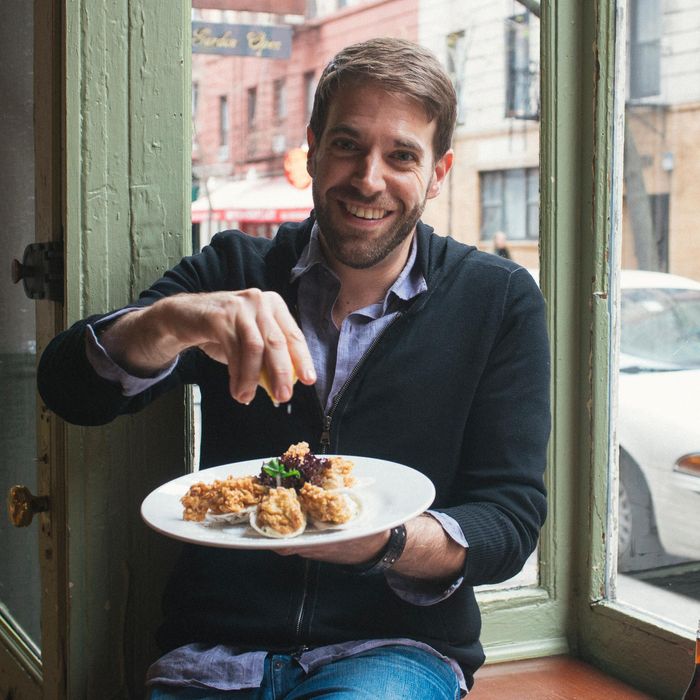 "Pearl has always been one of my all-time favorites … "
Photo: Christina von Messling
As Shake Shack's international culinary director, Mark Rosati travels the world to expand the ever-growing burger empire and create new menu items. (Tough gig!) "One year, we opened in London, Moscow, and Istanbul, and I flew over there every month, for a full year, to hit all three and make sure things like the beef blend were right," Rosati says. This week was only slightly less hectic: Rosati helped open Shake Shack's new location in Tokyo, and then flew to Los Angeles, where an outpost will open next year — and during it all, he ate a whole lot in the name of local "research." Read all about it in this week's Grub Street Diet:
Friday, November 13
In Tokyo for the opening of our first Shake Shack. Last night I had ramen on the mind and went to Kikanbo for the double-pork ramen with extra-spicy miso broth. I was blown away. I have had a lot of ramen over the past couple of months while working on Shack Tokyo, but this could easily be one of the best I've ever tasted.
Today's breakfast is in the hotel: eggs; stir-fried greens with mushrooms, blanched broccoli, and snow peas.
Arrive at Shack and am blown away by all the people: There are 400 people in line, and we are still an hour from opening. For lunch I grab a cheeseburger with pickles and onions. I also sample a few cheese fries to make sure the sauce is at the right temperature and consistency. It is.
Time goes by so fast that I already have to leave and head to the airport for my 7 p.m. flight. I would like to stay for another day or two, but we have a charity event in L.A. on Saturday.
I leave Friday the 13th at 7 p.m. and touch down in L.A. on Friday the 13th at 7 p.m. Surreal. I slept the entire way in the plane, so I didn't eat, and I get to the hotel and check in and realize Roy Choi's restaurant, Pot, is in the lobby. Perfect. I meet another member of the Shack culinary team, who also flew in to help with the event, and we make our way to the restaurant. We eat uni (showstopper), steam bath (pork belly, kimchee, fresh toffee), and the steak ssam.
Saturday, November 14
Up early at 8 a.m. and right into it. First stop is Sqirl, where myself and two other colleagues get a few items to share: toast with ricotta and blackberry-verbena jam; the addictive crispy brown-rice bowl with egg and sausage; and the Jessica Rabbit, which is a biscuit topped with braised rabbit in a carrot sauce. Awesome. It's a must for me to visit Sqirl every time I find myself in L.A. As I'm about to leave, a stranger that I was talking with offers me a taste of her buckwheat pancakes, which are delicious. Gonna have to order those next time.
We walk to Intelligentsia and grab coffee. Next stop, for breakfast No. 2, is the recently opened Trois Familia, from the talented team of Vinny Dotolo, Jon Shook, and Ludo Lefebvre. We order the ham-and-cheese galette, double-decker potato tacos, chilaquiles, and roasted carrots. Everything is delicious, but the double-decker potato tacos are next level.
We head out to Venice to walk around and check out the vibe. We stop by Gjusta for more coffee (I get a matcha latte — still thinking about Tokyo, I guess) and order an oatmeal-chocolate-chip cookie and a chocolate brownie. Since we are still beyond full, we plan to save these for later in the day. We also stop by the new Blue Star Donuts in Venice and grab an old-fashioned buttermilk and an apple fritter for later, too.
On the way back to our hotel, we decide to go to the Apple Pan to pay homage to one of the true American roadside burger-stand greats. We order the icon steak and old hickory burgers. Fries, too. I'm in heaven!
We get back to the hotel and split all the treats we bought in Venice with the rest of the Shack team, who traveled out to help us participate in the Baby2Baby charity event today, which we are honored and psyched to participate in. These will be amongst some of the first Shackburgers cooked in L.A., as we set out to open our first L.A. Shack at the start of next year.
At the event, I sample bites from Sugarfish's tuna and halibut sashimi, Son of a Gun's lobster roll, a lamb meatball from Bestia, escargot from Petit Trois, and a bite of a Shackburger midway though the event. At the end of the event, the very last bite I have is Sqirl's awesome rendition of a Cobb salad. Full circle.
Back at the hotel, have a few drinks and then go to bed.
Sunday, November 15
Off for a morning meeting at Cofax Coffee. The shop is overrun with a line down the street, and justly so. Instead of waiting in line, my friends and I decide to visit Animal across the street. Maybe it was the fact that I haven't seen my L.A. friends in a while, but we got overzealous and ordered big: cocoa-hemp granola with yogurt, raspberries, and avocado honey; oxtail poutine; avocado toast; hamachi tostada; cornmeal waffle with apples, pecans, and salted butter; and, finally, the "Truck Stop" plate with fried egg, bacon, sausage, and toast.
We finish everything and feel deeply ashamed … and deeply happy. All were stellar. Also, this was my first time trying Animal's legendary poutine, and I'd definitely order it again next time I go.
The rest of the day is free, so I meet up with a friend and jump in their car and drive out to Malibu to visit a dive-y fish shack called Neptune's. Since I'm still full from brunch, I'm not too hungry. I pick on a few items, and the standout is the fresh-cooked Dungeness crab served with drawn butter. It's just simple and perfect, and exactly what I want to be eating while overlooking the stunning Southern California coast. Advantage yours, L.A.
After lunch, I head to Santa Monica to meet up with another friend for a drink. We check out Ester's, which has a great vibe, then decide to walk across the hall and visit their sister restaurant, Cassia, for drink No. 2.
After drinks, I head back over to Cofax and meet the same group from the brunch onslaught. This time, we are actually eating at Cofax for a special soba pop-up with Sonoko Sakai. I opt for the duck soba and, while waiting, decide to also sample Cofax's super-talented pastry chef Nicole Rucker's special Japanese-inspired pastries for the evening. The glazed tofu doughnut and mochi cake with dehydrated strawberries are both outstanding. I also get to try her pumpkin pie.
I jump in a car and head to the airport for my red-eye flight back to New York.
Monday, November 16
Touch down at JFK and beyond tired after red-eye. I slept the entire flight, but the flight was so short it didn't make much of a difference. I head to the Shack for a quick meeting with my colleagues, which I'm at this point an hour late for. When I arrive and say that I finally made it, they say, "Why? Go home and go to bed." I oblige, but not before stopping at my local coffee shop, Greene Grape Annex, and grabbing a croissant. I am so tempted by their chocolate-chip cookie, which is one of my all-time NYC favorites, but I show restraint. I try their salted double-chocolate cookie instead. New favorite.
I take a quick nap and then get to the business of unpacking, organizing, and starting to play catchup with emails. Next thing I know, it's 5 p.m. and I'm hungry again. I go to meet a friend at Charlie Bird for glasses of wine, and while we chat, I notice a braised-carrot dish with yogurt and dill, which sounds like just what I need. When the dish comes, the carrots couldn't be any better.
From there, we head over to Pearl Oyster Bar for lobster rolls. I decide to be lame and get a salad instead of the shoestring fries that come with the roll, as it's time to bring balance back into my life. But thank God my friend gets fries anyways, so I can still have a few bites. Pearl has always been one of my all-time favorites, and coming off a long trip, I need something familiar. I'm tempted once again by the butterscotch-praline parfait, which is always excellent, but this time I show restraint. Real restraint.
Tuesday, November 17
I wake up the next day feeling rather refreshed, but know this can be misleading. I usually don't feel jet lag until night two, when I wake at 4 a.m. and can't go back to sleep until the next evening. Looking forward to that tomorrow.
On the way into the office, I grab a plate of scrambled eggs with a healthy dose of fresh spinach on the side. I'm determined to get back in a normal and balanced eating routine.
Most of the day is meetings to catch up with everyone, and for lunch I find myself near Sweetgreen in Soho. Perfect. I go for the Guacamole Green salad, minus the tortilla chips, and iced tea. Starting to feel better.
Dinner is an early and mellow neighborhood affair. I head to Purbird in Prospect Park and order half a roasted chicken and and a side of grilled broccoli. Their chicken is always super flavorful and perfectly cooked. I don't eat the skin on it — super lame, but I have to put the breaks on after all that eating. I walk back to my apartment and can feel I'm going to pass out the minute I get in the doorway, which I'm totally fine with.