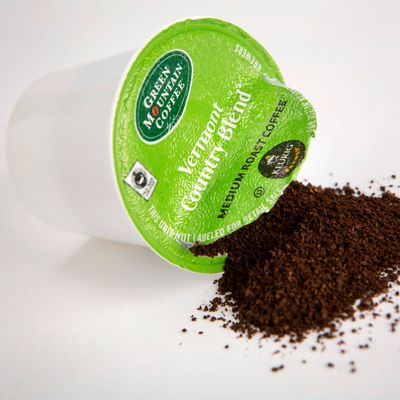 Not good.
Photo: Scott Eells/Bloomberg via Getty Images
Is the Keurig machine, the envy of every home-appliance-maker, finally in crisis? After selling enough un-recyclable pods of mediocre coffee to circle the Earth more than a dozen times, America's obligatory countertop appliance appears to be waning in popularity.
The company's new big breakthrough was supposed to be Kold, a fancy new soda machine that would practically sell itself amid the single-serve fever. The device debuted in September, after six years of work by 250 scientists, but Keurig admits probably only 60,000 to 100,000 will sell this year.
Kold's reviews have been brutal, and BuzzFeed notes the perceived shortcomings:
It cost $369 — or $299 on promotion — which is steep for a small appliance (Best Buy just started offering it on sale at $200). It ran on plastic, single-serve pods that cost $0.99 to $1.29 each and made a single 8-ounce cup of soda — also pricey, relative to the cost of cans or bottles in the supermarket. And it took 60 to 90 seconds to prepare each drink, calling its ultimate convenience into question.
Customers have made their complaints so clear that CEO Brian Kelley has already given investors a to-do list of improvements: less bulky, less expensive, a better drink selection (there are roughly 600 K-Cup hot beverages), and servings larger than eight ounces, because this is America.
Kold's disappointing debut is also a result of the fact that K-Cup sales are declining for the first time ever, too. After closing out the third quarter of 2014 up 13 percent, they've dropped every quarter since, by as much as 22 percent this summer. One reason is environmental concerns (although Keurig plans to make K-Cups recyclable, it's not until the faraway date of 2020), and the other is because of the company's ill-advised decision to equip new Keurig 2.0 machines with DRM technology that prevents customers from being able to use any other brand of pods.
To reverse the declines, analysts say Keurig just "needs to convince people to buy new machines." But that logic suddenly feels a little circular.
[BuzzFeed]