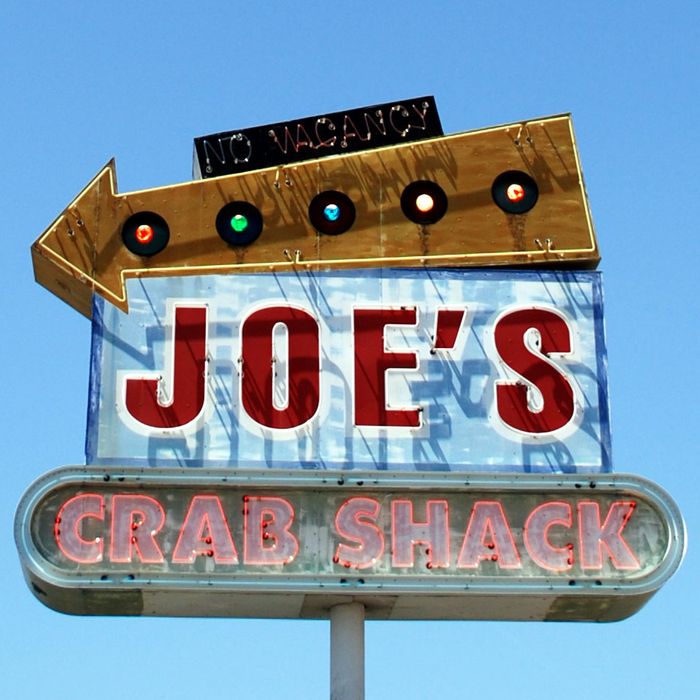 Peace, Love, & No Tips.
Photo: Joe Wolf/CC/flickr
The topple-tipping movement has scored an unexpectedly huge supporter: The head of Ignite Restaurant Group has revealed to investors that its Joe's Crab Shack locations are testing a gratuity-free model. Right now the trial is still smallish — 18 restaurants, the trade mag Restaurant Business notes, with more on the way — but nonetheless significant if it establishes a model that casual mid-range chains can follow.
Under the policy, servers start at a flat $14 an hour, instead of $2.13 plus tips, and menu prices rise by 12 to 15 percent to compensate. The good news for generous tippers, which Adam Platt and others have already explained in the abstract, is that the max increase is less than their usual gratuity, so these customers will actually see price cuts.
Ignite CEO Ray Blanchette said it made sense for Joe's to get rid of tipping because the seafood chain serves so many big groups, and waiters dislike having to double up on tables and split tips. The test phase is expected to run through at least the end of the year. Blanchette says that because it's a big, bold step, he isn't rushing things: "We're really leading in our industry with regards to national brand going out and testing this thing in a meaningful way. So we want to be somewhat cautious."