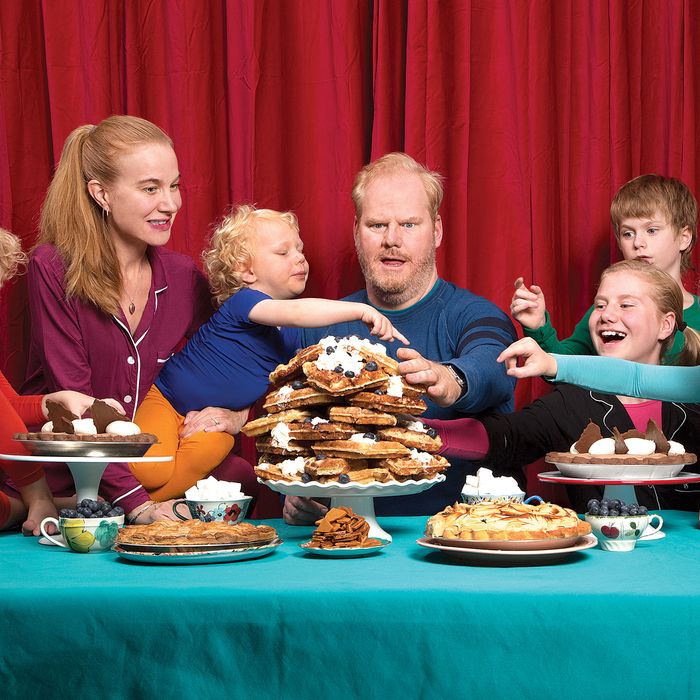 From left to right: Michael, age 4; Jeannie and Jim Gaffigan; Salted-Caramel Apple Pie; Patrick, 3, with Liège Waffles; Lemon Cream Pie; Marre, 11; Dark-Chocolate Cream Pie; Jack, 9; and Katie, 6.
Photo: Joaquin Trujillo
One Saturday afternoon, after Jim Gaffigan's five children had run off all their excess energy in the park, they found Dominique Ansel at their apartment, laden with boxes of his latest desserts.
Gaffigan, the comedian behind The Jim Gaffigan Show, knows from Ansel: He has rhapsodized about the chef's cult Cronut on his show. So when the chef showed up to feed sweets to Gaffigan's kids, Gaffigan brought an appetite, too.
Ansel, meanwhile, brought pies. "I wanted to do a team-building activity, so our staff had gone apple picking," said Ansel. "We had so many apples, we had to do something with them, so we anno­unced a pie night at the restaurant. These are some of the pies we served."
Jim and his wife, Jeannie, both come from large families—Jim is one of six, Jeannie one of nine. "Once you have three children—what the hell?" Gaffigan said. "I am much more comfortable with five kids than when we had three. What do I need—a boat?" The family displays its average age proudly. Near the front door, baskets are lined up for each child to store his or her jackets and gloves; three of the loft's bedrooms contain bunk beds; most rooms seem to feature enormous televisions.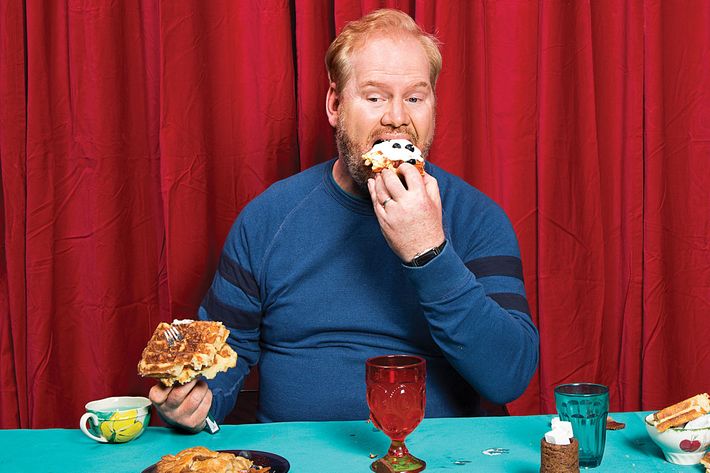 As the kids filed in, Gaffigan directed them around the table. "It's like running a boardinghouse," he said. Then came the sugar: dark-choc­olate cream pie spiked with rum; lemon cream pie infused with thyme and topped with brown-sugar meringue; salted-caramel apple pie infused with bourbon and cider; and crunchy Liège waffles, with toppings.
Taking a big bite of waffle, Gaffigan proclaimed it even better than the Cronut. Unlike the Cronut, these treats are not available at Dominique Ansel Kitchen or Bakery, even for the hardiest line-waiter. Which is too bad for Gaffigan's routine: "I made a joke about doughnuts, and people sent me dozens of doughnuts." He paused. "I should make a joke about private jets."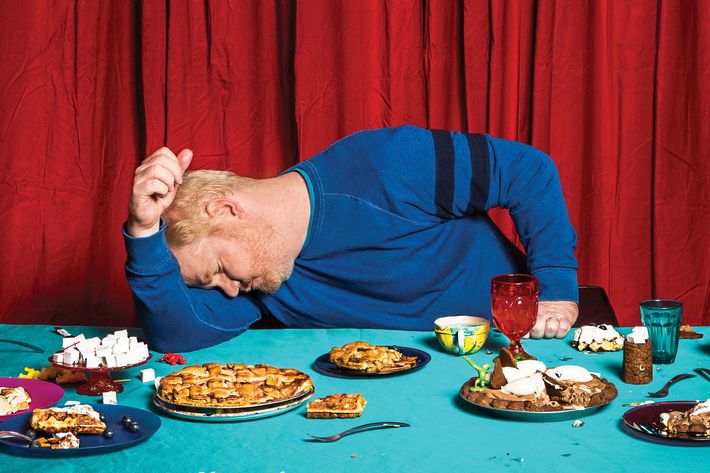 The Menu
Liège Waffles With Assorted Toppings
Dark-Chocolate Cream Pie
Lemon Cream Pie With Thyme and Brown-Sugar Meringue
Salted-Caramel Apple Pie

*This article appears in the November 9, 2015 issue of New York Magazine.
Gaffigan plays Madison Square Garden on December 12.