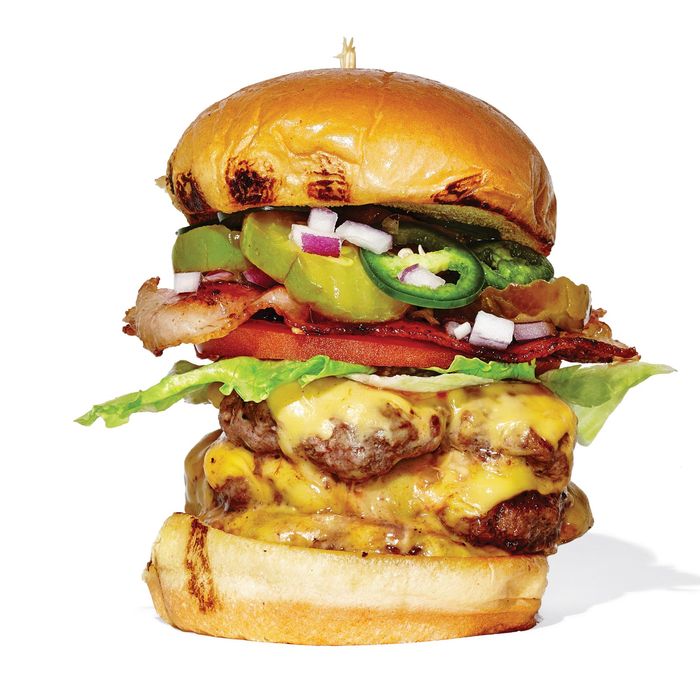 Now available at Brooklyn's Pfizer building.
Photo: Bobby Doherty/New York Magazine
When we last heard from Andrew Zurica of Hard Times Sundaes burger-truck fame, he was about to relocate from the Kings Plaza shopping center to a BP gas-station lot in Prospect-Lefferts Gardens. The papers were signed, the deal was done. Well, folks, as it turns out, gas stations and food-truck propane tanks do not mix, and Zurica's plans were squashed. But the burger maestro has rallied, securing a lease for commissary-kitchen space at the Pfizer Building, and a spot in its parking lot for his trusty truck.
For the moment, Zurica will focus on daytime delivery orders throughout neighboring Williamsburg and Bushwick — not to mention feeding a captive audience of Pfizer's largely food-business tenants, like the picklers, fermenters, and extruders of companies like McClure's Pickles, Mama O's Kimchi, and Sfoglini — relegating the truck to special events around town. Neighbors can order Hard Times Sundaes' signature smashed singles, doubles, and triples via Zurica's website, and orders will be dispatched by car and bicycle — or even by Zurica on foot. "If someone wants to come to the Pfizer building and log on to my site, I'll happily walk to the entrance and hand-deliver it," says the roving burger man. "If they're at a park and want to have a picnic, I'll bring it to the park. Any bars or places that don't have a kitchen, fine."
Next week, he plans to roll out his eagerly anticipated breakfast sandwich, for which he's experimenting with a smaller, flatter, specially seasoned burger patty as a breakfast-sausage substitute. And the roll will be the old-world poppy-seed Kaiser that Zurica grew up with in Brooklyn, if he can find it. "I'm getting samples from Royal Crown tomorrow," he says.