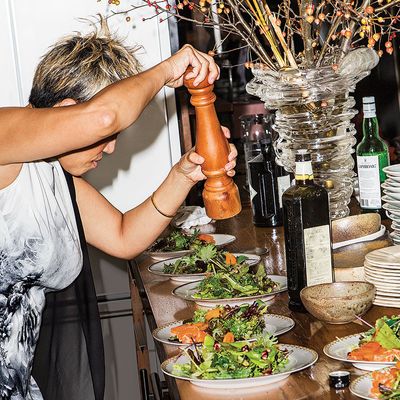 At a Han Feng dinner party the hostess cooks for and eats with her guests.
Photo: Jeremy Liebman
"Dan Kluger said I must have the Gaggenau steam oven," said Han Feng, the Chinese artist and fashion designer. "And David Bouley, the Kangen water machine." Feng, who commutes between Shanghai and New York, looks to the city's restaurants for both sustenance and inspiration, and her Nomad kitchen has come to resemble the ones used by the city's best chefs. One of her greatest pleasures is to cook for friends. So on Columbus Day, Feng threw a dinner for ten: "If you love your friends, you invite them," she said.
At 2 p.m. Feng put on a long white apron and started roasting the butternut squash. Around 4:30 p.m., a client turned up for a fitting, but Feng was unfazed. Knives down, pins out, she switched to her other life as a fashion designer.
By 6:45, the kitchen was organized, the candles lit. Feng had changed and was now ready for her first guest, who arrived early: Renée Price, director of the Neue Galerie. The others followed shortly, artists and architects and a mentalist-magician named Asi Wind. (Feng's husband, Bill Kalush, is a magician himself and knows quite a few.) Ginger-and-litchi martinis were served as guests congregated at the long kitchen counter; in the dining room, Kalush worked out a seating plan. At 8:15, dinner was served: butternut-squash soup, fall salad with Asian dressing, lotus root sautéed with ginger, steamed arctic char with chives, and pan-seared duck breast. Feng alternated between the table and the kitchen to plate each dish.
At 11 p.m., the table cleared, Wind opened up a pack of cards. Just before midnight, he switched to a pair of Rubik's Cubes. Arms raised at his sides, looking forward, he solved each cube in about a minute: A small helping of how'd-he-do-that to send the guests on their way.
The Menu
Ginger-and-Litchi Martinis
Butternut-Squash Soup
Fall Salad With Asian Dressing
Lotus Root Sautéed With Ginger
Steamed Arctic Char With Chives
Pan-Seared Duck Breast With Sautéed Brussels Sprouts and Chinese Chive Blossoms
Chocolate Soup With Raspberries
*This article appears in the November 9, 2015 issue of New York Magazine.