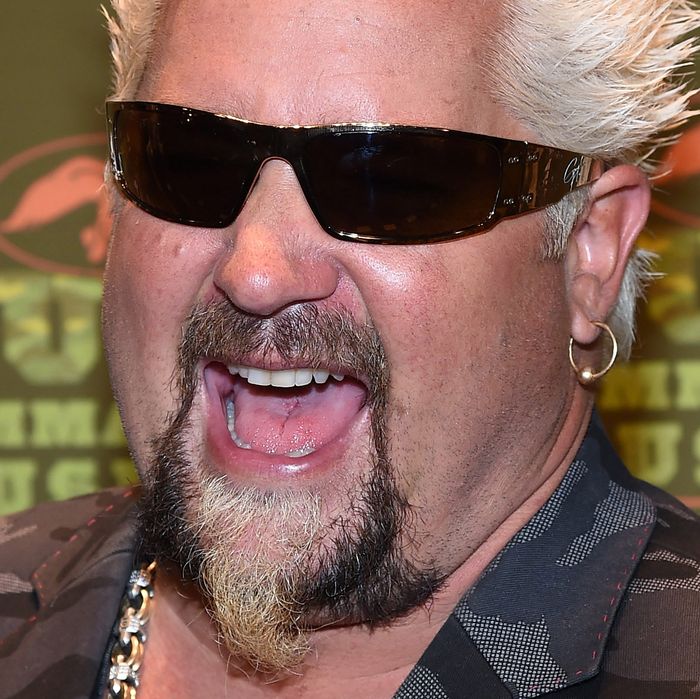 Those are fightin' words.
Photo: Ethan Miller/Getty Images
Guy Fieri has long remained largely silent about the barbs often thrown his way by Anthony Bourdain. Now, that has changed. In a lengthy GQ profile about the Diners, Dives, and Drive-ins host (and his, uh, new wine label), Fieri expresses his true feelings about the CNN host and Kitchen Confidential author's insults:
It's actually disappointing .. I don't like him making fun of people, and I don't like him talking shit. And he's never talked shit to my face. I know he's definitely gotta have issues, 'cos the average person doesn't behave that way. It's not that I'm not open to the reality that the food world was like this from a few people's perspective. It's just, What are you doing? What is your instigation? You have nothing else to fucking worry about than if I have bleached hair or not? I mean, fuck.
Also, as you might guess, he's still upset about Pete Wells's famous zero-star review of Guy's American Kitchen & Bar from way back in 2012: "He could've made such a great comment. But he dropped down to third grade and said every mean, vile thing that he could say and discredited himself." I mean, fuck.
[GQ]