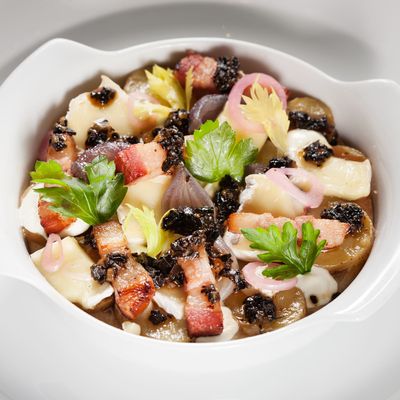 Vaucluse's tarte aux pommes de terre.
Photo: Melissa Hom
Setting aside New York's recent spate of freakishly warm weather, the rain is here now, and the clocks have been set back, and it's dark and kind of depressing before you even leave work at night. Now is the time for potatoes — comforting and rich and perfect as the fall gives way to winter. Around this time of year, restaurants start to serve exactly the kind of hearty spud dishes you need to fortify yourself on a cold night (or, in one case, day). So you're free to go eat some next-level baked potatoes and check out these 14 other preps that demand your attention these days:
Tarte aux Pommes de Terre
Where: Vaucluse
Price: $21
At Michael White's brassiere-style restaurant, chef Jared Gadbaw is serving this traditional tartlet made with potato and creamy Camembert with caramelized onions, bacon lardons for added richness, and, of course, black truffle.
Winter Vegetable Curry
Where: Babu Ji
Price: $16
Alphabet City's hit Indian restaurant recently introduced a new winter menu with some appealingly hefty cold-weather dishes, including this vegetarian curry seasoned with toasted pine nuts and raisins and also featuring Brussels sprouts, roasted cauliflower with masala spices, and — the reason for inclusion here — potatoes.
Potato Cannelloni
Where: Avant Garden
Price: $17
The all-vegan restaurant from restauranteur Ravi DeRossi is making the cylindrical pasta out of fried potato, stuffing it with pine-nut "ricotta," and serving it with eggplant "merguez" and arugula pesto. There are worse ways to go meat-free.
Cod Brandade
Where: The NoMad Bar
Price: $17
Few dishes are as comforting on a cold day as brandade, the traditional preparation of salt cod and puréed potatoes. The version at Daniel Humm's pub is finished with grated parmigiana, cooked until crispy, layered on top of roasted spaghetti-squash "noodles," and finished with fried parsley and pickled shallot rings — all on toast.
Potato Risotto
Where: Virginia's
Price: $17
There's no rice in this risotto, which the kitchen makes by finely chopping raw potatoes into rice-size bits; cooking them in chicken stock, butter, and herbs; then finishing the dish with fried capers, roasted cauliflower, chopped Meyer lemon, and, of course, some parmigiana cheese.

Potatoes
Where: Untitled
Price: $14
Chef Michael Anthony recently introduced this dish of thinly sliced potato confit with tangy buttermilk, capers, and trout roe. The dish is garnished with potato chips and fried potato crumble, because, really, you can never have enough potato.
Root Vegetable Soup
Where: Aquavit
Price: $18
Available during lunch, the acclaimed Scandinavian restaurant serves this warming soup made with pickled potatoes, carrots, celeriac, smoked goat cheese, and pumpkin seeds.
Sunchoke Brandade
Where: Resto
Price: $15
Just one more brandade. Newly appointed chef Koren Grieveson whips salt cod into chunky potatoes and tops it with crispy sunchokes, garlic, and chives.
"Dry-Aged" Potatoes
Where: American Cut
Price: $12
The potatoes aren't actually aged, but roasted for five hours to dry them out before getting thinly sliced and baked with heavy cream and Parmesan. After cooking, they're topped with bacon, roasted leeks, and button mushrooms.
Gratin Dauphinois
Where: Chevalier
Price: $12
At his opulent midtown hotel restaurant, chef Shea Gallante offers the classic French dish of potato gratin with crème fraîche as a side, which is probably the ideal accompaniment to some expertly seared duck breast.

Yunnan Potato Pancake
Where: Yunnan BBQ
Price: $9
At the recently debuted Yunnan BBQ — a meatier, retooled version of Yunnan Kitchen — this unique side dish doesn't look so much like a pancake as a churro. Made with dill and spices, it's served with a dipping sauce.
Shepherds Pie
Where: Toro
Price: $13
At the sprawling Meatpacking outpost of their tapas restaurant, Ken Oringer and Jamie Bissonnette serve an off-menu special that gives shepherd's pie a Spanish makeover, involving morcilla (a.k.a. blood sausage), Cortland apples, and fingerling potatoes.

Polipo
Where: La Pecora Bianca
Price: $17
Summer is long gone, but the sunny Flatiron spot is as good a place as any to pretend otherwise. They offer crisp octopus with the spreadable pork sausage 'nduja, olives, pickled shallots, and potatoes, served in mint-laced vegetable stock.

Potato Pizza
Where: Franny's
Price: $18
Potato pizza sounds like gilding the lily, but it can be great; this late-October addition to the Prospect Heights pizzeria's menu does it right. The spuds get boiled and marinated in olive oil, then hit the pie itself with a salty one-two punch of anchovies and olives, along with oregano, garlic, and mozzarella.