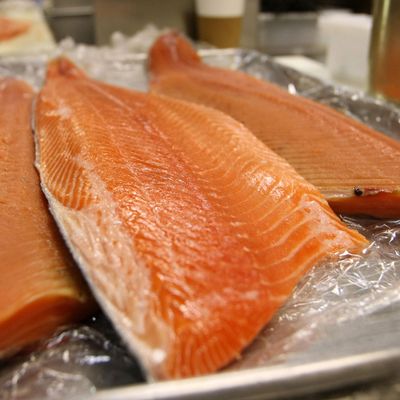 The fish could be on the market in two years.
Photo: Justin Sullivan/Getty Images
This is big: The Food and Drug Administration today approved the first genetically modified animal designed to be food. It's an Atlantic salmon that also contains genetic material from Pacific-Chinook salmon and, well … this thing — an eel-ish creature known as ocean pout. The AquaAdvantage, as it's officially called, has for years had its critics (for starters, Whole Foods and Trader Joe's), and that number is likely to keep growing now that the debate isn't just academic and the fillets could soon be for sale at your local seafood counter.
AquaBounty, the biotech company behind this Frankenfish, says the salmon will be available in two years, and, controversially, there will almost certainly be no label identifying the fish as GM. As the company's CEO Ron Stotish explains, "When you're the first and only, labeling is a dangerous decision. We'd like to label it as a premium product, but we'll probably introduce it as 'Atlantic salmon.'" AquaBounty says the advantages of this particular fish are that it grows twice as fast and only needs about 75 percent as much food as most conventional salmon.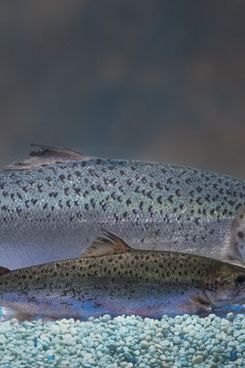 In addition to the ongoing debate around food that's been genetically modified, critics are also concerned that these salmon could escape into the wild. The company says that's not very likely, but it's implemented "several layers" of safeguards just in case — the fish are raised in sealed-off facilities in Canada and Panama, and the fish that are not used for breeding are always sterilized. Haven't these people ever seen Jurassic Park?
[WP]