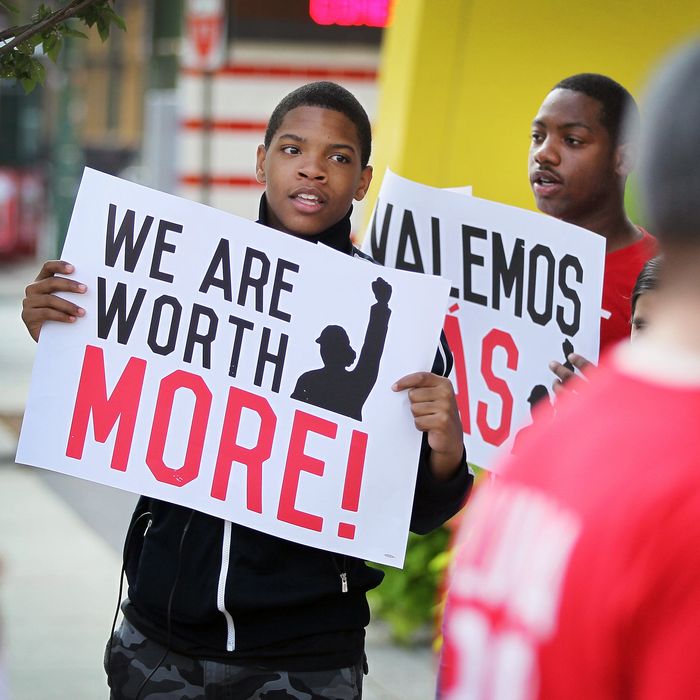 Protests are planned for more than 250 cities.
Photo: Scott Olson/Getty Images
Fight for 15, the seemingly unstoppable force behind the recent wave of fast-food wage protests, will pop up again next week for a new phase of strikes that the group hopes will "sway the 2016 presidential election." In fact, this coming Tuesday, they've planned fast-food protests in 270 cities, and workers will demonstrate en masse at local city halls, where they'll demand support for the $15-an-hour pay floor.
After the one-day event, the group says the next step will be get-out-the-vote efforts to help register as many of the 64 million Americans who make less than $15 as they can. The reason: Polls show nearly 70 percent of unregistered voters say they'd sign up and vote if there's a presidential candidate on the ballot who favors a $15 wage and workers' right to unionize.
Publicly, the group says the campaign is "not about a candidate" and "not about a party," but it's no mere coincidence that this upcoming Tuesday is the day of the next GOP debate. None of the remaining GOP candidates supports the living wage, so several thousand workers plan to rally at the debate site in Milwaukee. The question that remains now is whether these Ronald McDonald puppets can be repurposed to look more Trump-like:
[USAT]