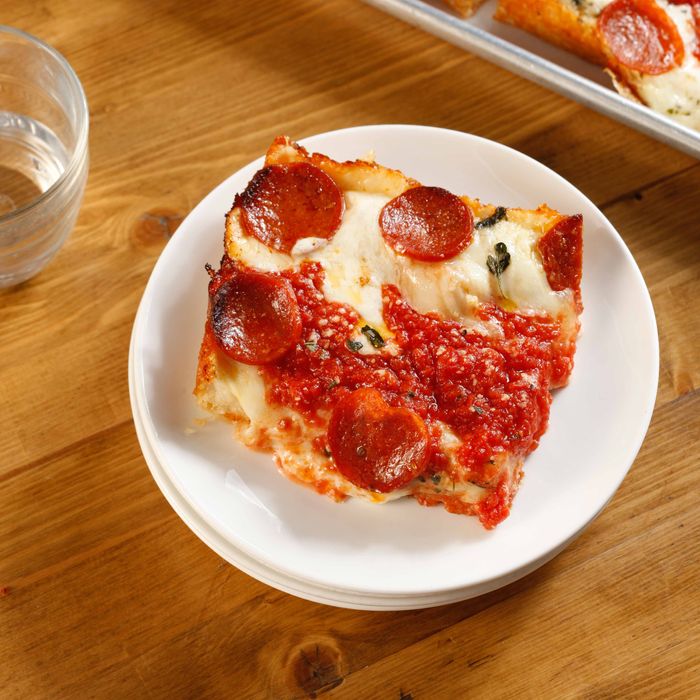 Are you ready for this?
Photo: Melissa Hom
Matt and Emily Hyland have quickly become respected names in the world of Brooklyn pizza thanks to their two-year-old Clinton Hill hit Emily. Now, building on that success, they will expand with a new shop called Emmy Squared, a bar and pizzeria that will specialize in Italian-American sandwiches and pan pizza (inspired by the Detroit style, an American pie pretty much unknown in this city's robust scene). The new spot, which they expect to open in late winter or early next spring, will be located just three stores away from the original shop, in an old Subway. "I joke that we'll keep the menu board up there so people know what sandwiches they can order," Matt says.

For Emmy Squared, the duo is collaborating with chef-partner Lou Tomczak, who worked at Paulie Gee's before joining the crew at Emily. Matt says the two bonded over a mutual love of square slices. Tomczak grew up in New Jersey, but his family is from south Brooklyn, and it's at places like L&B Spumoni Gardens and Di Fara that he first learned to love square slices. However, when Tomzcak experimented with Sicilian squares, he felt his didn't compare to Di Fara — and anyway, Matt points out, the city is flush with that style. "What is not well represented is a Detroit-influenced pizza," he says.
For the uninitiated, Detroit-style pizza is defined by a few distinct qualities: The pies are cooked in a pan, the sauce is robust and ladled on top of the pie (sometimes after baking, but not always), and there's a crisp-cheese edge. Both Tomczak and the Hylands are careful to say that their pizza isn't a strict Detroit style, only that it served as the inspiration. The group's cheese blend is a closely guarded secret, but expect a red pie, and a white version with caramelized onions and ricotta, along with traditional toppings and rotating specials.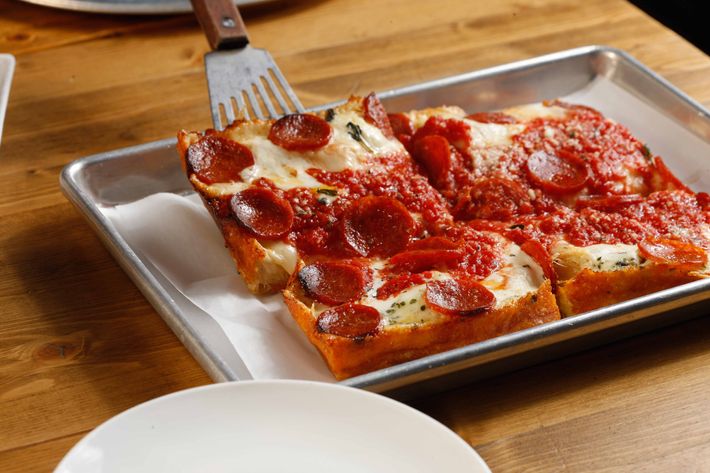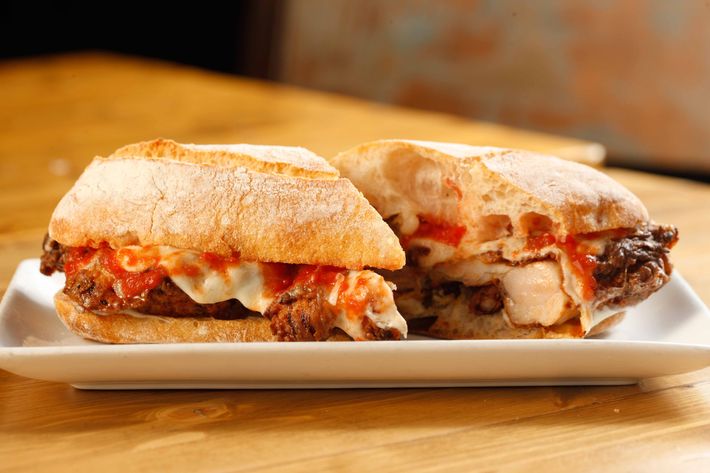 Along with the pizza, there will be sandwiches, which will include a classic chicken Parm, likely a meatball, and maybe an eggplant Parm, along with an Italian combo and, again, a few rotating specials. There will be a few sides as well, including mozzarella sticks and zeppole. As for what it will look like, the trio won't actually keep the Subway menu board and instead say the final design will have a touch of the '80s pizzeria aesthetic without being, ahem, too cheesy. There will likely be bar-style seating along with some high tops and maybe a banquet, but the final details need to be hashed out.
"In this general area, there's not a go-to delivery spot. As our restaurant has evolved over time, there's seemed to be a demand for that," Emily says. "We want to be that really awesome, high-quality pizza to go, as well as a place to get your sandwiches or drink a beer and watch the game."