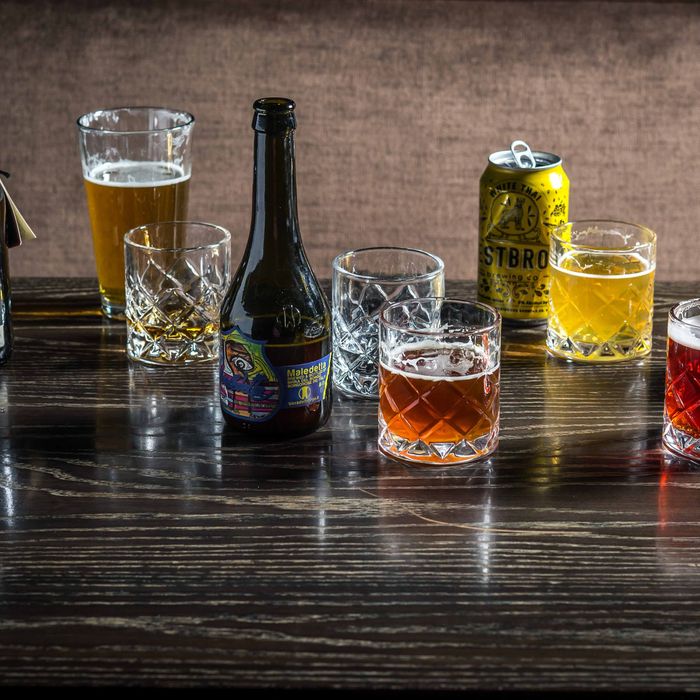 One of each, bartender.
Photo: Paul Wagtouicz
This isn't your typical shot-and-beer deal: At DBGB, Daniel Boulud and newly minted head bartender Sam Hernandez now offer a menu of boilermakers, the dive-bar classic. The downtown restaurant is actually known for its extensive and high-caliber beer selection, and Hernandez saw boilermakers as a smart way to spotlight that and move lingering bottles.
Given that Boulud is the chef who kicked off the gourmet-burger craze, and there's also the prevailing fascination with lowbrow drinks that's all the rage at serious cocktail bars these days, it makes sense that this is happening here. But DBGB is not the first establishment in New York to dress up the blue-collar special — Hernandez follows in the footsteps of downtown cocktail bars Boilermaker and Nitecap. Hernandez's take on the boilermaker is, like Nitecap's, decidedly upscale: There's a basic intro-level Evan Williams Green Label and pilsner, but things get fancy real quick, as Spanish sipping rum and Serbian plum brandy are introduced into the mix. Here are all seven of the DBGB boilermakers: