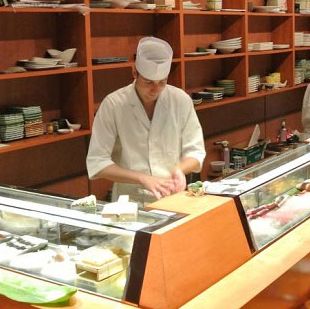 Bouhadana at work.
Photo: Courtesy of Sushi Dojo
Celebrated sushi chef David Bouhadana, whose restaurant Sushi Dojo and its Gansevoort Market spin-off were shut down last month by New York City's Department of Health because of his refusal to wear gloves, has launched a Change.org petition asking DOH commissioner Mary Bassett to reconsider the rule. Both locations of Dojo have been closed since October 22, while sister restaurant Dojo Izakaya remains open, yet Bouhadana has decided not to change his practices. Recently, the chef told Grub, "the goal is to sit down with the DOH and find a solution together and amend the bare-hand-contact rule." Meanwhile, the closure of the restaurants has caused something of a stir as many chefs and industry watchers have sided with Bouhadana's position.
In the petition, the chef argues that mandatory use of gloves needs to be discontinued, as it was in California last year, because, among other reasons, they are actually less sanitary and that bare-handed contact is essential to preparing the food. As he told Grub he would in an interview last month, Bouhadana is also requesting that the DOH allow restaurants to attach a consumer advisory note, in the vein of warnings about consuming raw shellfish or eggs, for sushi restaurants that operate with bare-handed contact. Previously, he said, "If I do prevail and get something going and there is a petition, I bet you every chef in New York will sign it." Now we'll find out if that's the case.