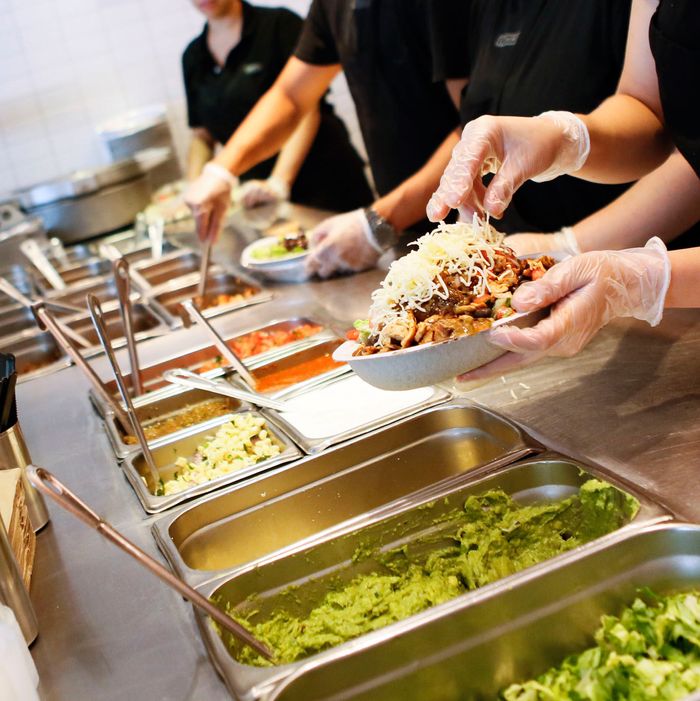 Which of these is not like the others?
Photo: Patrick T. Fallon/Bloomberg via Getty Images
Just as Chipotle execs thought they'd finally heard the words "batch-test" for the last time, the chain's messy E. coli outbreak has come back, spreading to four more states. The CDC says new cases linked to something at Chipotle (they're still not sure what) have now appeared in New York, California, Ohio, and Minnesota, in addition to the cases already reported in Washington and Oregon. The tally of infected people now stands at 45, and 16 have been hospitalized. It's likely that not all of the cases have been reported yet, so expect more to surface.
Chipotle spokesman Chris Arnold tells the AP, "At the moment, we do not believe that it is necessary to close any restaurants," which may sit wrong with some, all things considered, but he adds that the company is certainly taking all necessary measures, like sanitizing newly affected restaurants, tossing out ingredients, and working with investigators to find the source of the problem, wherever and whatever that may be.
Chipotle learned after the first go-round that the public doesn't look kindly on food-borne-illness outbreaks that spread, especially when they follow statements about how the closures were done merely "out of an abundance of caution." Stocks tanked 12 percent in reaction to this latest news, the AP notes, their lowest level in an already not-so-great year.
[AP]