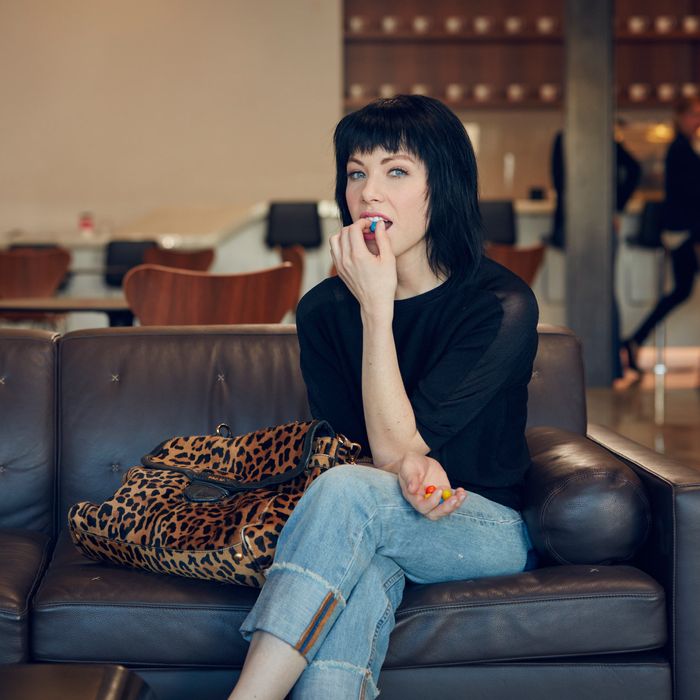 "I forget my apple, so I snack on M&Ms."
Photo: Tommy Garcia
Canadian singer and songwriter Carly Rae Jepsen will always be associated with her megahit of 2011, "Call Me Maybe," but this year she released Emotion, an excellent pop album that's received much-deserved critical acclaim. Jepsen is currently on tour promoting that album — as well as preparing to play Frenchy in Fox's Grease Live on January 31 — and this week she bounced around the country, playing shows in upstate New York and then returning to her home in Los Angeles to record. This kind of schedule led to a meal cooked using leftovers "that probably should have been thrown away," snacks of Timbits and M&Ms on the fly, and an important lesson that red wine should never be ordered in sports bars. Read all about it in this week's Grub Street Diet.
Thursday, October 29
I wake up in a rush, but breakfast is my favorite thing, and I rarely skip it. Blueberries, red grapes, and cottage cheese with almonds and homemade granola. Homemade, as in the package promised that some smiling grandma made it, and I believe. My boyfriend doesn't understand my love of cottage cheese. But it's delicious and so good for you!
Half of a chocolate biscotti and a hot black coffee — Illy, dark roast. I run out the door with an apple in my purse. I am one of those suckers that truly believe an apple a day. And I am very rarely sick, so this theory flies for me.
After two separate fittings, I drive to the studio with an extra half-hour to spare. So lunch at the corner coffee shop: portobello mushroom and spinach salad with walnuts, Parmesan cheese, and balsamic dressing.
Iced coffee. Sing!
Dinner at the amfAR gala. I am excited by the appetizer, which appears to be a giant crouton with a surprise salad inside. Fancy! Although intimidating. It takes me three brave attempts and a growling stomach before I finally aim my fork and stab at the thing. I notice everyone else is stabbing self-consciously, too. Fancy, but impractical.
I got to wear this sheer gold dress, which was great, but you always want to wear a tent when you go to an event like that so you can eat. The main course is steak with some kind of mushrooms. I'm guessing porcini? And it is cooked perfectly. Medium rare. I don't know how much wine I had because my cup was magical that night and was always full.
Friday, October 30
Hung-over. Bad start to food journaling. Happy to discover that I have all the ingredients in my fridge to make the perfect greasy breakfast for me and my man. Fried crispy bacon, two eggs, and some avocado slices with grilled mushrooms and toast. I had never actually tried frying bacon before, and I didn't imagine you could screw it up. But I did. It was a chewy, shriveled mess. We ate it anyways.
I'm very rarely home, but when I do get a chance, I like to dabble in cooking. But I'm so new to it that I make very simple mistakes. My boyfriend, God bless him, still ate it all. That's love right there! Eating my gross cooking, thank you.
About 100 cups of coffee.
Late lunch. Bowl of pork ramen and an apple — my assistant picked it up. I haven't totally recovered from last night, so I made it through about half of each. But ramen is the perfect meal if you're feeling under the weather.
By dinner, I am better and I order my favorite veggie burger from the Oaks Gourmet.
Saturday, October 31
Up at 6 a.m. for a flight. Heading to Cornell University for a show tomorrow. I slice an apple and banana, dip them in almond butter, and make a chamomile tea for the road. Still hungry at the airport, so I grab a parfait while we wait to board.
At the lame-over in Atlanta, the crew and I hit up the lounge and make our chairs and laptops into a camp office space. Veggies and hummus, chicken-bean salad, and Thai soup all 'round. A lot of emails and a lot more java.
We arrive late in Syracuse, and we're all craving a bit of nightlife. We find a bar with the game on, so the boys are happy, and we snack on popcorn and beer till our food arrives. Well, the boys have beer. I went for red wine and shouldn't have. Never order red wine at sports bars. Just don't.
For dinner I have the healthiest thing I can find on the menu: Greek salad with grilled chicken. It's surprisingly awesome.
At "home," the hotel lobby has a basket of Halloween candy, and I swear it isn't until seeing it that I realize it's Halloween. I grab a Kit Kat and try not to feel completely depressed that we missed it.
Sunday, November 1
I convince the band boys to dress up for Halloween a day late. I'm so over the moon by this that I get right to work on our costume details. Late breakfast is sandwiches from Tim Hortons, which are nostalgic for our Canadian tour days, and a box of Timbits for the drive. They're little buttonholes, like baby doughnuts. My guitarist bought a box of 40, and I said, "We're not going to take that down," but our drive ended up being long.
We all feel like crap after the overload of sugar and hit up sound check like slugs. I opt for a rider meal for lunch, which is mainly almonds, fruit, and granola bars.
Dinner is provided by the venue, and it turns out to be great. Grilled veggies and chicken and sausages, and these delicious peanut-butter cookies for dessert.
Then Cruella de Vil and her puppies hit the stage. I had a little fur coat, and I went out and got some red gloves. We had a new glam girl, so the poor woman showed up, and I said, "Hey, strange request: Can you dye half my hair white?"
Postshow, I have a bowl of cereal — Special K Berries — while the boys have pizza and Taco Bell. I feel only half-jealous knowing how crappy they'll feel for our 4 a.m. call time. We get to bed by two-ish.
Monday, November 2
It's 4 a.m. No one should be awake at 4 a.m. I roll out of bed literally in my airport clothes because I am a good planner. I am eating a granola bar that I don't remember opening. I guzzle coffee. It's not working.
Airplane. Lame-over. Airplane. I wake up landing in L.A., but I'm still groggy. I'm sure I ate things, but I don't remember. Late lunch/dinner at my apartment is a combo of leftovers. Toast that probably should have been thrown away and some scrambled eggs. A biscotti. I go to bed at 8 p.m.
I used to be a pastry chef's assistant, so I know how to bake things, but when it comes to cooking, I'm totally impatient. I must have been 19 when I worked in a coffee shop, and the main pastry chef ended up falling in love with some guy from Norway over the internet, and she decided to move there. Because I was the only person she taught, I was left with all the responsibility to take over her baking. I ended up getting my bearings and working there for an extra two years. I joke that I can only make things in massive quantities. If you want a cheesecake, I can make you eight cheesecakes, but one will take quite a bit of math and skills I might not have.
Tuesday, November 3
It's a 6 a.m. call time for Grease. Photo shoot today, so I start it out right. Oatmeal, banana, and almonds.
I forget my apple, so I snack on M&Ms. After the pictures and interviews, my manager hands me a plate of chicken skewers and asparagus, and I chow down as our director talks us through what the next few months will look like.
Dinner is happy hour with my man, who I haven't seen in a few. We go to Figaro in Los Feliz and order burrata on toast and crab cakes.
Then I hit the studio for another late-night session. Coffee. Apple. Sing.