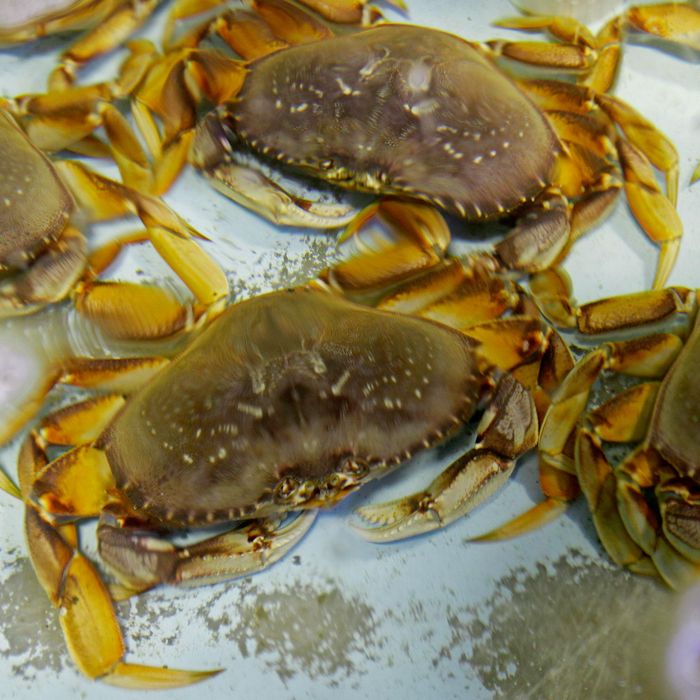 Stay safe — don't get crabs.
Photo: Eric Risberg/AP/Corbis
Time, perhaps, to rethink that upcoming crab boil. California's Department of Public Health says to steer clear of West Coast Dungeness crabs for the time being because they have a poison toxic enough to kill. It's called domoic acid, a neurotoxin found in algae that causes what's known as amnesic shellfish poisoning, and it's heat-resistant and "very stable," so boiling doesn't do jack.
Timing couldn't be worse, either: The San Francisco Chronicle notes crab season opens recreationally this Sunday, and then next Sunday to commercial crabbers who've already arrived from as far away as Alaska. That's rotten news as well for owners of seafood restaurants who are eager to give the Dungeness-loving masses their sweet, delicious crab.
The toxin's explosion is being blamed on unseasonally warm waters, and it can cause headaches and stomach issues in milder forms, or if it's severe, permanent short-term memory loss, seizures, a coma, and maybe even death. California officials "don't know" when levels will be safe again, but the start of crab season is delayed until they are. Hard as it'll be in the meantime, the only 100 percent effective way to prevent infection is, as concerned grandmas would urge, abstinence.
[SFGate]