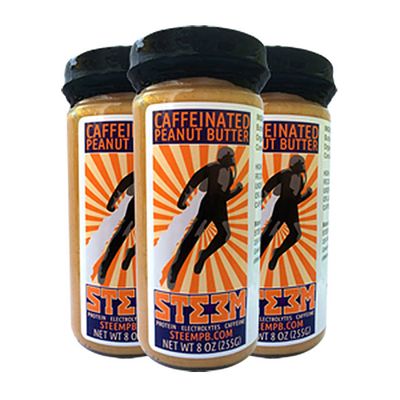 Schumer will wait for the decaf.
A Massachusetts start-up says it has made getting a caffeine jolt as easy as licking the back of a peanut-butter spoon. The product, STEEM, or "the greatest thing you never knew you wanted," is half creamy, delicious spread, half rocket fuel, as just a mere tablespoon is said to deliver 85 milligrams of caffeine. It's a plain PB&J;, in other words, amped up to two cups of coffee.
The co-founders, a trio of friends (one with a culinary background), are marketing it to athletes and as a purported hangover cure. They hopped it full of more caffeine than a Red Bull, but did it so the green-coffee extract (which they sweetened up with agave nectar) mixes with the fat in the peanut butter for a slower release that doesn't cause a sugar crash.
Right now, eight-ounce jars go for about $6 in Connecticut, New Hampshire, and Massachusetts only, but that's three states too many for powdered-alcohol archnemesis Chuck Schumer. STEEM has already come across the senator's radar, and his office issued a statement on Sunday demanding the FDA put a warning label on it: "This may look like an ordinary jar of peanut butter, and it may cost the same as a jar of peanut butter, but the fact is, it's much more dangerous than an ordinary jar of peanut butter."
Unless the feds step in ASAP and regulate, Schumer thinks random acts of caffeination will "spread to all kinds of other snacks, even Popsicles, candy, things that kids eat." Although the label reads "Caffeinated Peanut Butter," Schumer believes STEEM could have "a lot of caffeine and the consumer wouldn't even know."