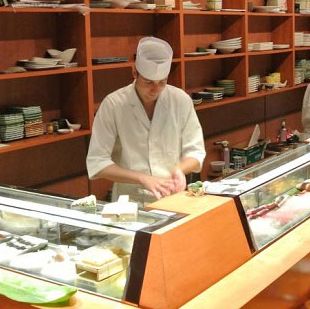 David Bouhadana is now a free agent.
Photo: Courtesy of Sushi Dojo
Sushi chef David Bouhadana is now out of a job at Sushi Dojo, four days after he launched a change.org petition asking New York City's Department of Health to reconsider its no-bare-hand-contact rule. Sushi Dojo reopened over the weekend for the first time since October 22, when it was shut down by the DOH for Bouhadana's refusal to wear gloves or post his health inspection grade, among other reasons, but it did so without the vocal chef in the kitchen.
The restaurant's owner, Boris Lidukhover, apparently decided that he was tired of paying rent and not making any money, telling Eater in an email that Bouhadana was fired for "unprofessional conduct and deliberate repeated violations of NYS DOH codes and regulations." According to the DOH's website, Sushi Dojo was reinspected on November 11 with no points for violations, while Sushi Dojo Express, its Gansevoort Market spinoff, received 5 points on November 9. Following the October closure, Bouhadana billed himself as the voice of a cause other sushi chefs are unable to speak up for, and his change.org petition has gotten 1,200 signatures, including from Sushi Nakazawa chef Daisuke Nakazawa. Whatever support he received from the public, though, wasn't enough to save him his job.
[Eater NY]