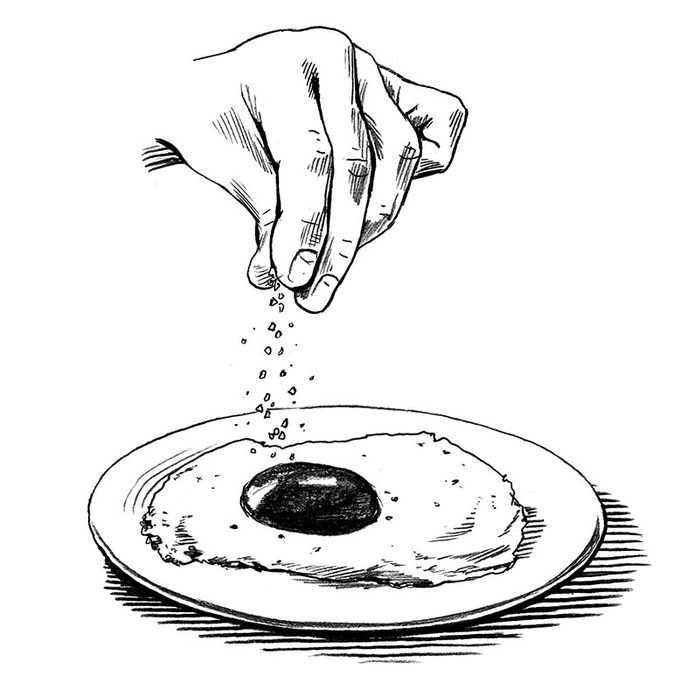 Illustration: Illustration by Joe McKendry
We've come a long way from Diamond Crystal. Below, find the best salt for your kitchen personality type.
For the Purist
Saltverk: Harvested from the pristine waters of Iceland's Bay of Isafjardardjup and processed using only geothermal energy, Saltverk's flaky sea salt has made its way to Sadelle's in Soho, where Melissa Weller uses it to crust her salt-and-pepper bagels.
$6 for 0.6 ounces at the Meadow, 523 Hudson St., nr. 10th St.; 212-645-4633.
For the Boozer
Sal de Aquí's Flor de Sal con Gusano de Maguey: Like it or not, worm salt's a thing. This one is ground in a molcajete from Colima sea salt, dried chiles, and the finest Hypopta agavis, or larvae of a moth that feasts on maguey leaves. Consume it traditionally, with orange slices in between sips of mezcal, or use it to season grilled foods.
$11 for 1.76 ounces at Miscelánea NY, 63 E. 4th St., nr. Bowery; 212-253-0277.
For the Lazy Chef
Omnivore Limone: The latest creation from a Sicilian-born blacksmith turned Bay Area-based salt maven, Limone combines Pacific sea salt with lemon zest and a spice rack of herbs. "It's a simple way to imbue flavor while cutting down on legwork," says Dimes co-owner Alissa Wagner, who mixes it into unsalted butter to serve with crusty bread and good sardines.
$10 for six ounces at omnivoresalt.com, starting in December.
For the Penny-pincher
Jacobsen Salt Co. Pure Kosher Sea Salt: From the Oregon source of flaky finishing sea salt beloved by April Bloomfield and other pros comes a new budget line of smaller-grained kosher salt, perfect for seasoning, brining, boiling, pickling, and tossing cavalierly over your shoulder whenever the mood strikes.
$12 for two pounds at Court Street Grocers, 485 Court St., nr. Nelson St., Carroll Gardens; 718-722-7229.
For the Tony Locavore
Amagansett Sea Salt Co.'s Merlot Wine Blend Sea Salt: It's a no-brainer, really. Harvest seawater from some of the ritziest South Fork beaches and finish the solar evaporation directly in Wölffer Estate Merlot. Use it to finish anything you'd eat with red wine, from mushrooms to steak.
$22 for 2.5 ounces at amagansettseasalt.com.
*This article appears in the November 9, 2015 issue of New York Magazine.