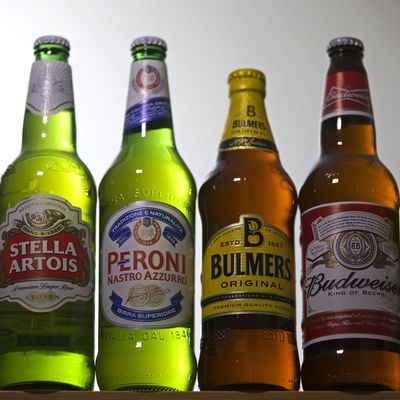 "Just try and stop us."
Photo: Justin Tallis/Getty Images
Beer giant Anheuser-Busch InBev (of Budweiser and a gazillion others) and SABMiller (of Miller and a gazillion different others) formalized their merger Wednesday morning, right up against regulators' deadline. Once it goes through, one in every three beers sold worldwide will come from this megabrewer, which will be three times the size of Heineken, now No. 2 globally, and control about half of the industry's profits. AB InBev says it will pay $106 billion for SABMiller, a bit more than originally offered (and then counteroffered).
Both companies expect much regulatory scrutiny, so to make the whole thing look as kosher as possible, they've already ironed out a side deal to sell SABMiller's 58 percent stake in MillerCoors to Molson Coors. This means Molson Coors would control Miller Lite, Coors Light, and Blue Moon outright, but the new megabrewer will be able to overrun shelves in America, Europe, China, Africa, and Latin America with all kinds of low-cost, forgettable beers.
The real issue is what this massive beer-making entity plans to call itself. SAB InBev, Globev, and Omnibrew are theoretically some of the more formal possibilities that have emerged, but internet observers have helpfully been compiling a list of their own. In the running are Monopolager, MegaKega, and Beerhemouth.
[NYT]