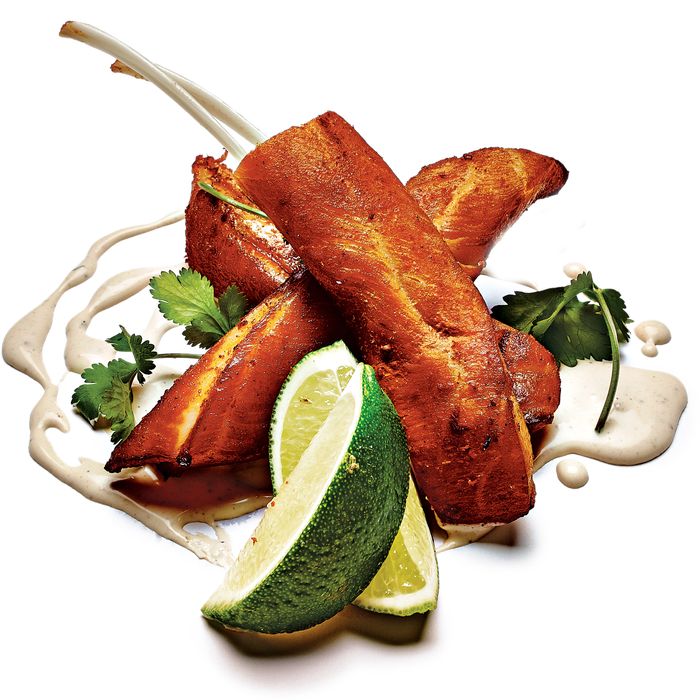 Who knew fish had ribs? That's a common refrain you'll hear among the menu perusers at Peter Hoffman's Back Forty West. The fish ribs in question come from Asian carp, shipped north each week from Ledbetter, Kentucky. The things to know about Asian carp, a.k.a. Kentucky tuna, are that (a) it's an invasive species introduced in the 1970s to reduce algae in southern fish farms, long since escaped, reproducing at alarming rates, and wreaking havoc in fresh waters everywhere, from Mississippi to Minnesota; (b) these guys aren't small—they can grow up to four feet long and weigh over 100 pounds; and (c) they're absolutely delicious. To do the sustainably minded restaurant's part in reducing the Asian-carp population, chef Mike Laarhoven cures and smokes his ribs and serves them not with barbecue sauce but a za'atar-spiked crème fraîche.
On the menu at Back Forty West; $12; 70 Prince St., at Crosby St.; 212-219-8570
Photograph by Bobby Doherty
*This article appears in the November 30, 2015 issue of New York Magazine.