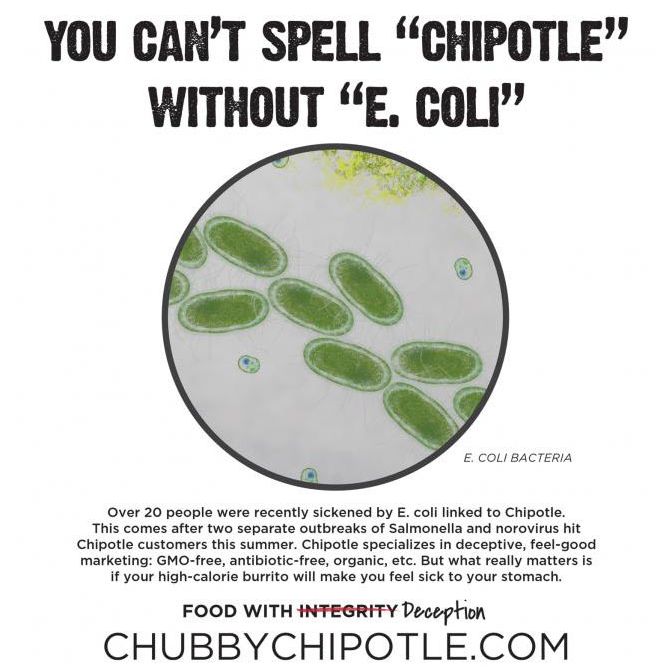 E. coli is the gift that keeps on giving to Chipotle's foes.
Photo: Center for Consumer Freedom
All of this bad press surrounding Chipotle's E. coli outbreak is like an early Christmas for the Center for Consumer Freedom. Better known as that Big Ag–backed "Chubby Chipotle" smear outfit run by a man called "Dr. Evil," the group wasted absolutely no time cranking out an ad to try and capitalize on the mess. It ran as a full page in yesterday's New York Post, CCF's go-to tabloid, and basically combines all of the group's anti-Chipotle rhetoric into one tightly packed umbrella attack.
Here's the text:
Over 20 people were recently sickened by E. coli linked to Chipotle. This comes after two separate outbreaks of Salmonella and norovirus hit Chipotle customers this summer. Chipotle specializes in deceptive, feel-good marketing: GMO-free, antibiotic-free, organic, etc. But what really matters is if your high-calorie burrito will make you feel sick to your stomach.
How exactly this might morph "Food With Integrity" into "Food With Deception" is unclear, but it's at least a sign Chipotle better get its act together. Ever since going GMO-free, its preachy marketing has struck people as stilted and stuffy. "You can't spell 'Chipotle' without 'E. coli'" is totally ridiculous, but it's also quite funny.
[Ad Age]