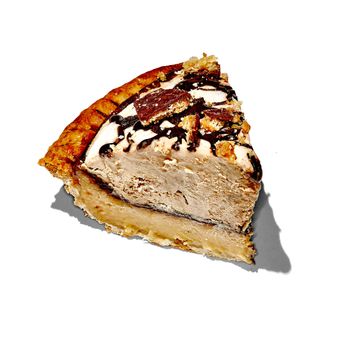 Photo: Bobby Doherty/New York Magazine
Thanksgiving is rapidly approaching, and chances are you will want pie and ice cream. This year, the folks at Four & Twenty Blackbirds and Ample Hills Creamery have conspired to create a dessert that's all in one — an ice-cream-and-pie mash-up named Walt and the Blackbirds, the first-time meeting-of-the-minds between the Brooklyn sweets specialists. The pie in question is Four & Twenty's estimable Salty Honey, a delicious variation on a chess pie. "Why Salty Honey?" you ask. Because, as Ample Hills' Brian Smith explains, and as any budding Harold McGee or Wikipedia can tell you, honey is a supersaturated sugar solution made up of only 18 percent water, which is not enough for it to freeze. In other words, you can eat this frozen pie without the aid of hammer and chisel.
Once Smith gets his hands on the pie, he drizzles it with hot fudge and sprinkles it with sea salt, then mounds approximately three pints of his Nonna D's brown-sugar-cinnamon-and-oatmeal-lace-cookie ice cream on top of it. That's not all: There's another coating of hot fudge and a crumbling of Ample Hills' patented Crack Cookies over the ice cream, because why not? It goes without saying that this thing is sweet and rich and will probably give all other pies at your Thanksgiving table an inferiority complex.
The nine-inch pies are $52* and available for preorder at amplehills.com for pickup November 21 to 25 at Ample Hills locations in Gowanus and Prospect Heights.
*The price of the pie has been updated to reflect new information provided by Ample Hills.