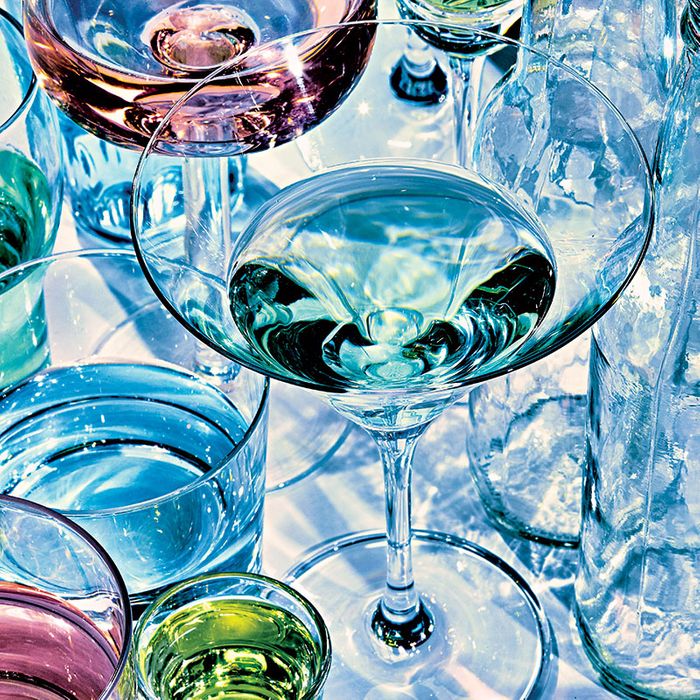 Photo: Bobby Doherty/New York Magazine
When it comes to entertaining a large group — whether you're hosting Thanksgiving or game night — the right drinks, in the right quantity, are key. To aid in that effort, we surveyed bartenders and sommeliers (from everywhere from Estela to Señor Frog's) for a whole lot of specific suggestions on how to loosen up a crowd. Ahead, their professional tips, tricks, and recipes.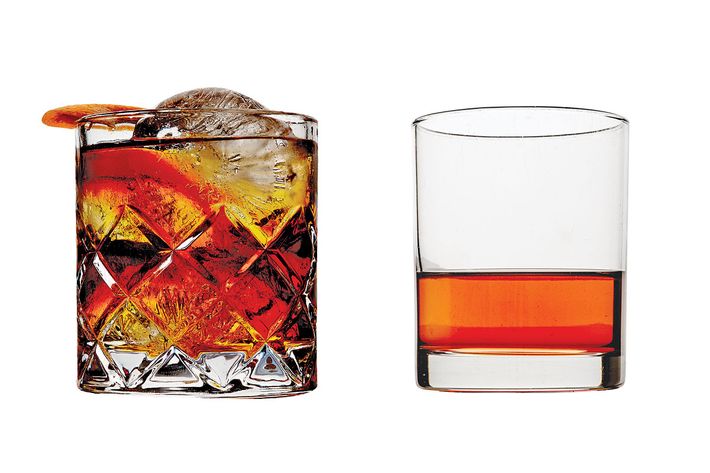 1. Make Your Predinner Cocktail a Whiskeyless Manhattan …
Lawrence Green, director of operations, Navy
"The bitters of a Manhattan prepare the mouth and stomach for food; they actually open your mouth and then the palate to what you're about to eat. Our Lower Manhattan cocktails are made without whiskey — even better before a meal, because alcohol dulls our palates. Just take some vermouth and then a selection of sherries to give you that big, full mouthfeel when you drink it."
Navy's Lower Manhattan
2 oz. Antica Formula vermouth
1 oz. fino sherry
½ oz. oloroso sherry 4 dashes aromatic bitters
Stir ingredients with ice and strain into an ice-filled rocks glass. Garnish with an orange peel.

2. Or Swap Out Whiskey for Cognac in a Simple, Neat Sazerac
Thomas Carter, co-owner, Estela
"You don't want to have a bunch of pots on the stove and then all of a sudden have to whip out a shaken cocktail. A Sazerac is good because it doesn't involve shaking. Rinse the glasses with your absinthe; once you stir the drinks, you don't have to serve them with any ice. And there's no garnish. Serve this with vegetables and bagna càuda, the anchovy purée, as your guests start trickling in. I hate cheese to start. It's too satiating, and it coats your palate too much."
Carter's Sazerac
1 tsp. simple syrup
2½ oz. cognac
2 dashes Peychaud's bitters
¼ oz. simple syrup
1 dash Angostura bitters
Mix ingredients in a shaker and strain into the absinthe-rinsed glass.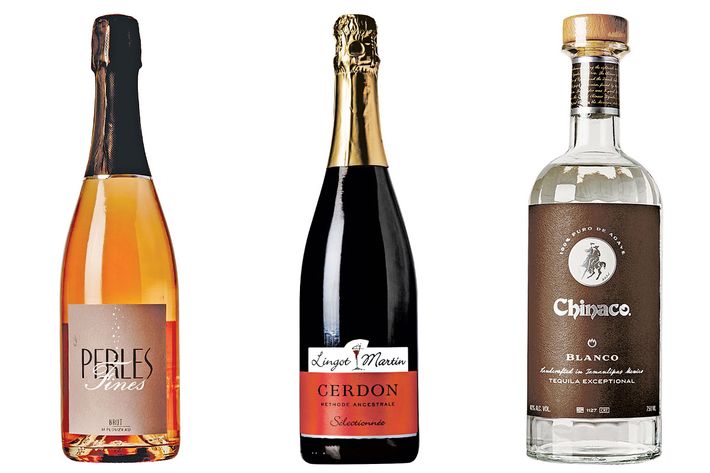 3. Serve a Loire Valley Sparkling Wine With a Knifeful of Pâté …
Ian Hood, sommelier, DBGB Kitchen and Bar
"I prefer sparkling wine to Champagne, and Perles Fines ($18, weygandtwines.com) is 100 percent Cabernet Franc. You don't see it made into sparkling wine very often, and certainly not exported very much. It's made in the traditional Champagne method, but it really has the Cab Franc characteristics from this region — a lot of vegetable notes, like bell pepper, and an herbaceousness. It goes best with a country pâté."

4. … And, Later, a Bottle of Sweet Bubbly With Ice Cream
Chad Walsh, beverage manager, the Dutch
"My guilty pleasure in the less-expensive-sparkler department is Bugey-Cerdon ($19, Astor Wines & Spirits, 399 Lafayette St.; 212-674-7500). It sounds like bougie — and it is admittedly a little sweet — but it's the perfect thing with some Morgenstern's ice cream. That little bit of sweetness makes it a sort of stand-alone treat. I like to drink it out of a paper coffee cup."

5. Snack on Peanuts With Tequila on the Rocks
St. John Frizell, owner, Fort Defiance
"Chinaco ($30 at Astor Wines & Spirits) is made in Tamaulipas, on the other side of Mexico from Jalisco, where Tequila is located. Its flavor is so clean and bright, it's like drinking aloe juice. Make it on the rocks — it's just too subtle for a margarita. It's good with a really simple classic Mexican botana, like jicama and cucumber with chile and lime, or roasted peanuts with chile and lime."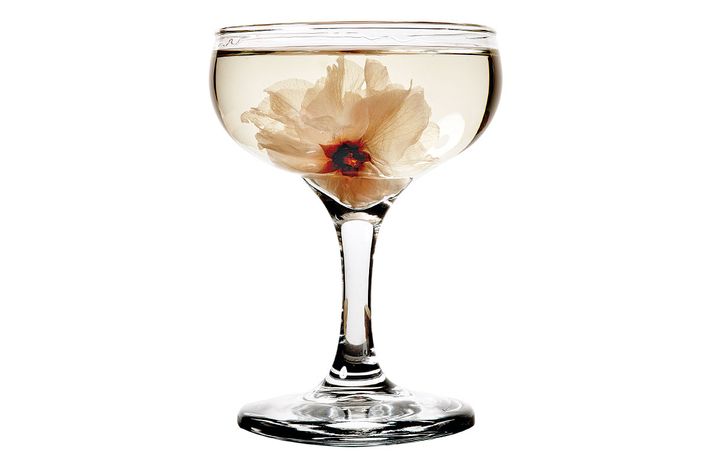 6. Drop a Cherry Blossom Into a Saketini at a Hand-Rolled-Sushi Party
Kenta Goto, owner, Bar Goto
"If you want to make your guests go, 'Wow, what's that?,' garnish a saketini with edible flowers instead of cucumbers; it's like visual entertainment. I like using a cherry blossom — it should be available at the Japanese market (like Katagiri, 224 E. 59th St.; 212-755-3566). They are usually pickled in salt and then vacuum-sealed. In cocktails, you'll want to get rid of salt content; otherwise, the drink is going to lose its harmony. We toss them in boiling water to dissolve the salt. And while we do that, the flower opens up. I like to serve this when I throw hand-rolled-sushi parties. You basically prepare a whole pot of rice, a bunch of seaweed, and a bunch of different toppings. And people actually roll it."
Bar Goto's Sakura Martini
2½ oz. Junmai sake
1 oz. Plymouth gin
¼ teaspoon maraschino liqueur
Combine in a mixing glass, stir gently with ice, and strain into a chilled martini glass. Garnish with a cherry blossom.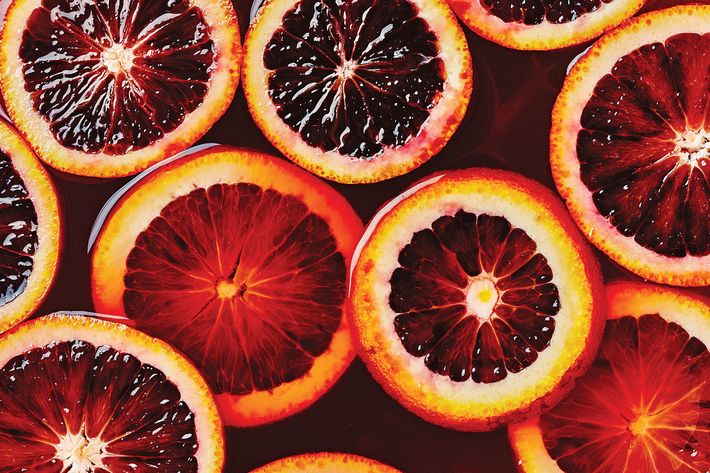 7. Turn a Good Lambrusco Into a Pitcher of Sangria
Joshua Nadel, executive beverage director, Bar Primi
"Lambrusco sangria pairs well with good friends and good times. It's not meant to be overthought or subject to wine intellectualism. There is plenty of wine out there for that! Use great fresh juice and small-batch Italian liquori or vermouth. If you avoid crappy wine and sugary canned juices, that's what makes it extra tasty."
Bar Primi's Lambrusco Sangria
2¼ cups Ramazzotti amaro
3 cups blood-orange juice
4½ oz. simple syrup
½ cubed honeydew melon
1 750-ml. bottle Lambrusco
Mix all ingredients except for Lambrusco. Let sit for 4 to 8 hours.
To serve: Add Lambrusco and pour in wineglasses over ice with skewed honeydew pieces and 1 slice of blood orange.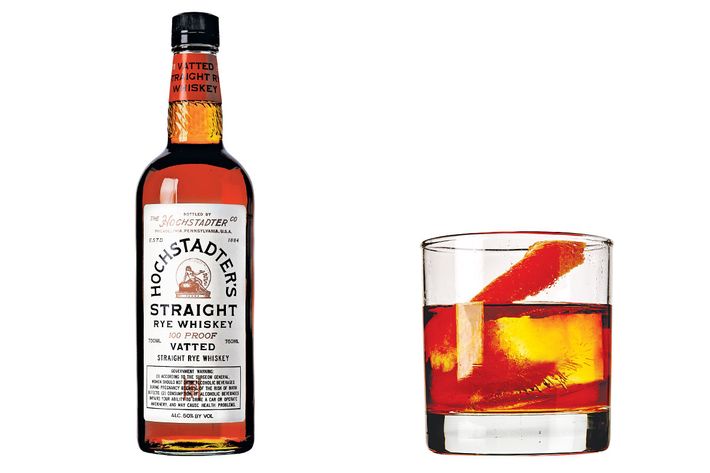 8. Pair Rye Whiskey With Beer Backs During the Game …
Kenneth McCoy, partner, Ward III
"I'm really excited about Hochstadter's Straight Rye Whiskey ($37 at Astor Wines & Spirits). It's really, really nice. Especially now, when it starts to cool down a little bit. This rye and some Miller High Life nibs, watching the game with friends? To me, they just go hand and hand."

9. … Or Mix It Into an Old Fashioned and Serve It With Grilled Cheese
"I take Angostura bitters and orange bitters, put it all into a mixing glass. A spoonful of simple syrup and a spoonful of brandied-cherry juice. Then I put the rye on top, add ice, stir, and pour into a chilled rocks glass with an orange twist. It's very simple. Have it with a grilled cheese with Cheddar and sourdough. The sharpness of the Cheddar paired with the salt in the sourdough and the spice of the rye tie it all together like the Holy Trinity."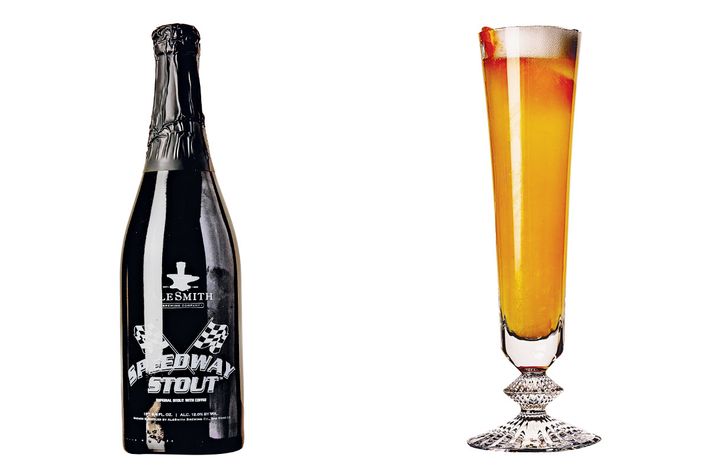 10. Open a Large-Format Stout at a Backyard Barbecue
Ian Hood
"There's something very fun and ceremonious about serving large bottles of beer. AleSmith Brewing Company, which is based in California, makes a great stout called Speedway Stout ($13, Murray's Cheese Shop, 254 Bleecker St.; 212-243-3289). It's a Russian imperial, always vintage-dated, and it's so delicious. Even for people who don't generally like dark beer, it just has a lot going for it, with this very dark kind of roasted-malt character, so any kind of charred meat goes really well with it."
11. Class Up a Romantic Dinner With a Pair of French 75s
Emily Collins, lead bartender, the Bar at the Baccarat
"The French 75 is one of the easiest cocktails to make. You can put it in anything — a flute or even a wineglass. It's a quarter-ounce of simple syrup, a half-ounce of fresh lemon juice, and then a half-ounce of Grand Marnier Cuvée du Centenaire — you can use regular Grand Marnier if you don't want to spend that much money. And then one ounce of Rémy Martin VSOP. Top with Ruinart Blanc de Blancs." (All available at Astor Wines & Spirits.)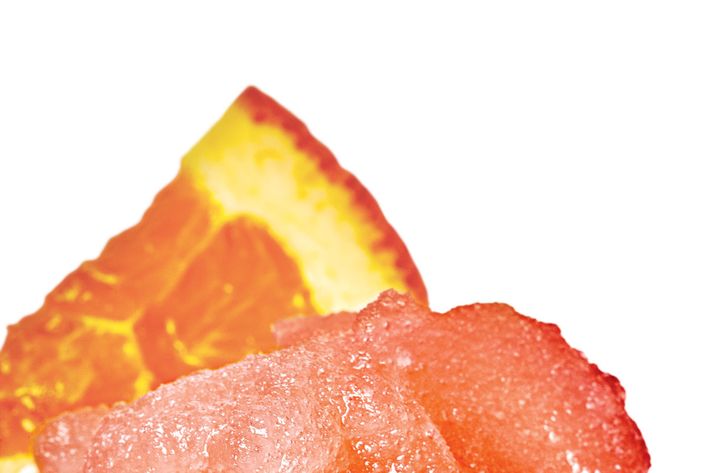 12. Make a Boozy Slushy Without a Slushy Machine
Most accounts trace the origin of the Negroni Slushy — a kind of highest-ideal mash-up of a timelessly nostalgic treat and a bartender's favorite cocktail — to a bar in Chicago called Parson's Chicken & Fish, which debuted it on its menu in 2013. By last year, variations of the recipe had spread to outposts in New York — Splitty in Fort Greene, Mother's Ruin in Nolita — and this summer it seemed like you couldn't walk into a bar or restaurant in Brooklyn without seeing a slushy machine spinning slowly next to the cash register. (Frozen Negronis here and there; Hemingway Daiquiris just about everywhere else.) Of course, just because bars use a special piece of machinery to ensure icy consistency doesn't mean you need to shell out for an Omega OFS30 triple-hopper slushy machine to make one at home. All you need is a blender and a lot of ice.
DIY Negroni Slushy
2 oz. gin
2 oz. sweet vermouth
2 oz. Campari
2 oz. grapefruit juice
2 oz. orange juice
Blend at high speed, adding ice until the mixture reaches desired consistency. Garnish with orange slice.
Serves 2.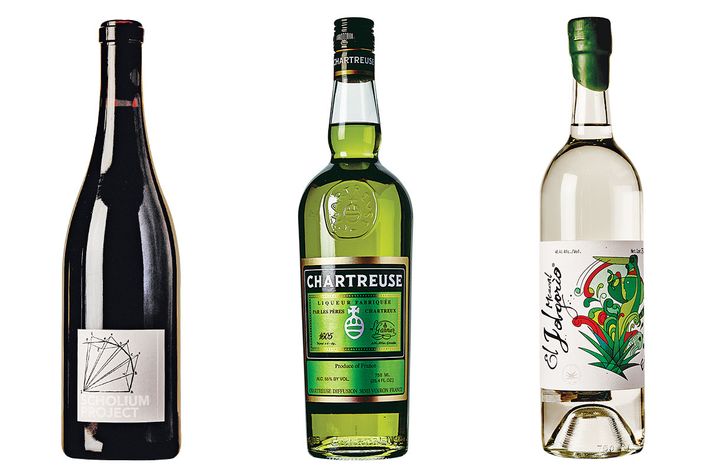 13. Show Up to the Party With a Zeitgeist-y Natural Wine
Nora O'Malley, partner, Lois
"Sommeliers love Abe [Schoener, founder of Scholium Project wines in California]; you can see his wines on some of the most important lists in New York. His Garden of Babylon 2013 ($43 at Astor Wines & Spirits) is really special. It's deep and funky. And it's good for bringing to a party because it goes with so many foods. It's almost like a blueberry pie — blueberry pie plus spice plus wood chips. So it can pair with meats or with something a little bit lighter, like poultry."

14. Deploy a Bartender's Secret Weapon
Nick Bennett, head bartender, Porchlight
"Chartreuse is very impressive to people not generally accustomed to the bartending world. It's high-proof, so you'll want to serve it with something fatty, something able to cut through all that alcohol. Like a rib. Something rich, with a lot of spices. The Last Word is a great Chartreuse ($31, Slope Cellars, 437 Seventh Ave., Park Slope; 718-359-7303) cocktail. It is crazy simple and so good."
Last Word
¾ oz. gin
¾ oz. green Chartreuse
¾ oz. maraschino
¾ oz. fresh lime juice

15. Wash Down Steak Toasts With Mezcal …
Ivy Mix, partner, Leyenda
"Mezcal, like tequila, can be celebratory, and El Jolgorio ($100 at Astor Wines & Spirits), a slightly off-the-beaten-path varietal, does a great single-agave mezcal. Plus, the labels are amazing. Your guests will be like, 'Look at that bottle!' Pour an ounce into a traditional veladora (a little candleholder), then cook up some steak really rare, eat a piece over a Stoned Wheat Thin, and take a sip of mezcal. It's ridiculous."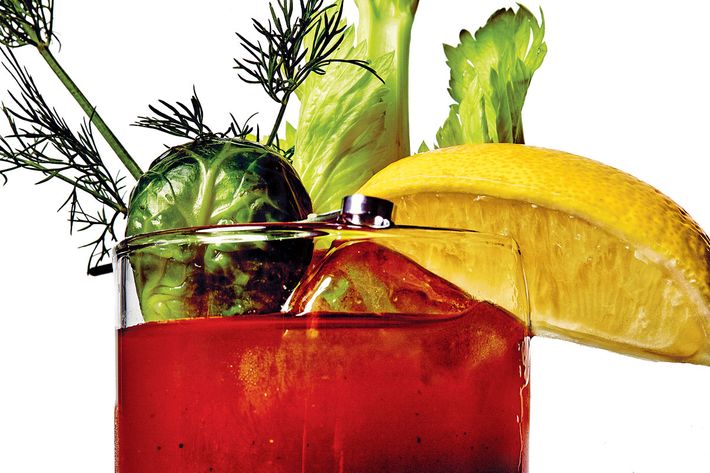 16. … Or Use It to Spike a Bloody Mary and Serve It With Tacos
Brian Bartels, director of bar operations, Bar Sardine
"If you're making spicy tacos, it's best to pair them with something smoky, like a mezcal-spiked Bloody Mary. Do an ounce and a half of vodka and about four ounces of Clamato. I love how bold and roasted and meaty it is and that it kind of catches people off-guard. A half-ounce of soy sauce or teriyaki, which I like to use as a Worcestershire substitute. Definitely a half-ounce of citrus. And then a half-ounce of Del Maguey Vida Mezcal ($37, Chambers Street Wines, 148 Chambers St.; 212-227-1434). And then a quarter-ounce of molasses to give it a little extra body and richness. Then hit it with a couple dashes of chipotle Tabasco for that smoked-pepper quality. And then, after you roll it a couple of times and drop it in the glass, hit it with a couple extra twists of fresh-ground black pepper — as opposed to cayenne. Garnish with a celery stick, Brussels sprout, and lemon wedge."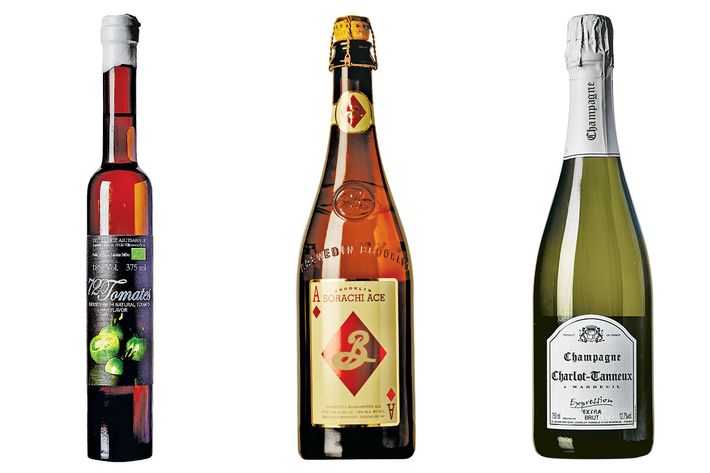 17. Splurge on Tomato Brandy for Dessert
Justin Chearno, wine consultant, Four Horsemen
"After dinner, I really love — love — the eaux-de-vie from Laurent Cazottes ($70 at Astor Wines & Spirits). He grows most of the fruit that he uses. They're really expensive, but the stuff is amazing. His tomato brandy is insane. Great, confusing, delicious, all at once."

18. Drink a Lemongrass Beer With a Carton of Kung Pao Chicken
Justin Chearno
"Brooklyn Sorachi Ace from Brooklyn Brewery ($15, First Place Provisions, 414 Court St., Carroll Gardens; no phone) uses sorachi hops, which have all sorts of lemongrass notes. It is killer with spicy Szechuan food — anything with a chile."

19. Circle Back to Champagne As You're Doing the Dishes
Thomas Carter
"At the end of the night, when you're a bit soused, the last thing you want to do is mess around with a dessert cocktail. Charlot-Tanneux Champagne ($46, Uva Wines, 199 Bedford Ave., Williamsburg; 718-963-3939) is still on the dry side, but it's generous, and goes with any kind of apple dessert. Not the best with chocolate, but it'll be fine."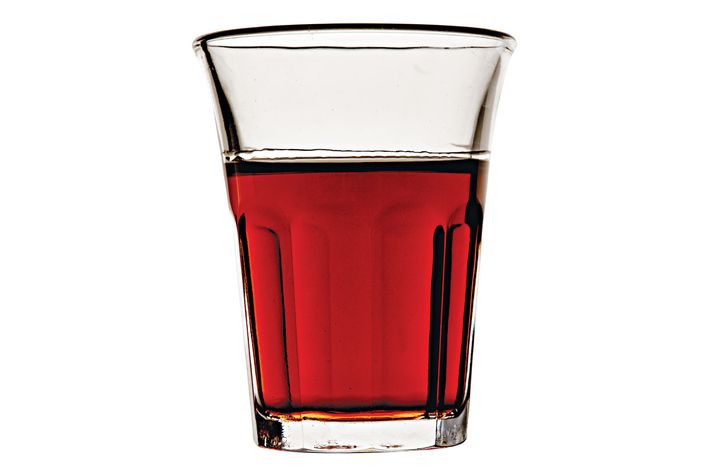 20. End the Night With a Jäger Shot
Jane Danger, bartender, Mother of Pearl
"Jägermeister is an amaro, and a lot of amaro is pretty much already set — it's fortified with sugar and has 56 herbs and spices, so it kind of has a cocktail built into it. It goes well with heartier foods like fatty cheeses, goulash, sausages. And if you get a nice, dry pear eau-de-vie, and you put that in there as a split base, it's super-seasonally appropriate. It's got all those warm spices, and the ginger-cinnamon-anise-licorice thing, and the juicy pears. I like to do two-thirds Jägermeister to one-third eau-de-vie. Pre-batch it so you have it ready. Serve it warm, or you can give it a little stir, depending on your profile. I know a lot of people like Jägermeister chilled, but I like my amaros warm. But that's a personal preference. However you want to get down on it, I'm fine with that. Some people sip it. I shoot it."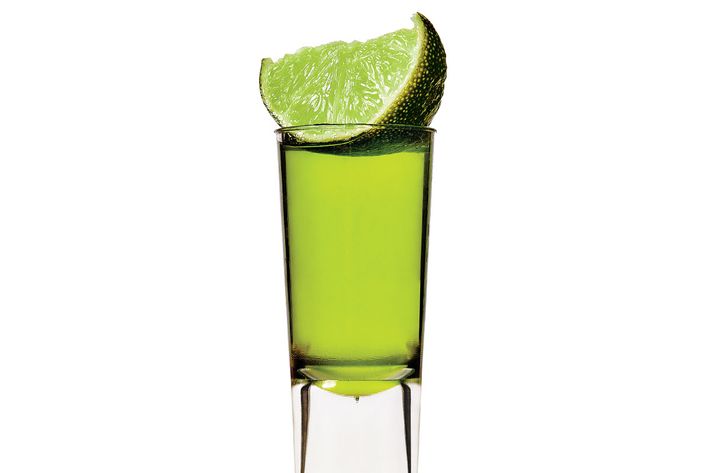 21. Now Start Things Up Again With "Frog Legs" Shots and a Conga Line
Nico Caneva, general manager, Señor Frog's
"The Frog Legs mixes vodka, a melon liqueur that makes it taste a little Caribbean, pineapple juice, and sweet-and-sour mix — that's a combination of lime juice and a touch of orange juice, which makes it a little bit more friendly. Use an ounce of vodka, a half-ounce of melon liqueur, one ounce of pineapple juice, and a half-ounce of sweet-and-sour mix. You're going to mix it up, shake it up in a shaker, and then you're going to strain it into a four-ounce shooter glass. This shot is pretty popular when we do our conga lines."
*This article appears in the November 9, 2015 issue of New York Magazine.