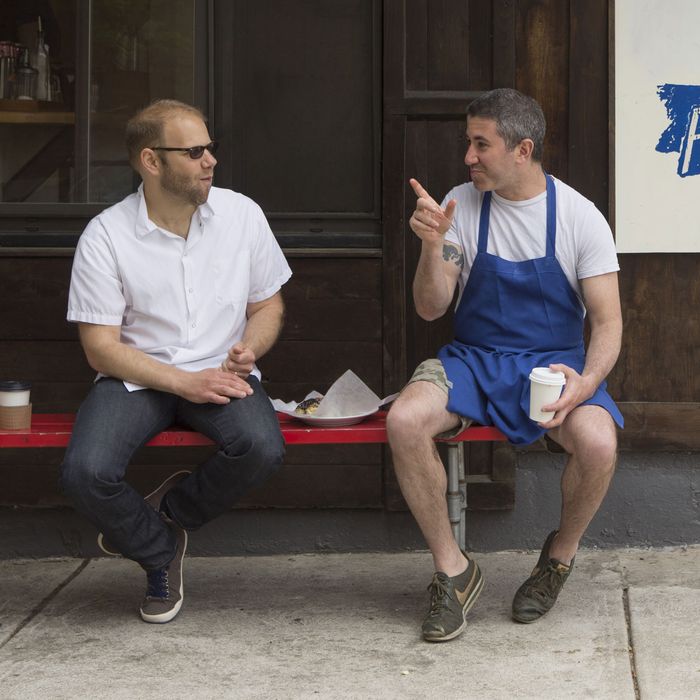 "I think we'd kill it, but then we'd have to fucking move to New York," says Mike Solomonov, on right.
Photo: Photograph from Zahav: A World of Israeli Cooking by Michael Solomonov and Steven Cook. Photo by Michael Persico. Used by permission of Houghton Mifflin Harcourt.
Since opening Zahav in 2008, Israeli chef Mike Solomonov and his business partner, Steven Cook, have transformed the Philadelphia restaurant scene. Their success propelled them to launch four more concepts under their aptly named CookNSolo empire: Federal Donuts (fried chicken and doughnuts), Dizengoff (a hummusiya), Percy Street Barbecue (Texas-style barbecue), and Abe Fisher (a small-plates spot that offers foods of the Jewish diaspora). And just last week the duo published their first-ever cookbook, featuring Zahav recipes.
It seems fitting, then, that Solomonov and Cook might start to think beyond the confines of Philly — and perhaps expand to New York, following in the footsteps of Stephen Starr or, more recently, the High Street team. But, as chefs have vocalized recently, "making it" in New York perhaps isn't the ultimate defining factor of success in the way it once was. Grub sat down with Solomonov and Cook to discuss which concepts they'd consider expanding to New York, why Philly is a good testing ground, and how they're tempted to refocus their energies and open a place in Tel Aviv.
When you first opened Zahav, the food was a bit fancier and more precious. Many chefs, like Thirty Acres' Kevin Pemoulie and Danny Bowien, are saying they want to get away from that kind of cooking. What do you think about that shift?
Mike Solomonov: We had two things happening. We had Zahav, and then we had something called "the Quarter," which was the fancier tasting-menu stuff that we perceived to be cool. We only had it open one day a week, and we were fucking dead the whole time, and then when things got really bad economically, we shut it down. It seemed like in a way closing the Quarter, or stopping the fancy stuff, would actually liberate the Zahav menu.
I feel like your food achieves something rare, in that it's comforting but also interesting and exotic. How do you strike that balance?
MS: It helps to have context: It's an Israeli restaurant in Philadelphia run by chefs, not traditional grandmothers. In a lot of ways, we can get a little bit more creative with food. Like, the food in the Middle East, and specifically Israel, can be so alienating because it's foreign to us, right? The small-plate format I think allows people to get more adventurous when it comes to eating.
So although there's duck hearts, or things that have the pronunciation "ch" in it, and everyone's like, "I'm scared of that," because we're an approachable restaurant, in general, it helps. I think that since we try to genuinely make people feel comfortable, they're more likely to order sweetbreads, duck hearts, duck testicles, or just say, "This is a great restaurant. I'm going to try stuff. I don't care how you pronounce it. The origin of it — I'm not necessarily interested in, but I'm going to give it a shot because why not?" They trust us … I think that most people — we also talk about this all the time — they come in because they want to have the salads and the hummus and the bread, and then they stay for the rest of the stuff.
It's a gateway dish. You've expanded a lot in Philly in the past few years. How do you decide how many concepts to open while being conscious of a saturation point?
Steven Cook: We talk about a saturation point, but I think we have operated in that bubble where it hasn't been a concern, and we've just been really lucky to be able to be like, "We think this is a cool idea. We think it will be fun. Let's do it." That has worked so far, but I don't know how much farther we'll be able to push that. Zahav is a special place, and we have Abe Fisher, which is also a personal restaurant to us. I think that those require a lot of personal attention, and then you take concepts, like Dizengoff and Federal Donuts, which are easier to think about as opportunities to expand, as opposed to trying to re-create the magic that is Zahav. That's what our mind-set is right now.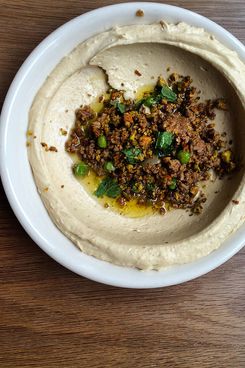 How have you seen Philly's restaurant scene evolve?
SC: Continental just had its 20th birthday. That was Stephen Starr's first major place. He was just starting to push the seams. When I moved to Philly I had a list of, like, 50 restaurants that I wanted to work at. I think there are, like, under five that are still left.
MS: I cooked at Striped Bass, and at that time, when I started, the bigger restaurants were the ones that got the props. And then there were BYOBs, and then I think bigger, expensive restaurants sort of died off. Now I think people are doing the smaller, more personal restaurants. In a lot of ways, there was no competition for a very long time, so all the big, expensive restaurants were actually busy, and now I think that it's not like that — you have to try incredibly hard. To do really well you have to do something special. Mediocrity doesn't work in Philly, in my opinion.
Philly people are tough!
MS: They're so fucking tough, and hype doesn't work.
It's interesting, because hype drives so much in New York.
MS: I know it does. I just don't think Philly people get that excited. I think people get irritated, and folks sometimes even have a complex because we're always in the shadow of New York or D.C., so you have to be extra critical. People think Zahav's a hype restaurant.
SC: I don't think so.
Well, I think, by doing Federal Donuts and making your follow-up concepts so accessible and affordable, it's hard to argue that you're doing a disservice to the city.
MS: What I like about Federal is that there's people that go to Federal that don't know shit about Zahav, and they couldn't care less. They don't know anything. They just want doughnuts and fried chicken and coffee, and they're happy with that. I think it's cool.
I've heard rumblings about you expanding to New York. Is there any update?
SC: It's something we talk about all the time. I can't give the details, but we love New York. We're just trying to figure out how people pay rent here. We look around and there are tons of places. You try to impose that model on Philly, and you're like, "This wouldn't work in Philly," but New York is a special place.
Which concept is first in line — Federal?
SC: Federal or Dizengoff.
MS: Last in line would be Zahav.
SC: It's scary to think about operating in a new market. I mean, Philly's our hometown, and we have a lot of support there, and we want to manage that risk as much as we possibly can while still sort of not being afraid to take a leap. So the most manageable way for us to do that is a concept that doesn't require 75 people to run it.
High Street is going to open here soon. Do you think Philly is a good testing ground for New York restaurants?
SC: I think it is. I think it's a crucible to prove yourself in Philly, because we're not an expense-account town. We do have a little bit of a chip on our shoulder, and people aren't afraid to tell you what they really think. I feel confident being successful in Philly and going to another market. And I sometimes cringe a little when I hear a concept in New York [that] is great and I love and does amazingly in New York is coming to Philly, because I'm like, "It's very different here." For example, there are not that many areas in Philly where you can have a great lunch and dinner business in the same restaurant. You have to almost pick and choose. I think it's a tough place to prove yourself, and I think it makes sense to me that it's a bit of a testing ground.
So many chefs want to leave New York now. You can make a name for yourself — like you have with Zahav — without ever having to be here.
MS: Right — it's a beautiful thing. In the summer, too, we notice this sort of phenomenon since the Barnes opened; so many of our reservations on the weekends are people from New York. It's exciting. For so long, I was probably the biggest advocate. I was like, "Well, we'll open Zahav in Philly, and then we'll open one in New York," because nobody's doing Zahav in New York. I think we'd kill it, but then we'd have to fucking move to New York. I'm like, Why would we do that when we have New Yorkers that come down to Philly? It's so nice to be able to operate in a town that you're comfortable in. But Zahav would kill it in New York.
It totally would.
MS: There's something nice about also having a check that's, like, $50 with alcohol and still getting the national recognition and being on all the lists that fuel our egos, but to also have people like us, come in, and afford to eat there.
Zahav is the kind of place that lends itself to having a local, regular audience, which a lot of concepts don't.
MS: We have plenty of them. So tell me more about that guy Kevin [Pemoulie]. What's he going to do now?
He's moving to Seattle. He was tired of the hypercompetitive culture here and doing what he described as challenging, pretentious food. He basically said, "Everyone just wants burgers and pizza. Why am I trying to force sea urchin down their throats?"
MS: If you melt sea urchin on top of a burger, it looks a lot like American cheese. I think it's true. I mean, I don't know. We cook food that we like to eat, but I know that sounds cliché and stupid. Running a successful restaurant is challenging enough. I feel like the other shit — forget about it. Having to be in a competition with other chefs or to do the newest thing or the most ironic pairing, or the most tongue-in-cheek menu item … The older I get, the less interested I am. How many employees do we have total in our company?
SC: Over 150.
MS: That's a lot. That's a lot of people to be responsible for, just so we can, like, plate things the coolest. I really wanted to open a restaurant in Israel and get the first Michelin star, and I sort of do, but I'd rather maybe just do really well here and go visit Israel.
Really well in Philly, or here in New York?
MS: In Philly or in New York, or Stateside, I guess. I just feel like it's tremendously difficult. The margins continue to get harder. Everybody's spread out. It's really hard to find great employees. But I keep telling Steve, "Federal Donuts in Tel Aviv would be the shit, but then we'd have to open a business in fucking Israel." What do you do then? Do you open a Federal Donuts in Tel Aviv and then you're like, "Fuck it, we're moving to Seattle. I can't do this anymore."
Or you franchise it, which doesn't seem like what you want to do.
MS: No, doing it abroad I think would be fun. Tel Aviv is a really cool city.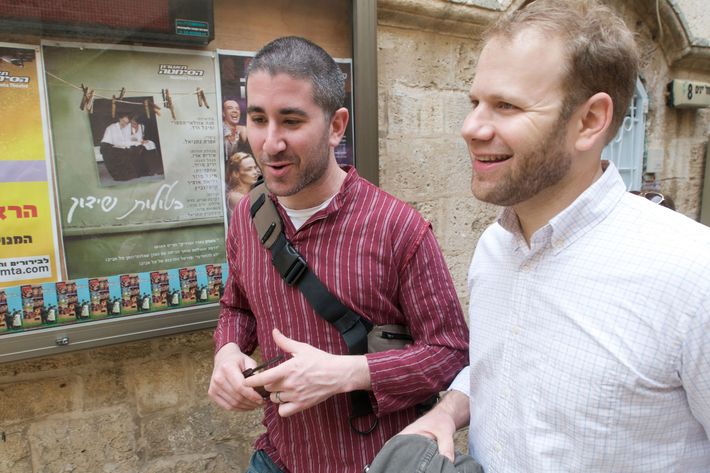 What do you think about Jewish food, in general, becoming so trendy? Sadelle's, which the Carbone team just opened, is kind of like Jewish Disneyland.
MS: Of a Jewish deli? Well, we discuss this all the time. When Steve and I first started, Zahav was one of the concepts, but we had other ideas for food. Jewish food is near and dear to our hearts. We do better when we've got this sort of emotional investment. A lot of us have grown up with this food, and I think maybe we're just more comfortable — instead of looking to Spain or Asia — it's just more familiar and I think people are more interested … You want nostalgia. We talk about the things that we grew up eating all the time.
So what do you hope people will take away from this cookbook?
MS: I want people to cook from it. I want to share our personal story. I want to share the story of my family, and of the country, and offer a different narrative for Israel.
Now that the book is out into the world, what's coming up next in the immediate future?
MS: We have a lot coming up next.
SC: If everything that we're looking at kind of comes together, 2016 could be a big year.