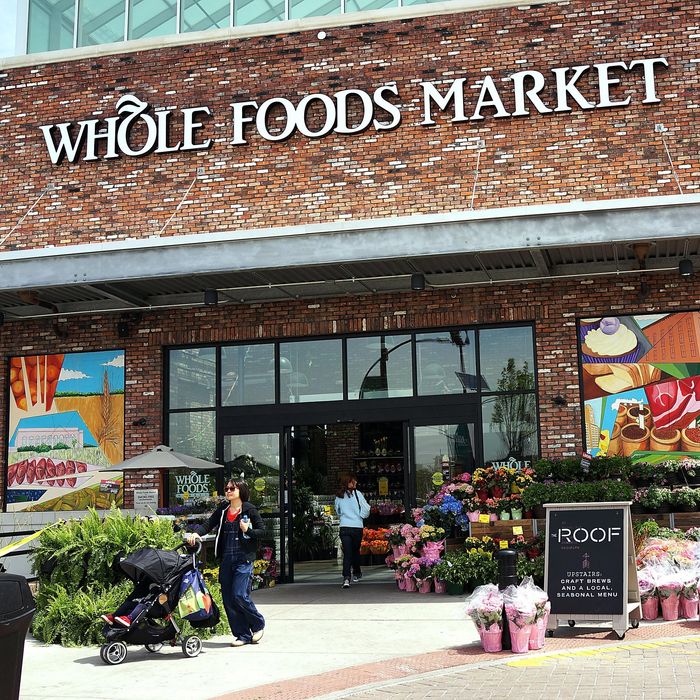 The chain has identified potentially contaminated cheese.
Photo: Spencer Platt/Getty Images
Whole Foods is issuing a voluntary recall for all Papillon Organic Roquefort cheese, which the grocery chain sells cut and prepackaged, over concerns of listeria contamination. The sometimes deadly bacteria, which was also responsible for the massive recalls that nearly tanked Blue Bell ice cream and Jeni's Splendid Ice Cream, was detected by the FDA during routine testing of whole, uncut Papillon cheese wheels.
Luckily, no illnesses or infections have been reported yet, but the recall is the second one this year for Papillon Organic Roquefort, following one issued because of possible staphylococcus contamination. Given that Whole Foods is dealing with many problems of its own making already, this latest development doesn't really help their corporate image.
Here's the full text of the recall announcement:
Whole Foods Market is recalling cheese sold in all stores nationwide that came from its supplier because it has the potential to be contaminated with Listeria monocytogenes, an organism which can cause serious and sometimes fatal infections in young children, frail or elderly people, and others with weakened immune systems. Although healthy individuals may suffer only short-term symptoms such as high fever, severe headache, stiffness, nausea, abdominal pain and diarrhea, Listeria infection can cause miscarriages and stillbirths among pregnant women. Consumers should seek immediate medical care if they develop these symptoms.

The recalled cheese was cut and packaged in clear plastic wrap and sold with Whole Foods Market scale labels. Whole Foods Market decided to recall the cheese after routine sampling conducted by the FDA found Listeria Monocytogenes in a whole, uncut wheel of the cheese. The Papillon Organic Roquefort cheese product can be identified by the scale label that begins with PLU 029536. All sell by dates are affected.

No illnesses or infections have been reported to date. Signage is posted on retail store shelves to notify customers of this recall, and all affected product has been removed from shelves.

Consumers who have purchased this product from Whole Foods Market stores may bring their receipt to the store for a full refund. Consumers with questions should contact their local store or call 512-477-5566 ext. 20060 between the hours of 9 a.m. and 5 p.m. EST