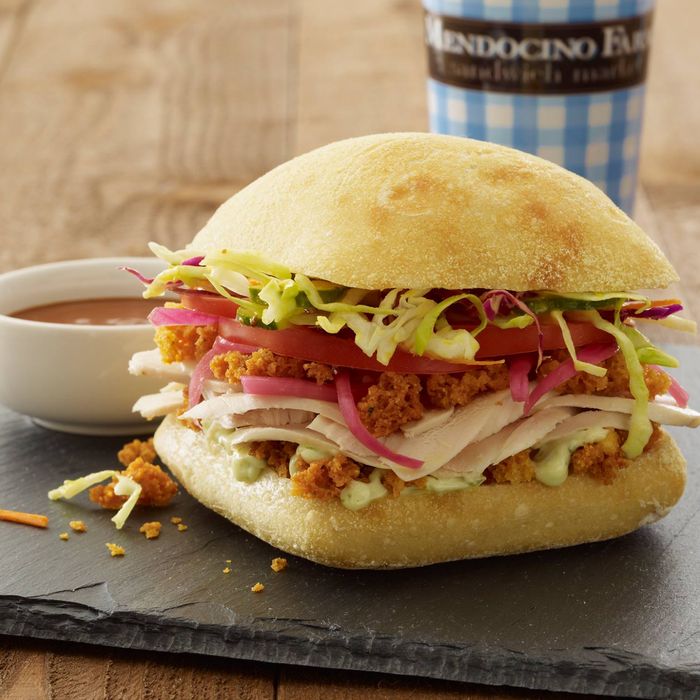 Probably coming to a Whole Foods food court near you.
Photo: Courtesy of Mendocino Farms
With some layoffs looming, a price-gouging scandal still fresh in customers' minds, and news that it voluntarily recalled cheese because of listeria concerns, Whole Foods could use a little good press. Luckily, this may be just the thing: The company says it's taken minority ownership in Mendocino Farms, a fast-growing better-sandwich chain based in L.A. that some have called the next Shake Shack or Chipotle. The plan outlined by Whole Foods, Nation's Restaurant News reports, is to put this cool brand of sandwich spots in now-struggling stores while injecting Mendo, as the chain's regular customers know it, with the cash it needs to ramp up expansion efforts in late 2016 (which, don't forget, will also benefit the new investor).
Right now, Mendo has 11 locations, all in the L.A. area. With Whole Foods' dollars, it will start expanding into San Francisco and San Diego, as well as setting up shop in select Whole Foods locations (the money's on outposts being tested in the line of new "hip, cool" bargain stores for 20- and 30-somethings). Mendocino Farms' sandwiches are served with organic veggies and humanely raised meat, like the bánh mì with pork belly and housemade pickled daikon, a policy in line with Whole Foods' but that's of course conspicuously Chipotle-esque.
Competition will be pretty stiff by late 2016: By then, chefs Roy Choi and Daniel Patterson's Loco'l chain should be in full force, and — who knows — there might even be a West Coast branch of Fuku in the next year, too.
[NRN]