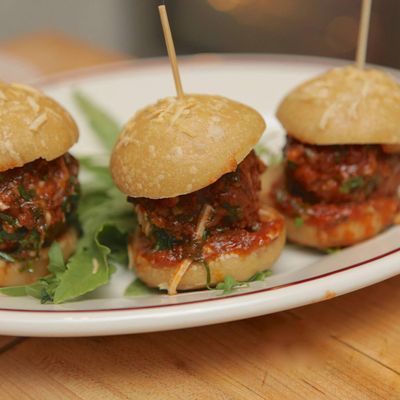 The Little Owl's meatball sliders will be in attendance.
Photo: Courtesy of Little Owl
It's understandable if you have food-festival fatigue by now, but here's a new one to get excited about: This Saturday, from 11 a.m. to 3 p.m., the first-ever West Village Eats Food Festival — held on Grove Street between Hudson and Bedford — will help raise money for PS3's education and enrichment programs.
The food lineup is fantastic: Little Owl's famed meatball sliders, Untitled at the Whitney's winter-squash toast, RedFarm's famed Katz's Deli triangles, Miss Lily's jerk chicken wings — not to mention snacks from Piora, L'Artusi, Mah-Ze-Dahr Bakery, Market Table, Otto's Tacos, Perla, Perry St, the Clam, and the Meatball Shop.
Mah-Ze-Dahr, which is set to open in the West Village this winter, will offer participatory lessons in decorating cookies, and there will be plenty of other kid-friendly activities. And for the adults: Neighborhood mainstays like Doma and Henrietta Hudson will provide booze.
This is a ticketed event: If you purchase ahead of time, five tastes cost $35, and ten cost $60, but you can also buy day-of tickets. It's a bit steeper than most pay-as-you-go food festivals, but remember it all goes toward a good cause.