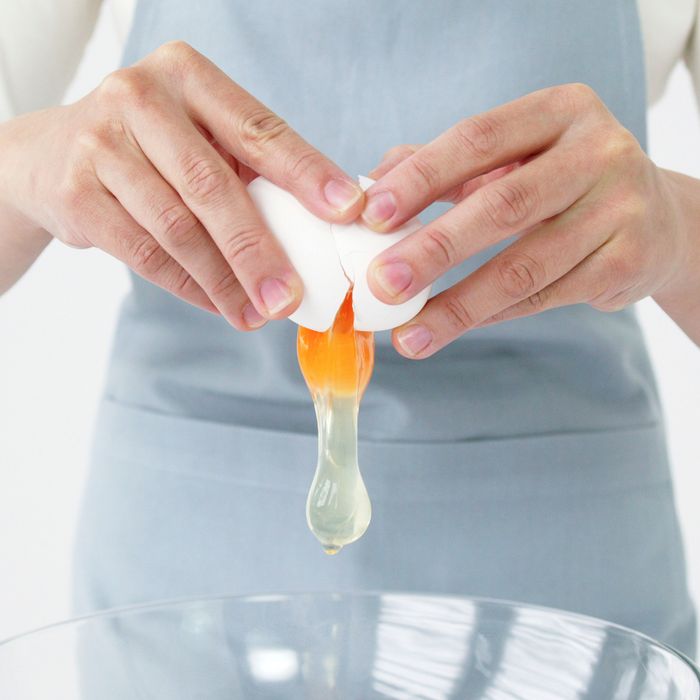 The good, the bad, and the egg-ly.
Photo: Corbis
The saga of how Big Egg tried (and failed) to bring down vegan Just Mayo just keeps getting more scandalous: Last week, American Egg Board CEO Joanne Ivy "stepped down earlier than planned" after her own personal contributions to the board's arguably unprofessional anti–Just Mayo turn came to light. Now it appears the USDA is investigating whether the entire semi-governmental body broke the law by misusing public funds in its quixotic quest to keep Hampton Creek's egg-free alternative off grocery shelves.
The USDA has oversight of the board, whose goal is to "increase demand for eggs and egg products through research, education, and promotion." Last month, emails obtained by a Freedom of Information request revealed that the overzealous efforts to achieve this goal via an anti–Just Mayo campaign (which included hiring massive PR firm Edelman) may have violated another bylaw that says funding can't be used "for the purpose of influencing governmental policy or action." There's a whole raft of these emails, and some are quite awkward — one jokes about having mobsters pay Hampton Creek CEO Josh Tetrick "a visit," others compare Big Egg to Hillary Clinton, while Just Mayo is the "little known, left-wing member of her party."
Most damning are ones where Joanne Ivy seems to reveal she's why the FDA stepped in and ruled Just Mayo isn't by definition mayo, and where she tells Edelman she'll accept their offer "to make that phone call to keep Just Mayo off Whole Foods shelves." This scheme dissolved, but the emails sure didn't, and senators have bugged USDA secretary Tom Vilsack to investigate the possibility of "anti-competitive practices." TechCrunch reports the USDA has now assented to "a thorough administrative review" of the mess, but with the proviso that there's a "substantial" amount of material so the findings may take a while. It said in a statement it doesn't "condone any efforts to limit competing products."
Meanwhile, Just Mayo's name issues are still unresolved, but whatever-you're-supposed-to-call-it spread lovers can at least rejoice in one small victory over Big Egg for now.