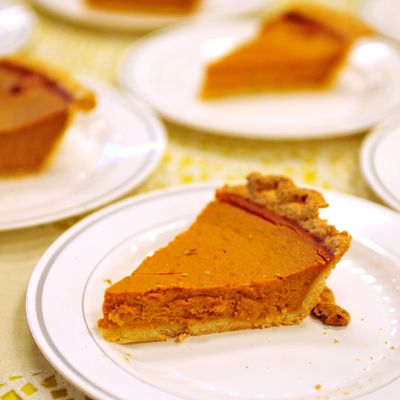 Pie problems.
Photo: Emily Rose Bennett/Staff/The Augusta Chronicle
A pumpkin-pie-less Turkey Day surely somehow amounts to treason, but according to the AP, some crop experts are predicting canned pumpkin could all but run out by Thanksgiving. It appears the Midwest got a record amount of rainfall in June, enough to flood fields and rot out farmers' pumpkin crops.
A nationwide shortage might sound odd — if, like most people, you assume pumpkins grow everywhere — but it turns out this just isn't the case: About 90 percent actually come from somewhere within 90 miles of Peoria, Illinois, and the state's pumpkin crop took a big hit, also dangling the possibility of jacked-up prices.
A rep for Libby's, the canned-food company probably best known for its pumpkin-pie filling, reports that its supplies are down by a third this year. Libby's will probably have supplies through November, but, "once we ship the remainder of the 2015 harvest, we'll have no more Libby's pumpkin to sell until harvest 2016." So, bad news for the glut of December holidays, in other words.
And yet experts predict that there will still be plenty of pumpkins to feed the national obsession with jack-o'-lanterns. The only advice one crop scientist has for pie lovers is to strike early: "I would not wait until November 20. I'd buy it whenever it comes to the store."
[AP]