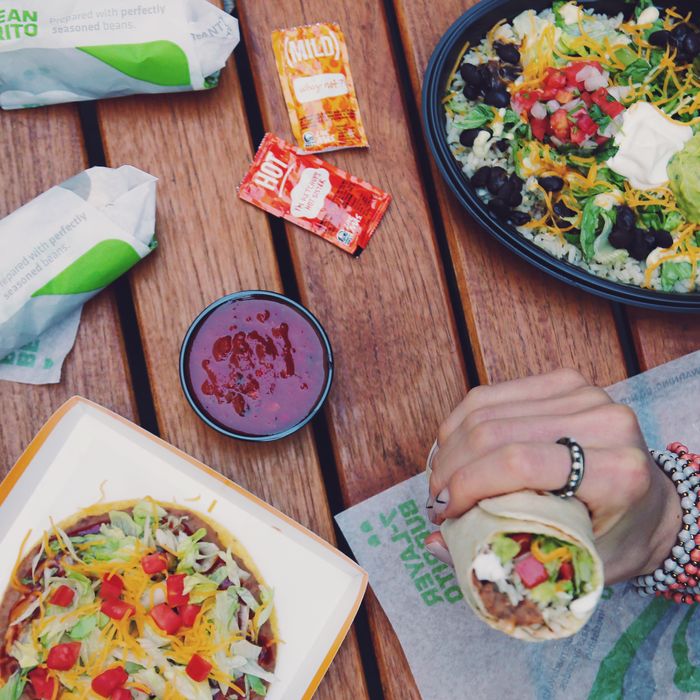 Get that vegan glow with your bean burrito.
Photo: Taco Bell
This seems unexpected: Mexican-food innovator Taco Bell has become the first major fast-food company to offer a certified-vegetarian menu. Confirmed to be meat-free by the American Vegetarian Association, the menu offers 13 different items including super-on-trend Cantina Power Veggie Bowl — take that, Dimes — and longtime Taco Bell staple the Seven-Layer Burrito. Starting today, customers can view the vegetarian category through the company's website and mobile-ordering app. Though, as CEO Brian Niccol points out, Taco Bell already sells 350 million vegetarian menu items a year, so the change is really more about pointing people to these options and making their availability clearer.
Along with that baker's dozen of set items, vegetarians will also be able to substituent beans for meat and use 35 certified-vegetarian ingredients to create "millions" of different vegetarian combinations. But that's not all. The chain is also courting all of those glamorous, rebellious vegans, who they'd like to know have 26 certified-vegan ingredients to choose from for their own combinations. In other words, it's now possible for vegan hopefuls to have a revolutionary diet and achieve that glow they desperately want while still just eating fast food all the time. The real question: How long before we see a Gordita Crunch made with cashew cheese?
[Business Wire via Eater]