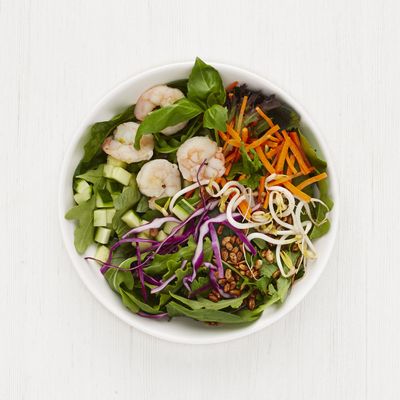 Salad supremacy.
Photo: Courtesy of Sweetgreen
If the perpetually long lines at Sweetgreen's Nomad, Tribeca, Nolita, and Williamsburg outposts aren't telling enough, the salad chain is a huge hit in New York. It's only a matter of time before there's a shop in each neighborhood, and the team tells Grub that it's about to introduce three new ones — at Columbia University, on the Upper West Side, and in Union Square.
The Columbia location, at 2937 Broadway, is up first: It opens on Monday, October 12, and, impressively, 100 percent of the proceeds from that day will go toward Edible Schoolyard NYC. Later this month, the Upper West Side store will come to 311 Amsterdam Avenue, and one located at 8 East 18th Street will start serving kale by the end of this year.
If you're keeping count: Sweetgreen now has 2 shops in California, 11 in Washington, D.C., 3 in Massachusetts, 3 in Maryland, 4 in Pennsylvania, 5 in Virginia, and soon 7 in New York. Prepare for national domination.