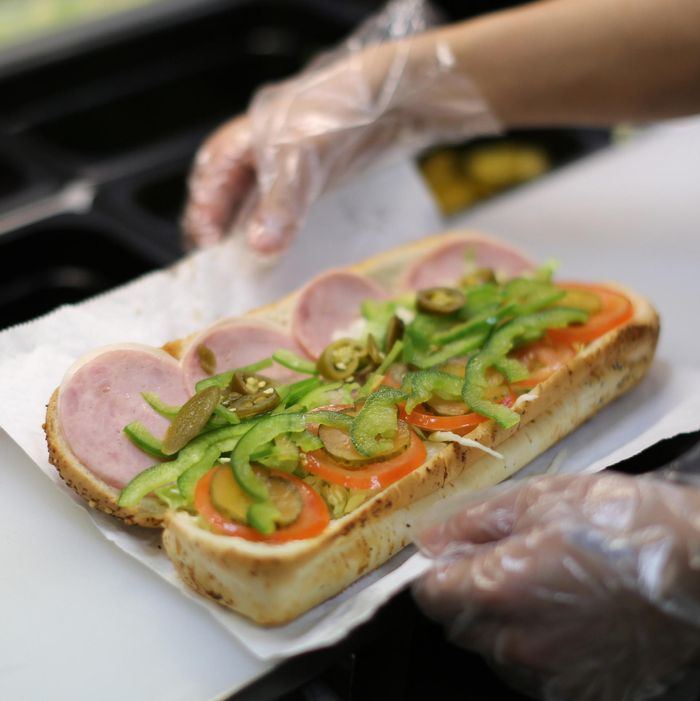 It'll be here, waiting.
Photo: Andrey Rudakov/Bloomberg
Please welcome Subway to the safer-meat club. While it's kind of late-coming already, hopefully people can manage a little more patience, because the chain suspects it'll need until 2025 to get human drugs out of every meat on the counter. Chicken, which Subway already committed to purging, will get there first (by next March), and turkey should be clean within two to three years, but the chain says to expect ten long years before ham, meatballs, roast beef, and everything else from a pig or cow are drug-free.
In its defense, with about 25,000 American stores, Subway needs a ton of meat. Less in its defense, so do Chipotle and Panera, two places that got A ratings in a recent report on chains' antibiotics use. (Subway failed.)
Still, doing its part in the fight against mutant pathogens will help Subway's roughed-up image all the same, even if the motives aren't as pure as it's pretending: The AP notes that a small army of advocacy groups had plans to show up tomorrow at Subway's Connecticut headquarters with a withering petition questioning the chain's claims of being "healthy." Headquarters beat them to the punch, but that was wholly coincidence, you see: Just like when it removed azodicarbonamide from sandwich bread a few months after the Food Babe blogger Vani Hari's "Eat fresh, not yoga mat" went all over the internet, Subway's announcement about antibiotics was the "culmination of several months of intensive work with suppliers," not "a reaction to any campaign."
[AP]