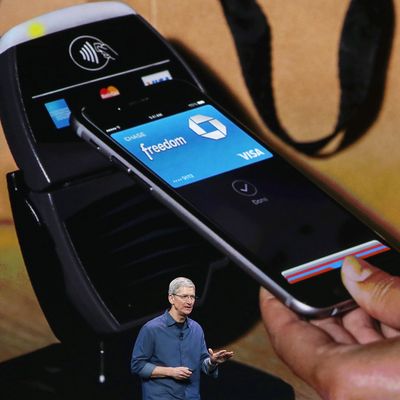 Yet another way to pay.
Photo: Justin Sullivan/Getty Images
There's by no means a shortage of extremely convenient ways to get a Starbucks latte, but if your "thing" is Apple Pay, you're in luck: The iPhone's digital-wallet service, which is already an option at places like Panera Bread and at restaurants that use OpenTable, is rolling out at Starbucks locations nationwide early next year. Customers at a few locations will actually get to test out the pilot program later this year.
Starbucks has said time and again that mobile payment is the future, and 20 percent of in-store sales are already made by mobile device. Apple's Tim Cook proclaimed 2015 was going to be "the year of Apple Pay," and the Starbucks app integrated a dumbed-down version of Apple Pay a while back that lets customers refill their cards (but not pay at the register), so this move was sort of a long time coming. And really, if the Apple Watch on a person's wrist can't Apple Pay for a Frappuccino, what's the point of wearing one?
Apple says next year the mobile-payment service is also coming to KFC and Chili's, where it will be added to the tabletop tablets, making human interaction there almost completely unnecessary.
[Re/code]