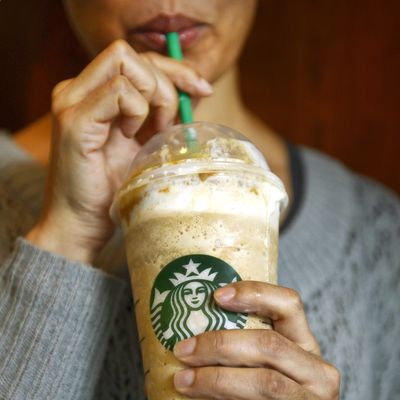 One no-ice, no-syrup, no-whip Frappuccino, please.
Photo: Timothy A. Clary/AFP/Getty Images
Starbucks is finally ready to fill Italy's void for good coffee: The chain Howard Schultz felt inspired to create after having an epiphany in Milan's coffeehouses "so immediate and physical that I was shaking" is reportedly on the cusp of opening its first location there. Corriere della Sera says the company has all but ironed out a franchising partnership with Antonio Percassi, a businessman who gave Italy Victoria's Secret and Zara. Rumor is this deal will be official by Christmas, and it will slap down the first café sometime next year, right in the middle of Milan.
For years Schultz has been promising there would be Starbucks one day in Italy, but it's always come with cop-outs. Smart people assume this means the chain's worried that Venti soy Frappuccinos won't go over spectacularly well in a culture that prefers no-nonsense doppios and cappuccinos.
Domino's brand-new store in Italy, a gutsy first for any pizza chain, made a point of entirely un-Americanizing the menu. Starbucks also custom-tailors drinks to suit regional tastes — it's unlikely Japan's espresso-lemon lattes would fly in the U.S. — but interestingly, Corriere says Starbucks's strategy for colonizing Italy is mostly to play up cafés as high-tech meetup spots where middle-aged bankers, lawyers, and businesspeople can sit in quasi-comfy chairs and use the free Wi-Fi. At least when they break down and order that first Venti latte the barista won't be forced to explain what the heck that size means.
[Reuters]